Angie's List, Inc. (NASDAQ:ANGI)
In market corrections, regardless of its negative beta, ANGI will see large drops in price
This is not a regular tech company that just needs to raise user count to increase profit
The costs are climbing faster than their revenue
I've been responding to articles over the last year regarding ANGI as a strong short -- likely due to go to zero.
The context, a one year chart of ANGI. And yes, that is a 62% drop in 12 months: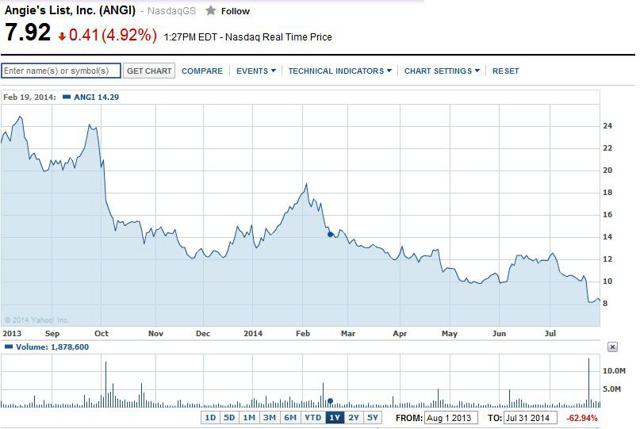 (Source: Yahoo Finance)
Using the beta from Yahoo Finance (which uses 3 years of monthly returns vs the market): ANGI has a beta of -0.56 (source: Yahoo Finance, Yahoo Beta Help) you would think that in a significant market correction, Angie would move opposite to the index. This won't be the case. The stock had it's large increase in the first 2 of those 3 years and has seen a steady decline over the last 12 months. The forces that are moving the markets higher (whether you argue it's QE or other fundamentals) have helped prop ANGI, but will let the bottom fall out once the market corrects.
Analyst ratings fell from target price of $20 to $15. After the recent drop in prince there's been a move towards hold from buy. Yet still the consensus estimate is at $15.26 as of August 1st (source: AnalystRatings). This incredibly high estimate will fail to materialize since the financials (as discussed later) fail to support an increase in price. When institutional buyers change their recommendation to a sell, the effects can be catastrophic. Especially for a firm that runs in negatives year after year -- the cost of capital will simply devour their future prospects and remove their ability to pivot to a different business model / strategy.
The brings us to the ultimate reason for the short: the business model is flawed and it cannot sustain growth in revenues and users without dramatically increasing costs each quarter. The only way to correct this would be to move towards a completely free model but the chance of them making such a strong adjustment is almost nil based on their decreasing financial strength.
On the topic of acquisition and value: Tech companies that get picked up by the likes of Google such as Songza or Waze show that they can increase user growth organically. With just the product speaking for itself. Angie's List on the other hand has to rely on heavy tactics to increase user growth -- either heavily investing in SEO or asking users to constantly upgrade their packages or asking those companies being rated to spend more to increase their return. It's the online version of Yellow Pages which already saw it's market collapse. Some might argue that there is a market for people who wish to pay to see people's reviews -- clearly these people are missing the bigger picture. If you want to find a plumber or a painter for your house the concept of the regular paying a fee simply to read reviews almost seems laughable. Yes, there is a limited market for it. But it wasn't worth it's recent 600+ million market cap and it's not worth the current 460+ million market cap either.
The income statement released yesterday shows the most alarming number yet: that while revenues increased by 8.6%, the costs increased by over 19%: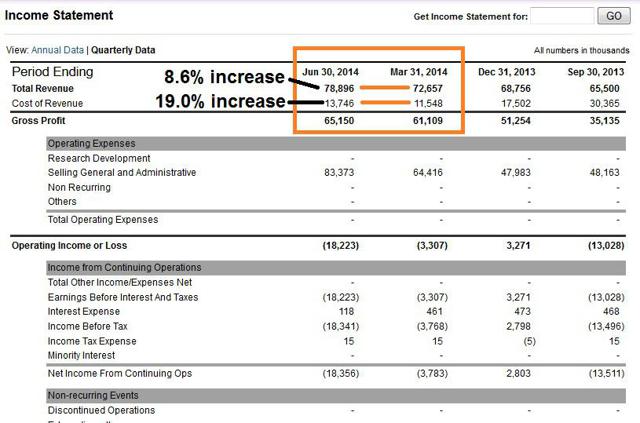 (from EDGAR Online Financials via Yahoo Finance)
When a major source of revenues is the ads of companies that are also being rated, there are too many potential conflicts as an article in Forbes pointed out:
Angie's List founder and CMO Angie Hicks said, "Angie's List is built on a foundation of fairness and transparency. Everything at Angie's List starts with the consumers. The consumers give the reviews and assign grades. The companies' A-F ratings are the average of the consumer reviews we receive. Companies that are A-B rated are eligible to advertise with Angie's List, but they must offer a discount with that advertisement and if their grades fall below a B, we pull their advertising."(Forbes)
That was the official quote from the company, not the harsh words from other people in the industry. (Since the article itself is a push from Consumer Reports, I'll only give weight to the reply from the company -- which is still poor.)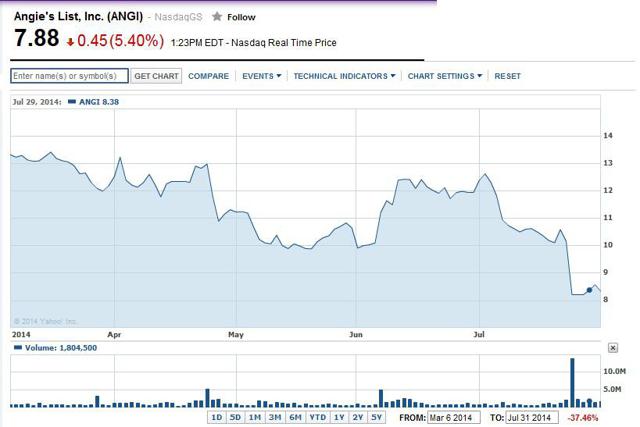 (Source: Yahoo Finance)
I had commented on someone's post in March that the price would fall when they suggested that the stock would move up by 50% rather than down by 50% -- that was when the stock was 13.32. For my guess to be right, the stock would still have to move lower by another 15%. Any bets?
Disclosure: The author is short ANGI.