Floor Graphics
Floor Graphics is a great medium that encourages shoppers to buy your product at the location. Your brand identity is placed in the isle of a shopping area by your product. Floor marketing and floor ads grab the attention of potential buyers before they buy. Our clients are all accross the country, from California to New York, Texas to Colorado, It is the last word you have before the shopping decision is made. Your image is transformed from your national advertising campaign to a custom printed vinyl decal floor graphics that can be cut to any shape or made to any size. Floor Ads are right at the Point of Purchase, Naturally increases your sales.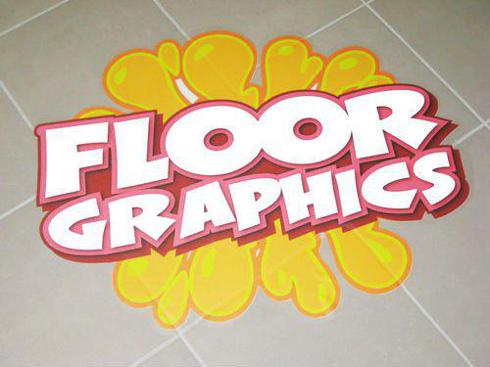 This high-impact vinyl floor graphic can be produced from 12"x12"up to 48"x96" with varying sizes in between or larger per request
No minimum or maximum quantities set boundaries for your ad campaigns
Small test markets or large roll outs
Message can be modified for different regions and purchasing habits of consumers

6 month guarantee
Slip proof
Lexan Laminate on top
PROLABdigital will work with your advertising agency or our in-house design staff will transform your national ad to a layout that works best for your product.
About Prolab:
PROLAB started business as a conventional commercial photo lab in 1989 and saw the emergence of digital imaging as the wave of the future. In 1993 we became one of the first photo labs to go into large format digital output. Now, in 2008 we have again taken it to the next level with fast, high quality, color printing to suit virtually every imaging need. Of course the environment is on everybody's mind and our Eco Friendly, Bio degradable vinyl banners, Barricade Graphics, and signage is available for our clients.
For more information visit Prolab Home page.
Thank you for choosing PROLAB!
POSTAL ADDRESS:
5441 W. 104th St.
Los Angeles, CA 90045
CONTACT NUMBERS:
Sales: 310.625.4411 (NYSEARCA:PST)
Office: 310.846.4496
Fax: 310.846.4493
Disclosure: I have no positions in any stocks mentioned, and no plans to initiate any positions within the next 72 hours.