AmTrust Financial Services, Inc. (NASDAQ:AFSI) decided to ignore taxes this quarter.
AFSI reported $1.70 / share of operating earnings in the headline of their press release. However, this EPS estimate incorporates a -5% tax rate as opposed to the 28% tax rate to which the company the CFO guided on the 2q14 earnings call:
"And then, you would look at effective tax rate, if you remove the reduction of the Luxembourg DTL, to be something around 28% or so."
Note: 3q14 press release does not mention Luxembourg DTL reversals, so I believe this is the right tax rate to use.
Below is how AFSI typically would have presented "Operating Earnings". To be clear, this EPS number is before considering the potential accounting problems AFSI discussed in Part II. My guess is that the earnings result would have been substantially lower if not for a number of accounting issues discussed elsewhere.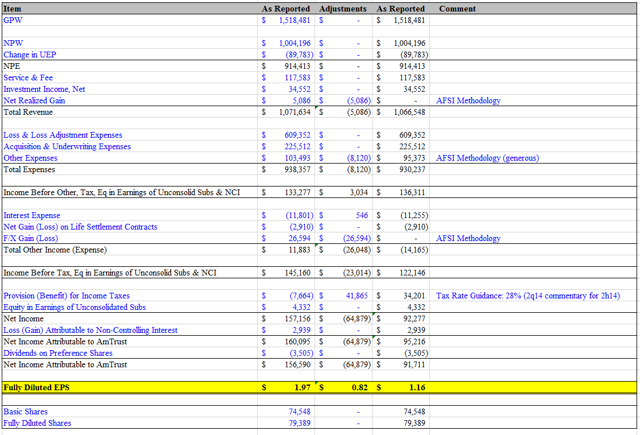 Disclosure: The author is short AFSI.