Clifton Mining Company, A Gold Nugget Being Discovered BY The Investing Public
Please Note: Blog posts are not selected, edited or screened by Seeking Alpha editors.
Summary
CFTN is a micro-cap penny stock (on January 26, 2021 the stock price was $0.32), that has a high probability of increasing in value to $1.05 in the near future.
Clifton's diluted EPS for 2019 was $0.08. For the first 9 months of 2020 Clifton reported EPS of $0.08, and full year 2020 forecasted EPS will be at least $0.09.
Under its common share buyback program, Clifton may repurchase up to $800,000 of its outstanding common stock. As of November 13, 2020 Clifton had repurchased 2,221,799 shares of its stock.
ABL has paid dividends totaling $0.90 per share during 2020.  This is the most dividends it has ever paid,which shows it has good income for 2020.
Volume and price in CFTN's stock have increased over the last year.  Stock has gone from $0.07 to $0.35 and closed at $0.32 on January 26, 2021.
Introduction
Clifton Mining Company (the "Company," "CFTN," or "Clifton") is a gold and silver mining company operating in western Utah, whose stock is traded on the OTC Markets under the symbol CFTN. CFTN is a nano-cap penny stock (as of January 26, 2025 CFTN's stock price was $0.32, and its market cap was approximately $18 million) that has a high probability of increasing in value to $1.05 in the near future and to $3.00 in the long term.
This current report will only cover CFTN's property, its operations, and the estimated amount of gold and silver in CFTN's resource base. In a separate report, CFTN's affiliate, American Biotech Labs ("ABL"), and its medical products will be presented.
Newmont Mining's Claims Surrounding Clifton's Property
Newmont Mining has staked approximately 1,500 claims which surround Clifton's property. On August 15, 2017, several geologists from Newmont Mining together with Clifton's management, visited the Cane Springs section of Clifton's property. This visit precipitated the visit of Newmont's top geologists for several weeks investigating the prospects of mining gold on Clifton's property. Newmont usually does not start mining unless they find many millions of ounces of gold on a property. They estimate there are 2 million ounces in Cane Springs which do not meet Newmont's threshold for mining the property.
While Newmont Mining has no current interest in doing business with CFTN, due to the geologists' not finding many millions of ounces gold, they did tell Clifton management they would refer mid-tier mining companies to CFTN and tell these companies about their findings on CFTN's property. Based on Newmont Mining's findings, CFTN made a press release dated July 30, 2018 stating there were probably significantly more gold deposits on the Cane Springs property than what we had been told earlier.
Company Background and History
Clifton Mining Company (trading symbol CFTN) is a natural resource company focused on the production of precious metals. With its headquarters in American Fork, Utah, it was founded in 1993. Clifton Mining Company's property contains both patented and lode claims, and the Company has a 250 tons/day production mill facility. It has a joint venture property located at the Utah-Nevada border with an area of 33 square miles. Its resource base is mainly confined to Clifton Shear Zones (sometimes referred to as Clifton Shear Veins), Mineral Deposits, Skarn Deposits, Bedded Replacement Deposits and Porphyry Deposits. The Company's major mineral deposits include silver, gold and lead. Some of its exploration sites show copper or copper-molybdenum and tungsten deposits. For a detailed description of CFTN and its 18% owned affiliate, ABL, see CFTN's webpage.
CFTN management has been very conservative in spending, which has resulted in CFTN's having a very strong balance sheet with no debt. CFTN has no need to spend cash for exploration, and there is no cash burn for mining operations. Desert Hawk incurred all of the exploration costs and paid CFTN a royalty for minerals it extracted from CFTN's properties. CFTN has $2.7 million cash, total assets of $12.2 million, and Shareholders' equity is $12.2 million as of September 30, 2020, the last date for which financial statements are available. Readers are invited to read CFTN's financial statements.
CFTN trades on the OTC. At market close on January 26, 2021 the shares were at $0.32. The price range for the latest 52 week period is $0.07 to $0.35.
Description of Mining Properties and Precious Metals in the Properties
I am not a geologist or mineralogist. What is presented in this section is the knowledge gleaned from being a shareholder of CFTN for the past 15 years. I have had many interviews with Bill Moeller, past Chairman of CFTN who passed away in 2015. I have attended the annual shareholder meetings. I have interviewed geologists and Ken Friedman, CFTN's President. I have visited with Keith Moeller, CFTN's Vice President, several times and on March 27, 2019 learned a lot more about how the estimated amount of gold and silver in the various sections of CFTN's property is computed. As a result, this report will fairly accurately state the quantities of estimated precious metals on the CFTN's property and also state how these estimates are arrived at. In July 2014, I visited the mining properties with Bill Moeller and was very impressed with the scale of the mining being done by Desert Hawk, and the very large heap leach Desert Hawk has constructed, from which it is collecting gold and silver. In the Fall of 2019, I again visited the mine with a member of the BOD. The mining activity has greatly expanded since my 2014 visit. And there is significantly more ore on the heap leach pad.
The following description of the veins and deposits comes directly from Clifton's website:
The Clifton Shear Veins
The Clifton Shear Zones are just one of the numerous gold and silver deposits found on the Clifton joint venture properties. The Shear Vein system contains over forty identified veins that were mined historically in the 1800's and early 1900's. The Shear Vein system is made up of mostly patented mining claims. These claims were originally owned by as many as 100 surviving descendants of the original miners. It took management almost 30 years to obtain every patented claim in this historic mine area, and to form them into one contiguous block of claims. Two independent mine engineering reports have been issued on the property, both outlining a very large ore potential in the Shear Vein system. But, with recent changes in the laws governing the issuance of proven and probable reserve estimates, neither of the two reports meet the new requirements and as such will not be discussed further herein.
The veins are a rich source of silver, lead and gold. The Shear Veins are unique in the fact that they come right to the surface. The Shear Veins are visible on the surface for distances of up to 6,000 ft. Approximately 100 mine workings penetrate the shear veins and give access into the veins for distances of over 400 ft. The old workings are located on all sides of the Shear Vein property at varying elevations, enabling the Company to show consistent silver, gold, and lead values throughout the shear vein system. These veins were originally mined from about 1860 to the early 1900's. At that time, the ore had to be shipped at least 100 miles by wagon, 3-to-5 tons at a time, to be processed. This attests to the exceptionally high value of the mined ore.
Other Clifton Mineral Deposits
Clifton Mining's long term value is further enhanced by the identification of additional mineral deposits within the claim area. Two additional types of mineral deposits have been discovered within Clifton Mining's property boundaries, and there is strong evidence of a third. They are skarn deposits, bedded replacement deposits, and the probable third is a porphyry deposit.
Skarn Deposits
Clifton Mining's skarn system is a two-mile-long system with numerous surface exposures. Historical records in the area report some gold values associated with these skarns to be in the multiple-ounce gold category. Copper, which is also associated with the Clifton skarns, can exceed 10%. Samples taken within Clifton Mining's skarn system have already shown values in excess of 0.3 oz./ton gold. In 2017 Newmont Mining expressed an interest in the property and staked an area surrounding the Clifton property. They sent a team of geologists to explore the prospect.
Bedded Replacement Deposits
Clifton Mining has already discovered and assayed numerous bedded replacement deposits within the Clifton claim block The assay values associated with these deposits have typically been very high-grade. Assay work completed on the surface and within accessible mine workings, shows value ranges from 0.014 to 0.50 oz./ton gold, 8.0 to 50.0 oz./ton silver, 1 to 30% copper (Monocco bedding), and lead values from 7 to 34%. Current information shows average values within the bedded replacement deposits of approximately 0.04 oz./ton gold, 12 oz./ton silver, and 10% lead. The Clifton Cabin bedding, which was core drilled (see announcement 11/3/97), showed average values of 28.11 oz/ton silver, 17.6% lead, and 0.013 oz/ton gold.
Porphyry Deposit
Clifton Mining can also show strong evidence that a large mineralized porphyry system intrudes the property from the east side, holding promise for a large deep-seated copper or copper molybdenum deposit (see Figure 3). . It is expected that this porphyry deposit will be similar to the Ruth (Robinson) deposit, located only 70 miles south of Clifton Mining's property. The Ruth deposit has produced 320 million tons of ore to date, including 2.7 million tons of copper and 90 tons of gold.
Ultimate Potential
Many geologists who have visited the Clifton area have commented on the similarity of this district to the major gold producing areas of the Carlin Trend. There are the same indicator minerals for gold along with numerous silica blowouts, called jasperoids. Drill cores have shown intensive geological activity, preparing the ground for significant mineralization. Ultimately, we hope this district will provide similar world class deposits of gold similar to those of the Carlin Trend.
Clifton Shear Veins Section of the Property
When one reads the description of the property in Note 3 "Mineral Properties" contained in CFTN's Financial Statements, one would reach the conclusion there is not enough gold and silver to get really excited about. CFTN's management has chosen not to spend a large amount of money for drilling core samples, and therefore the extent of the depth of the veins and magnitude of the deposits of silver in the veins is not proven, and for that reason cannot be stated in the audited financial statements. Management has stated that CFTN would need to spend approximately $15 million to determine how deep the veins go and how many ounces of silver per ton are contained in the Clifton Shear Veins.
You will note that this report mostly discusses silver in the Clifton Shear Veins. There are also known deposits of silver, gold, tungsten, lead and other minerals at other locations on the property owned by CFTN. But it is the magnitude and the richness of the possible silver deposits in the Clifton Shear Veins that gets me excited.
From discussions with Bill Moeller, I have learned that in the Clifton Shear Veins the known ounces per ton of silver range from 8 ounces to 50 ounces per ton with an average of 12 ounces per ton. This is a very rich deposit of silver. These estimated measurements of ounces per ton come from what can be observed from the surface and from old mine workings.
A Behre Dolbear Report that was updated October 2000, by Robert Cameron Consulting (as stated in Footnote 3 "Mineral Properties" of CFTN's Financial Statements) shows a significantly different resource calculation. This report shows 901,597 measured ounces of silver and 3,905,133 of indicated ounces of silver (a total of 4,806,730 of measured and indicated ounces of silver). In the survey of the Shear Veins calculation, only 11 of the 38 identified shear veins were included in the resources calculations, and the calculated resource represented less than 10 percent of the potential of these veins. Robert Cameron Consulting states, "Most of the preliminary sampling on other veins indicates that these veins will most likely prove out with similar grade and thickness to those currently within the resource basis after the planned program of sampling and drilling has been completed." Based on this report, the projection of 165 million of measured and indicated ounces of silver is reasonable.
Kiewit Section of the Property
The Kiewit Zone. Newmont Mining had spent several years exploring on this property. Their chief geologist on the property reported that he believed the deposit holds between 2 and 5 million ounces of gold. This deposit is currently being mined and heap-leached by Desert Hawk Gold Corporation, a private corporation, which registers with the Securities and Exchange Commission ("SEC") intending to have its stock listed on an exchange and publically traded. Clifton traded its net smelter return on this property for more than 5 million shares of Desert Hawk stock and $3 million in cash. Clifton's management executed this move to secure cash (some of which is being used to repurchase shares) and a large equity position in its producing partner.
Cane Springs Section of the Property
It is estimated there are between 500,000 ounces and 2 million ounces of gold in the Cane Springs section of Clifton's property. This estimate is determined from pillars in ore shoots visible in previous mining operations at Cane Springs. The mining of the ore shoots was abandoned during World War II and came into possession of CFTN during the 1990s. One of these pillars shows the possibility of 7 ounces of gold per ton, a very high grade of ore. In addition, Newmont Mining's review of Cane Springs resulted in discovery of significantly more gold at a significantly higher grade on the Cane Springs section of the property. Based on Newmont Mining's findings, CFTN made a press release dated July 30 2018 stating there were probably significantly more gold deposits on the Cane Springs property.
Summary of Total Value of Precious Metals on Clifton's Property
It is a bit difficult to value the total amount of precious metals on Clifton's property because there have not been enough core drills made. However, it appears that in Clifton's property there are a minimum of 165 million ounces of silver and a minimum of 1.5 million ounces of gold. Recent market prices, as of January 21, 2021 for silver at $25.27 per ounce and $1,870 per ounce for gold would result in the total value of silver and gold refined on the surface to be $7 billion.
This is why I get excited about CFTN, and why I have been a shareholder of CFTN stock for the past 15 years. I believe the market gives CFTN a value of $18 million because CFTN has not been discovered by the market due to management's lack of interest in promoting the stock. This market cap is based on 154,584 preferred shares outstanding (a preferred share is convertible into one share of common stock) plus 56,548,992 shares of common stock outstanding on November 13, 2020 (a total of 56,703,576 equivalent common shares) and a closing price of the common stock of $0.32 on January 26, 2021. So far, I have only discussed 165 million ounces of silver estimated to exist in the Clifton Shear Veins, and the 1.5 million ounces of gold estimated to exist in the Kiewit section and Cane Springs section and the possible amount of 4 million ounces of gold in these two sections of the property.
The values of the 5.8 million shares of Desert Hawk, and CFTN's ownership of ABL coupled with the estimated resource base are worth far more than the $18 million current market value of CFTN.
Desert Hawk Financing
Per a Form 8-K filed with the SEC on March 13, 2019 Desert Hawk entered into a Pre-paid Forward Gold Purchase Agreement (the "Purchase Agreement") with PDK Utah Holdings LP ("PDK") on March 7, 2019. Under the terms of the Purchase Agreement, totaling $21,000,000, PDK has agreed to purchase 73,910 ounces of gold from Desert Hawk in three tranches, with prepayment of the initial tranche in the amount of $11,200,000. There will be two additional trances. I refer you to the Form 8-K for details of this Purchase Agreement.
This transaction gave Desert Hawk adequate cash to immediately, again begin loading the heap leach pad and to significantly expand the heap leach pad, which will significantly increase gold production and Desert Hawk's revenue and net income. In fact the heap leach pad will probably be increased from its current 20 acres to 80 acres. (See Desert Hawk's video of its mining operations found on YouTube.) As a result, eventually Desert Hawk will have four times its current gold production capacity. This will greatly increase Desert Hawk's future revenues and net income with a corresponding increase in the value of Desert Hawk's common stock.
How This New Funding Affects Clifton Mining
In connection with its Pre-paid Forward Gold Purchase Agreement and effective with the Initial Funding, Desert Hawk and Clifton entered into a Second Amended and Restated Lease Agreement (the "Amended Lease") also dated March 7, 2019. Under the terms of the Amended Lease, Desert Hawk relinquished its leasehold interest in the property known as the Kiewit, which is the principal focus of the Desert Hawk's mining activities.
Under the terms of the Amended Lease Desert Hawk acquired and cancelled Clifton's 5% royalty interest from production on the Kiewit project. As consideration for entering into the Amended Lease, Desert Hawk paid Clifton $3,013,390 and issued to Clifton 5,500,000 shares of its common stock valued at $0.40 per share. As a result of this transaction Clifton recorded $3 million of cash and an additional investment in Desert Hawk valued at $2.2 million on its balance sheet and recorded a one-time income statement pick up of $5.2 million or $0.09 per share for the year ending December 30, 2019. Clifton owned 500,000 shares of Desert Hawk previous to this transaction and now owns 5.8 million shares, or 20% or more of Desert Hawk shares.
In addition, Desert Hawk and Clifton entered into a Registration Rights Agreement to register for resale the shares issued to Clifton, which Registration Statement became effective on April 14, 2020. (See Desert Hawk's Registration Statement).
Per a news release issued by Clifton on March 15, 2019, Clifton management stated, "We believe the Amended Agreement provides significant benefits to both Clifton and Desert Hawk shareholders."
I also believe this Amended Agreement will provide additional benefit to Clifton since the registration of Desert Hawk's stock should have a much higher value when trading in the stock begins. In addition, Clifton received a $5.2 million pick up in income for the year 2019.
The information regarding Deseret Hawk's financing and its effect on Clifton is derived solely from a CFTN news release and Desert Hawk's Form 8-K filed with the SEC.
American Biotech Labs, LLC ("ABL") Dividend
In a news release dated December 15, 2020, ABL paid a $0.40 per share dividend. This dividend coupled with the $0.14 distribution announced on March 10, 200, the $0.36 distribution announced June 29, 2020 equals total cash distributions amounting to $0.90 from ABL for 2020. This provides Clifton with an additional amount of cash, but more importantly it shows that ABL is doing much better this year than it did last year when it paid a $0.10 per share dividend in the Spring followed by a $0.33 per share dividend in the Fall.
Based on the excellent performance ABL during 2020 and the EPS of $0.08 per share reported by Clifton for the 9 months ended September 30, 2020, leads me to conclude Clifton will report at least $0.09 EPS for its fiscal 2020 year. It should be noted that Clifton accounts for ABL on the equity method of accounting. Therefore, for income statement purposes 18% of ABL's income is what counts, not the dividends Clifton receives from ABL.
For those of you not acquainted with ABL I refer you to its website. ABL has some very interesting and innovative products and some top notch national customers. In a separate report I will report on ABL's products and operations
The Heap Leach Pad on Clifton's Property
The heap leach pad on CFTN's property (constructed by Desert Hawk during its mining operations) is approximately 20 acres and will be expanded to 80 acres. Loading the heap leach pad, particularly one as large as the one on the Kiewit, takes time. This is done by covering the pad with ore and then laying pipe over the ore to apply the cyanide solution. After the first layer of ore is laid down a second layer of ore is laid down, then more pipe is laid down. As more layers are laid down and the more time the solution is applied, increasing amounts of gold are recovered resulting in increased revenues and profits for Desert Hawk. This increase in profits will result in an increased value of Desert Hawk's stock, thus adding value to the 5.8 million shares of stock owned by Clifton.
Heap leaches are an interesting way of extracting precious minerals from low grade mined ore. A heap leach continues to produce for several years even after no more ore is added to it. The expected productive life of the Kiewit heap leach is more than 10 years. For a more detailed description of the heap leach process, please visit CFTN's webpage and Desert Hawk's Registration Statement and Desert Hawk's mining video found on YouTube.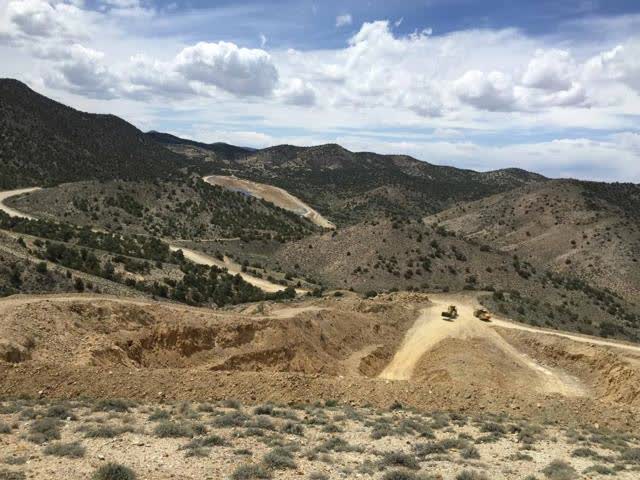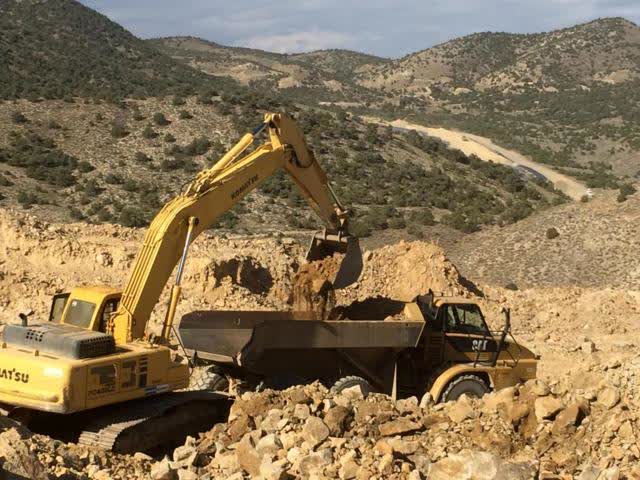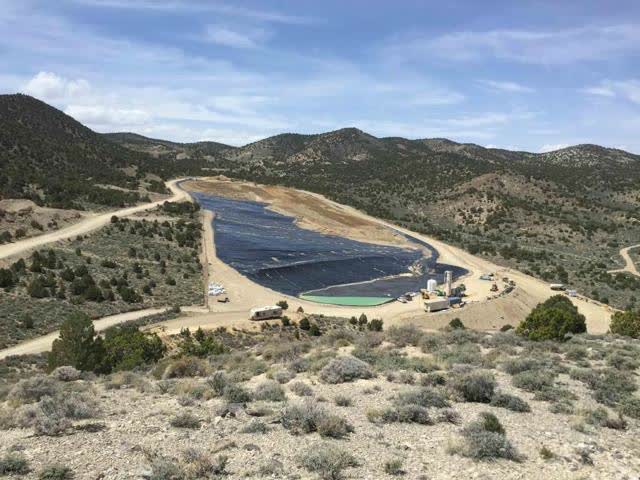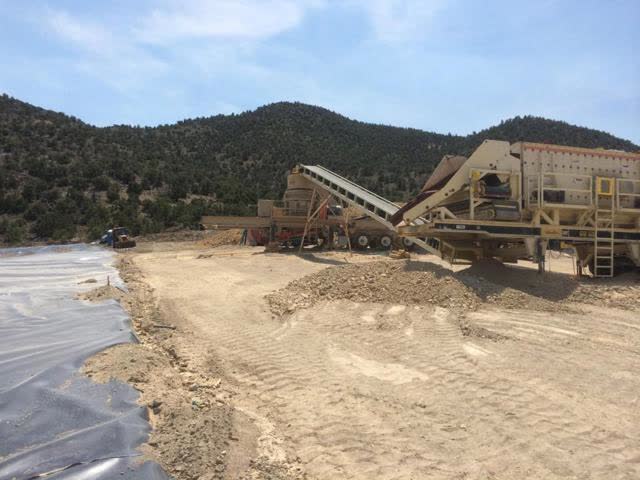 Conclusion
When we consider the ownership of 5.8 million shares of Deseret Hawk, with an operating heap leach in place, CFTN's investment in ABL, and EPS of $0.09 for both 2019 and 2020, CFTN could easily have a current market cap of $60 million versus its current market cap of only $18 million. This would equate to a per share amount of at least $1.05 instead of the current share value of $0.32 per share. If the market discovers CFTN in the next few months, which I believe it will, CFTN could easily result in an investor increasing his money by 3.25 times in a very short period of time. The $60 million value is computed without giving any recognition of the possible 165 million ounces of silver in the Clifton Shear Veins or the possible 4 million ounces of gold in the Cane Springs section and the Kiewit section.
Disclosures
This article was written by Stanley Cutler on January 26, 2021. You may contact Mr. Cutler at utahcutler@gmail.com.
The author wrote this article himself, and it expresses his own opinions based on public information. The author is not receiving compensation for it. The author has no business relationship with any company whose stock is mentioned in this article.
The author has owned CFTN for 15 years. He is currently periodically acquiring shares at these low prices and will probably continue to acquire shares.
Disclosure: I am/we are long CFTN.
Analyst's Disclosure: I am/we are long CFTN.
Seeking Alpha's Disclosure: Past performance is no guarantee of future results. No recommendation or advice is being given as to whether any investment is suitable for a particular investor. Any views or opinions expressed above may not reflect those of Seeking Alpha as a whole. Seeking Alpha is not a licensed securities dealer, broker or US investment adviser or investment bank. Our analysts are third party authors that include both professional investors and individual investors who may not be licensed or certified by any institute or regulatory body.