Dark pools have been of particular interest recently especially in the fund management industry. Dark pools are effectively private off-market exchanges that enable institutional investors to buy or sell large positions in securities without disclosing their intentions to the open market. Therefore dark pools do not disclose details of specific trades until after the preliminary stage of the transaction is completed. Such platforms today represent a considerable fraction of the securities markets, with 50 dark pools in the U.S. (UBS AG, Credit Suisse Group AG and Deutsche bank AG operating the three largest dark pools in the U.S.) and 16 dark markets in Europe. The major advantages with using dark pools for institutional investors are summarized below
· Large institutional investors or an individual participant do not reveal their trading intentions to the exchange until after the execution is completed. This not only provides anonymity but also inhibits adverse price movements prior to the transaction being completed.
· Investors avoid exchange fees that are often associated with making transactions in the open market, as there is no direct broker involvement and therefore no generation of significant commission costs. This allows investors to price in the middle between the bid/ask spread and offers the opportunity to avoid paying the full spread
· Public exchanges often lack the level of liquidity available in dark pools and therefore the off-market exchanges give investors add liquidity.
However there are also disadvantages associated with dark pools. Dark markets can affect the distribution of welfare between retail and institutional investors as large institutional sized orders are primarily placed using dark pool markets. Moreover, regulators are concerned about the effects of the introduction of dark markets on the efficiency of the pricing process, resulting in price disparity between the private trading venues and public exchanges.
Dark pools have recently been heavily criticised with the largest Swiss bank, UBS (NYSE:UBS), agreeing to pay a hefty $14.4 million fine due to the lack of information being disclosed to its clients on how dark pools worked. However despite this a new trading venue has been created that will include the likes of BlackRock (NYSE:BLK), BNY Mellon (NYSE:BK), J.P. Morgan Chase (NYSE:JPM) and Fidelity, with the latter having the largest ownership position. The hope of this new dark pool platform project, termed Sakura, is to execute trades without introducing high commission fees and clearing out high-frequency traders.
Given the increasing volume of stock trading taking place in dark pools by big Wall Street banks (see figure below), I believe it is vital to fully understand how dark pool activity is related to the measures of market quality and market efficiency before we can assign it as useful or harmful.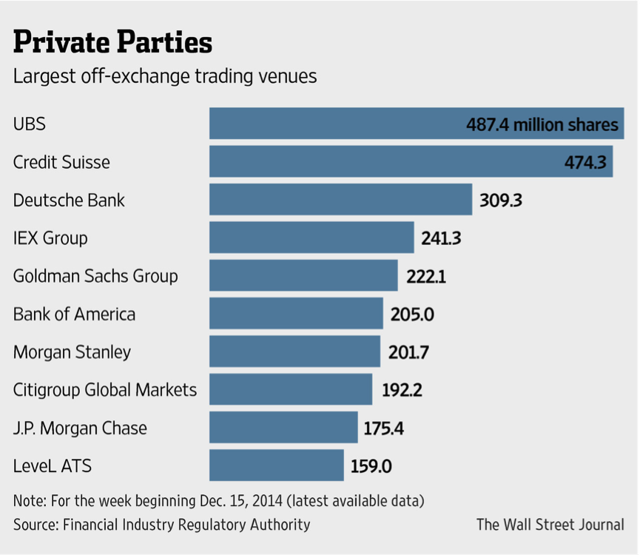 Disclosure: The author has no positions in any stocks mentioned, and no plans to initiate any positions within the next 72 hours.
The author wrote this article themselves, and it expresses their own opinions. The author is not receiving compensation for it (other than from Seeking Alpha). The author has no business relationship with any company whose stock is mentioned in this article.