In April news broke that Majestic Wine (LON:MJW) would purchase online rival Naked Wines for £70m (£50m in cash and £20m in shares) and as a consequence the price per share of Majestic Wine rose by 23 per cent. With this price tag also comes former chief executive of Naked Wines, Rowan Gormley. At first sight the acquisition seems like a long-term benefit for shareholders as sales of British wine surge due to the delivery of vintage crops that are expected to beat French wine producers. It also seems to benefit shareholders with a short-term view as a trend of English wine sales accelerated in the past week by at least 177 per cent showing real momentum within the English wine industry.
However, while the tendency to invest in companies with a short-term promise is appealing, it may not be optimal. Taking a fundamental approach to Majestic Wine and not being distracted by the mad crowd will reveal that the Naked Wines deal is not beneficial at all for a durable investment.
Firstly from a management prospective the firing of Steve Lewis as CEO in February after poor Christmas sales reflects the company's short-term views and shows no clearly signs of management support. I believe investors have to ask themselves what will happen if another Christmas period (or any other period for that matter) presented poor sales. The lack of a clear strategy on dealing with poor seasonal sales shows the lack of management experience and organization.
Secondly, Majestic Wine has seen little change in their bottom line net profits over the past 4 years (from £14m to £17.6m), with net profit margins increasing by a mere 4.1 per cent per year from 2011. Similar to profit margins, revenues showed little change increasing by only 2% per year from 2011. The figure below shows the EPS values since 2005 and when calculated, the EPS grows annually by only 7.4 per cent compared to the FTSE 100 which historically grows approximately 10-12% annually. On the positive side however, the company uses little or no debt in its capital structure and may have less financial risk than the industry aggregate.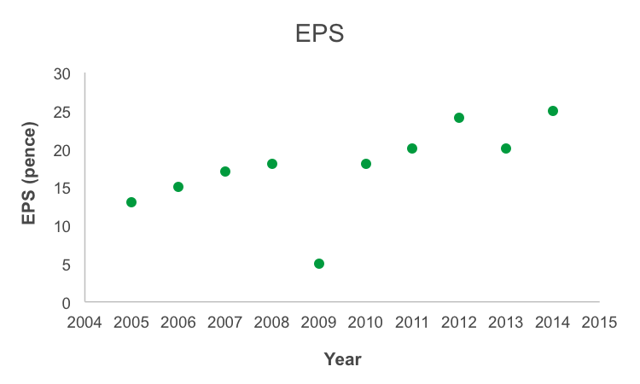 Dwelling into the figures extensively, the return on equity, a common ratio used to measure a corporation's profitability, has been reducing since 2012 from 22 per cent to 18 per cent while retained earnings have been increasing along the same time period (figure below). This clearly shows management have failed to return earnings to shareholders, in which a dividend payout should have been issued instead .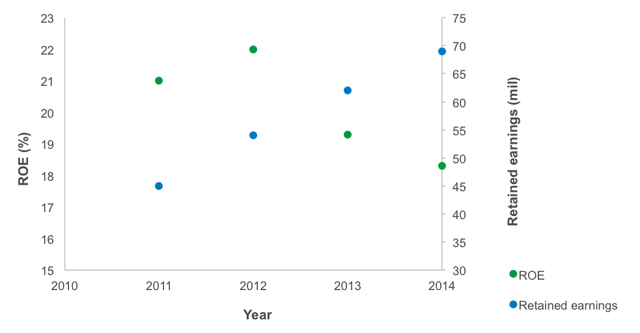 Albeit the purchase of Naked Wines does allow Majestic Wine to dramatically expand its online operations, producing an outstanding company with continuing growth potential goes far beyond just improving online operations. The facts in this report strongly support my hypothesis that Majestic Wine should be focusing on improving its fundamental accounting numbers first. History has proven an acquisition without a strong balance sheet and outstanding operating management seldom produces sustainable growth for shareholders.
Disclosure: The author has no positions in any stocks mentioned, and no plans to initiate any positions within the next 72 hours.
The author wrote this article themselves, and it expresses their own opinions. The author is not receiving compensation for it (other than from Seeking Alpha). The author has no business relationship with any company whose stock is mentioned in this article.