As I have written in my last blog post, Copper (Future Ticker: HG) was suspected to be forming an ending diagonal (I was forecasting it when at the start of the last wave with a price target of 3.0465 (Fibonacci extension target)). As it turns out, Copper did complete the 5 waves ending diagonal waveform as shown in the hourly chart below: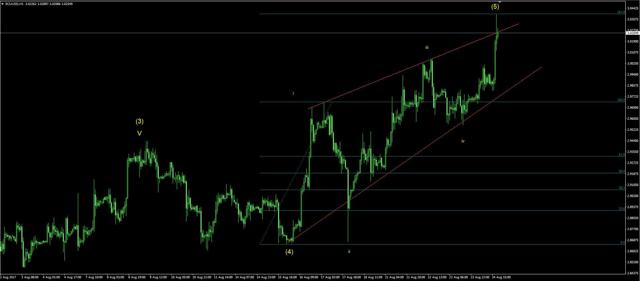 Copper price and EW counts in Oanda MT4 (NYSEMKT:CFD)
This is significant as in EW principles, ending diagonals are followed by sharp reversals ahead (note: Ending Diagonals also happens to be one of the most reliable Elliott waveforms). On the chart, I also show the Fibonacci Extension line (Copper price stops at the exact price point). A note of the price shown in the chart: for the 27 Sep 17 futures price, it is necessary to add 0.008 to the price shown in the chart.

This top also marked the final resting point of Copper for a long time to come. This is because Copper's on a Supercycle degree, Copper has also completed it's 5 wave structure as shown in the Daily chart below: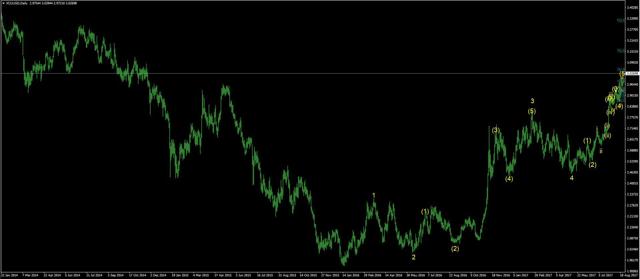 Copper Supercycle Elliott Wave countsHere I also provide a zoomed picture for you: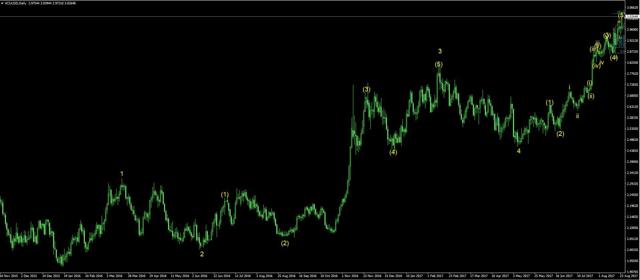 Copper Supercycle Elliott Wave count (Zoomed)Thus, given that we have the Copper completing it's 5 wave structures on so many levels and especially with an ending diagonal, it is now a low risk, high confidence short. 
However, as a trader, it is still prudent to put a stop a distance away from the highest high (I suggest at least 0.004 points away). 
Happy trading!
Disclosure: I am/we are short HG.
Additional disclosure: I am short copper futures.