Copper: Re-Presenting The Old Primary Elliott Wave Counts 13th Nov 2017
Summary
Copper has moved down as forecasted.
However, the recent wave up and a look at the bigger picture fores me to reinstate the original primary count.
The risk-reward is really now more favorable to long Copper than to short it.
Place your stop below ii or Y (in my chart)
Today my colleague came over to me asking me about the Copper Elliott Wave Counts, specifically to the latest downwave (b to Y in the chart below). The question is really about the wave up near W price level - whether it is a wave "iv" or an "a" wave.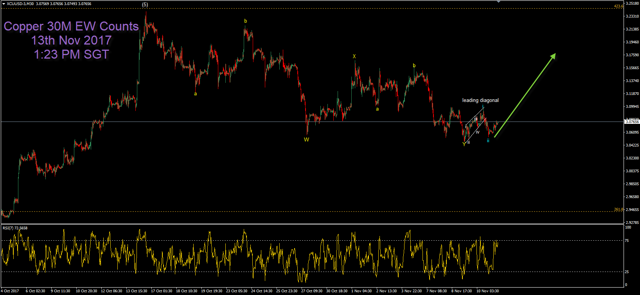 Personally, I prefer not to look into the smaller counts or smaller time frames unless things are really unclear. But the inquiry made me look into the details of the Copper wave forms, did Fibonacci price analysis and eventually to decide whether to reinstate the old primary counts or continue with the old alternate counts.
Sometimes this is the headache of using EW with leveraged products and thus practitioners always keep both. But I prefer a cleaner chart and really dislike too many compounded wave 3. Thus, I present you with the old EW counts here. 
Note that personally I do not have a bias which to use and I prefer the market to tell me what to do. If it breaches the low, use the downtrend count, if the support holds and I started seeing 5-waves moving up, use this.
From a risk standpoint then, the trade should clearly be taken from a break-out perspective. So really, what you should do now is to sit and wait. At least that is what I will do.