It would appear that there is some kind of deep connection between NQ Mobile and a company called Winshine Entertainment which trades in Hong Kong under the ticker 0209. As a note, prior to March of 2015 Winshine used to be named China Tycoon Beverage Holdings.
New CFO
NQ Mobile's announced a new CFO on June 1, 2015 named Roland Wu. According to the release he has served as executive director at Winshine since 2014.

In addition the news of this new CFO seemed to have leaked ahead of time as well. Someone on StockTwits, a Twitter clone website for discussing stocks, posted back on May 12, 2015 that the new CFO for NQ Mobile would "have some connection to China Tycoon Beverage/Winshine Entertainment & Media." This is almost 3 weeks prior to the official announcement.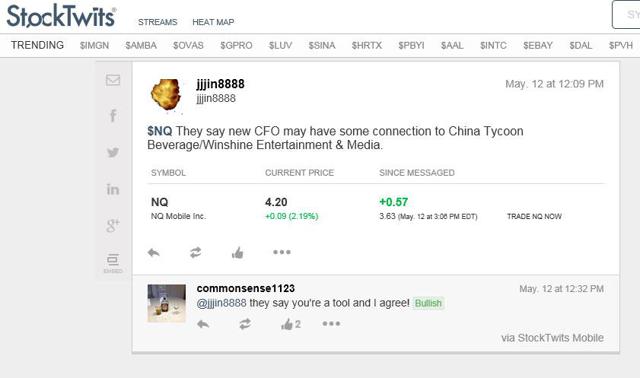 Tack Fiori Link
Furthermore on April 13, 2015, Tack Fiori announced the addition of a new board member Zhang Jack Jiyei. According to the press release Zhang is the CFO of Winshine Entertainment.

As you may recall back in December of 2014, NQ Mobile announced some kind of agreement for a reverse merger of FL Mobile, their Chinese mobile gaming division, with Tack Fiori.
Bison Capital Link
Also back in December 30, 2014, when Winshine Entertainment was still named China Tycoon Beverage, they agreed to buy a 19.08% stake in a company called Beijing Weiying from a man named Xu Peixin.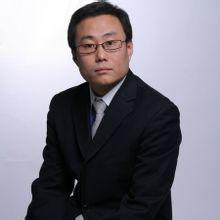 This is the same Xu Peixin who is the managing partner of Bison Capital. His firm made a nonbinding buyout offer for NQ Mobile back in 2014 that was rejected. Bison Capital had also bought a tiny stake of FL Mobile from NQ Mobile in 2014.
Conclusion
So it would seem there is some kind of deep connection between NQ Mobile, Winshine Entertainment, and Bison Capital. Therefore this may be a matter worth looking further into.
Disclosure: I/we have no positions in any stocks mentioned, and no plans to initiate any positions within the next 72 hours.