On January 10th 2013 the Delaware Supreme Court listened to oral arguments regarding SIGA's appeal of the material judgment awarded Pharmathene on September 22, 2011. Delaware's Supreme Court usually decides almost all of the cases before them within 90 days but still hasn't released their final ruling concerning SIGA's appeal of this case. After researching this case in detail, I believe as does Jeff Leff, a SIGA investor, that if there is any award to Pharmathene after this appeal, it will be significantly less than the original award. Here is an excerpt of comments made by Leff on Andrew Tobias's website-
"Jim Leff: "A friend who's also a SIGA investor tells me that an investment analysis firm hired a distinguished Delaware judge to look over SIGA's supreme court appeal and to share his findings for their big-wig investors. The judge agrees that the lower court decision (which "split the baby," awarding the plaintiff half the future revenue from SIGA's smallpox drug) was overreaching. He's confident that SIGA will be on the hook for a much, much, much lower amount (that's been my expectation, as well).""
So that you understand the impact of that lawsuit and judgment, during the first part of 2011 SIGA's stock was trading in the $10 to $15 plus range in anticipation of future revenues including a major contract with the US government for their ST-246 drug, now being branded as Arestvyr™. From the below stock chart you can see that 2011 law suit and judgment had a dramatic effect on SIGA's stock price so that anyone should be able to understand that any adjustment of that original judgment will probably dramatically increase the value of SIGA's stock.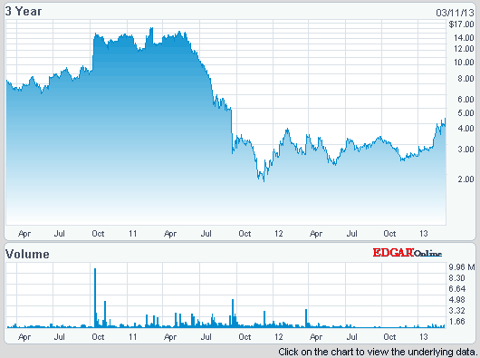 So that you have a better understanding of the history of this lawsuit on January 3rd 2011 Pharmathene (PIP) commenced a breach of contract action against SIGA Technologies (NASDAQ:SIGA) (referred to as SIGA herein) per this Jan. 24, 2011 PR Newswire including the following excerpt-
"In December 2006, the Company filed a complaint against Siga in the Delaware Court of Chancery, alleging, among other things, that the Company has the right to license exclusively development and marketing rights for Siga's drug candidate, ST-246, pursuant to a merger agreement between the parties that was terminated in October 2006. The complaint also alleges that Siga failed to negotiate in good faith the terms of such a license pursuant to the terminated merger agreement. Siga has counter sued claiming that PharmAthene breached its duty to engage in good faith negotiations for a license to ST-246 during the fall of 2006."
Also here is an excerpt fromSIGA's website explaining their new product Arestvyr™
"Our lead product candidate, Arestvyr* (USAN tecovirimat; aka ST-246®) is a drug under development for the treatment of smallpox - one of the deadliest diseases that mankind has ever faced and a formidable bioterrorism and biowarfare threat.

SIGA has entered into a contract, in excess of $400 million, with the Biomedical Advanced Research and Development Authority (BARDA) for the delivery of 2 million courses of Arestvyr to the Strategic National Stockpile.

*Arestvyr is an investigational product that is not currently commercially available in the United States. It has not been determined by the U.S. Food and Drug Administration to be safe and effective for the treatment of smallpox or any other indication."
As the trial progressed, SIGA's share price dropped dramatically, as documented by the above chart, to as low as $1.78 on December 5th 2011 after a significant judgment was awarded to Pharmathene on September 22, 2011. A Final Order and Judgment was handed down by the Delaware Chancery Court which dramatically awarded a significant portion of SIGA's potential profits from their lead product Arestvyr* as per this excerpt from that ruling (link to Pharmathene's website for rulings)-
"PharmAthene is granted an equitable remedy in the form of an

"equitable payment stream" to the extent set forth in and in accordance with the other terms and conditions of this Final Order and Judgment, as follows:

a. Once SIGA earns $40 million in Net Profits,1 PharmAthene shall be paid fifty percent (50%) of all Net Profits for a period from entry of this Final Order and Judgment until expiration of ten (10) years following the "First Commercial Sale" (the "Payment Period") as determined in accordance with this Final Order and Judgment, unless the Payment Period is terminated earlier as set forth below under Paragraph 2(e)."
Also a large award for attorneys' fees was awarded to PharmAthene as a result of their Judgment victory as per this excerpt from that same Final Order and Judgment-
"PharmAthene is awarded certain fees, expenses, and costs as follows and to the extent set forth and supported pursuant to Court of Chancery Rule 88: (NYSE:A) one-third of "its reasonable attorneys' fees and expenses up to the date of the Opinion totaling $1,854,079.43; (NYSE:B) 100% of its is reasonable attorneys' fees and expenses from the date of the Opinion through the date of this Final Order and Judgment totaling $154,482.58;

(NYSE:C) one-third of its expert witness costs totaling $402,148.31; and (NYSE:D) post-Judgment interest on all of the amounts identified in this Paragraph 3, which collectively total $2,410,710.32, at the legal rate (5% plus the current Federal Reserve Discount Rate of 0.75% and as adjusted with future changes in the Federal Reserve Discount Rate, if any) from the date of this Final Order and Judgment until the award of such fees, expenses, and costs is satisfied."
At the center of this disagreement between SIGA and Pharmathene is the enforceability of an agreement referenced as their LATS (License Agreement Term Sheet). Even though the Chancery Court Judge specifically ruled there was no binding contract as a result of the LATS per this excerpt from the September 22, 2011 opinion,-
"The LATS was not a binding license agreement"
the Chancery Court Judge went on to find SIGA legally liable for the above Judgment as a result of the terms listed in the LATS and referenced in both the Bridge Loan Agreement and the Merger Agreement per this excerpt from that same opinion.-
"I have found SIGA liable (1) for breach of its obligations under Section 2.3 of the Bridge Loan Agreement and Section 12.3 of the Merger Agreement to "negotiate in good faith with the intention of executing a definitive License Agreement in accordance with the terms set forth in the [LATS]" and (2) under the doctrine of promissory estoppel."
In the January 10th oral arguments before Delaware Supreme Court which you can listen to at this link, you can listen to the judges questioning about the requirement to negotiate in good faith. Here is recap of some key points one of the Judges hearing this appeal made-
"Isn't there a heads I win, tails you lose aspect to a claim for a breach of the duty to negotiate in good faith and by that I mean if any relief at all is granted whether it's reliance damages or expectation damages that necessarily presupposes that the negotiations would have concluded with some agreement and that speculative by its very nature because that's unknowable- So that's the heads I win - the tails you lose is that if full effect is given to that argument then no relief is granted and which case why recognize a claim for breach of the duty to negotiate in good faith at all and yet we have that?"

"Isn't there some states that don't recognize a duty to negotiate in good faith as a practical term?
Here is an excerpt from an article by Herbert Smith Freehills LLP titled- "Developments In Agreements To Negotiate In Good Faith"-
"In the absence of a binding English authority to the contrary, the starting assumption for parties contracting under English law will remain that obligations to negotiate in good faith are likely to be considered unenforceable, regardless of whether they are express or implied."
It would seem obvious that Pharmathene would not have sued SIGA for the enforcement of the LATS, which included terms requiring Pharmathene to provide several million dollars of upfront capital, if SIGA's Arestvyr™ had failed some of its tests and/or for whatever reason, didn't appear to be on its way to becoming a successful product. So from that aspect, why is it any different for SIGA to change its position while negotiating the final LATS?
Another main area of concern debated during SIGA's appeal was the reasonableness of the Delaware Court of Chancery awarding such a large judgment to Pharmathene based upon the earnings over the next 10 years from SIGA's unproven drug as being expectation damages. Here is an excerpt about expectation damages from the National Paralegal College-
"Expectation damages can only be recovered if they can be calculated to a reasonable certainty. Where damages cannot be calculated to a reasonable certainty, the injured party will only be able to recover nominal damages. (We will discuss nominal damages a little bit later).

Typically, the issue of certainty arises in cases where the damages suffered are in the form of lost profits. The general rule regarding lost profits and certainty in calculating damages is that if the injured party is an established business, lost profits are not treated as speculative because they can be estimated from past profits. Therefore, an established business will generally recover for its lost profits.

However, where the injured party is a new business so that there are no past profits with which to estimate future profits, the courts examine each case individually and, if the courts can calculate damages to a reasonable certainty, then damages will be awarded. However, in the event that courts cannot, the injured party will be awarded nominal damages only."
Since the future success of SIGA's drug, especially as of the time of Pharmathene's involvement, was highly speculative, it would seem obvious that Pharmathene should not have been entitled to speculative damages and at most might be entitled to nominal damages or reliance damages.
On the positive side for shareholders of SIGA, on top of what I believe will be a positive outcome from their appeal, they have already begun shipping courses of Arestvyr™ per this article- "SIGA Delivers First Courses of Arestvyr™ Under BARDA Contract" - NEW YORK, March 12, 2013 (GLOBE NEWSWIRE)-
"SIGA may begin to obtain payment under the BARDA contract once it has delivered 500,000 of the 2,000,000 contracted-for courses of Arestvyr. This first delivery of approximately 190,000 courses moves SIGA much closer to that moment."
Since the initial conversations between SIGA and the United States government involved a lot more courses than the current 2 million contracted amount, I believe there is a high chance of many more courses of their drug being ordered by our government. Also with this world facing even more fear from all of the terrorists and their various tactics, the worldwide demand for Arestvyr™ could be much greater than originally anticipated. On top of increased demand for Arestvyr™ , as of 3/15/2013 SIGA has a large short interest of 7,527,209 shares which equals almost 17 days of SIGA share volume to cover.
In reviewing SIGA's 2012 Annual Report, I couldn't help notice they made an adjustment to their Deferred tax assets to increase the current portion to $33,515,327 and the long term portion to $10,209,278. The current portion of this asset would indicate to me that they expect to use carryforward losses enough to offset $95,758,077 ($33,515,327 divided by 35%(estimated tax rate)) of taxable income in 2013. This would indicate the company expects a net profit of $62,242,750 ($95,758,077 - $33,515,327). This would be equivalent to approximately $1.20 EPS ($62,242,750 divided by 51.6 million shares) for 2013.
Even if SIGA loses its current appeal of the Pharmathene judgment, I believe its share price is worth more than the current share price of $3.45 but if they win their appeal, it wouldn't surprise me for SIGA's share price to quickly jump to somewhere between $10 and $15.
Disclosure: I am long SIGA. I wrote this article myself, and it expresses my own opinions. I am not receiving compensation for it (other than from Seeking Alpha). I have no business relationship with any company whose stock is mentioned in this article.