Since 2009, Bitcoin transformed the currency market and led the way to the uncharted crypto currency markets. With many more digital currency introductions following years after, the market for digital currencies is a big deal now. Blockchain technology, a concept similar to BitTorrent sharing, is acting as the foundation for Bitcoin and many others, which enables a safe and efficient form of currency transactions.
Last week, Bitcoin's price surpassed the $2,500 barrier, reaching the $2,700s and being on its way to pierce $3,000. Such increases came after Japan legalized the currency and 56 involved companies along with 83% of Bitcoin miners (businesses that operate computers to further secure the blockchain and add new transactions to it) supported the "Bitcoin Scaling Agreement". In general terms, this is considered an upgrade that would increase Bitcoin's transaction capacity. Through the use of SegWit2MB, a combination of Segregated Witness (Soft Fork) and 2MB Block sizes (Hard Fork), bitcoin block sizes will be significantly increased. This news comes after months of dispute on which solution, hard fork or soft fork, would be used to increase general block capacity. Sergio Demian Lerner explained that this approach will be used in order to reunite the Bitcoin community and avoid a cryptocurrency split. Yet, still many are considering Bitcoin's complex and unique transaction structure to be immutable.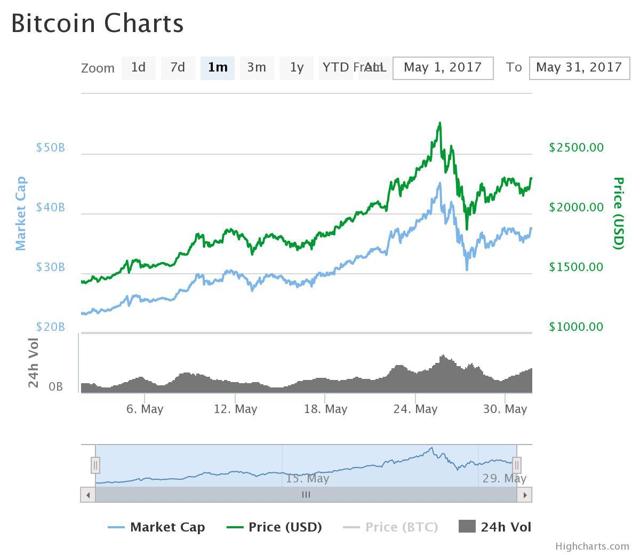 All the goodnews seemed to fade away as traders cashed in their profits after the incredible gains from the week prior. On Monday it was calculated that $4 billion was removed from the value of Bitcoin after a 19% correction from the highs of $2,791 to $2230. Yet still the crypto currency is up almost 4% since then slowly recovering yet still valuable, after Australia legalized the currency to be used just as cash and removed the previous taxation of the currency. Bitcoin's value is only going to increase as more and more countries increase their acceptance of it. Unlike most centralized currencies (USD, EUR, JPY), Bitcoin only has a specific amount of supply that will never increase or decrease, there are only 20 million bitcoins in existence. Governments can decide to print more cash to stabilize their markets, while also increasing inflation, thereby lowering the value of their currencies. However, Bitcoin is a decentralized currency with a fixed amount of coins available. Therefore by simply applying basic supply and demand concepts, the value will continueto increase in the long term since there is only a fixed amount of supply with an increasing demand (more acceptance of the currency). Although the crypto currency's volatility is very high in the short term, it could be a great long term investment. Acting as more support for Bitcoin is the idea that the bitcoin backed etf, COIN, will be proposed and reconsidered once again the months to come.
As for Bitcoins' less expensive competition, Ethereum, has reached significantly higher trading volumes than Bitcoin in the past week, turning $1.293 B in volume compared to Bitcoin's $1.271 B. Ethereum, unlike Bitcoin, will offer an entire marketplace (BlockApps) to remove middle men companies from daily transactions, including credit card and insurance giants (and many more!). On top of that, China's rapid technological developments on the Ethereum Platform has been greatly increasing with more companies showing interest. The only bad thing about this currency it seems is the fact that it doesn't have a maximum supply, which could mean that the Ethereum market place could easily develop more units thereby lowering the price with it. Fortunately the Ethereum market is still in the works and meaning there won't be any increase in supply yet. Ethereum is up 10% today, with more investors joining the rally everyday! Will you be a part of the next Bitcoin?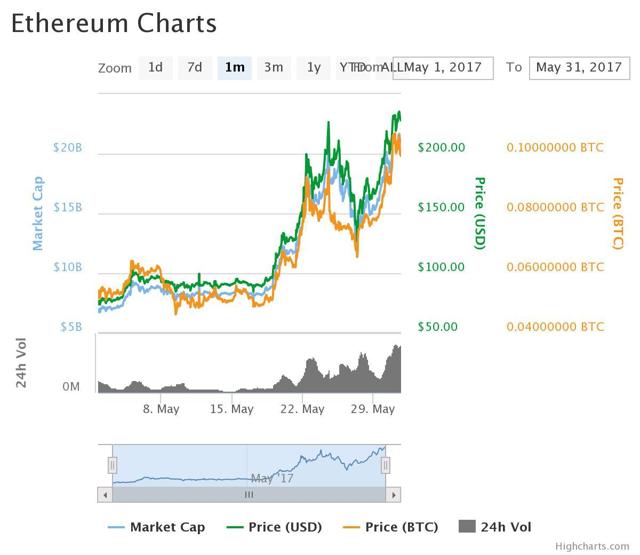 Disclosure: I/we have no positions in any stocks mentioned, and no plans to initiate any positions within the next 72 hours.
I wrote this article myself, and it expresses my own opinions. I am not receiving compensation for it (other than from Seeking Alpha). I have no business relationship with any company whose stock is mentioned in this article.