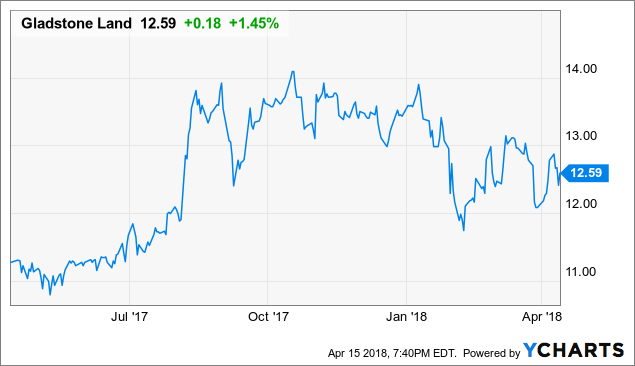 Rating
BUY
12- Month Target Price
$15.00
Gladstone Land Corporation ( LAND)
LAND significantly expanded its portfolio in FY:17 and we expect double-digit FY:18 FFO per share growth, driven by acquisitions and increased contribution from revenue-sharing contracts. We reiterate our BUY rating and establish a$15 price target.
| | | | |
| --- | --- | --- | --- |
| 52-Week Range | $10.77 – $14.29 | Long-Term Debt | $329 million |
| Shares Outstanding | 14.7 million | Debt/Equity | 278% |
| Insider/Institutional | 20.9% / 26.6% | ROE (AFFO LTM) | 6.7% |
| Public Float | 12.5 million | Book Value/Share | $7.99 |
| Market Capitalization | $188.6 million | Daily Volume |      67,998 |
FYE DEC

FY 2016A

FY 2017A

FY 2018E

AFFO ($)

ACTUAL

CURRENT

PREVIOUS

CURRENT

PREVIOUS

Q1 Mar

$0.12A

$0.14A

$0.15E

Q2 Jun

$0.14A

$0.14A

$0.15E

Q3 Sep

$0.14A

$0.14A

$0.15E

Q4 Dec

$0.14A

$0.14A

$0.16E

Year*

$0.54A

$0.56A

$0.61E

Change

2.9%

10.0%
FYE DEC

FY 2016A

FY 2017A

FY 2018E

Revenue ($ mil.)

ACTUAL

CURRENT

PREVIOUS

CURRENT

PREVIOUS

Q1 Mar

$3.68 A

$5.75A

$5.75A

$8.36E

Q2 Jun

$4.24A

$6.00A

$6.00A

$8.51E

Q3 Sep

$4.47A

$6.56A

$6.45E

$9.55E

Q4 Dec

$4.92A

 $6.81A

 $6.81A

 $9.91E

Year*

$17.32A

$25.12A

$25.12A

$36.34E

Change

45.5%

45.1%

-

44.7%

-
* Numbers may not add up due to rounding.
SUMMARY
The value of the portfolio increased due to new acquisitions, but NAV was down slightly to $13.96 in Q4:17 from $14.15 in Q3:17 due to capital improvements made to some properties that won't be reflected in their fair values until the projects are completed.
LAND acquired $7 million of new farmland in Q4:17 and a total of $129 million in full-year FY:17 and maintains a robust pipeline in FY:18.  Average cap rates on new acquisitions were 5.3% and most of the new leases have revenue-sharing provisions that could drive rental income considerably higher.
Company Description
Gladstone Land Corporation owns farmland in numerous US states that is leased to producers of high value produce.  As of December 31, 2017 the appraised value of their farmland portfolio was approximately $533 million.  The company plans to expand by selectively acquiring additional properties, while maintaining their focus on property used to produce high value crops.
Dividends rose 3.8% during FY:17 and we anticipate additional increases in FY:18.  At the current price, LAND shares yield 4.4%.
We maintain our Buy rating and establish a $15 price target, implying capital appreciation of 17% and total return potential exceeding 20%.
Equity Research
Primary RISKs
Regulatory changes to US agricultural policy could negatively impact the profitability of the REIT's tenants and reduce REIT NAV and rental income.
Lower produce prices would have a negative impact on REIT asset value and rental income.
Q4:17 and FY:17 Financial Summary
Strong acquisition pipeline sets the stage for FY:18 growth.  During FY:17 LAND increased its annualized revenue run rate by 32% and its tenant base by 33%. Importantly, portfolio occupancy remained nearly 100%. While recent share offerings have caused a dip in NAV per share. LAND has access to $15-$20 million of new capital (assumes no shares issued) to support its acquisition pipeline. Minimal near-term lease expirations (only 5% expire in 2018) set the stage for continued rent growth in FY:18.
Farm acquisitions totaled $129 million. LAND acquired two farms totaling roughly 1,400 acres in Q4:17 for combined spending of $7.0 million. This includes a 1,280-acre farm in Baca County, Colorado, for $900,000 and an organic almond orchard in California for $5.9 million. Subsequent to the quarter, LAND acquired a 161-acre farm in California for $2.9 million. During full-year FY:17, LAND closed on 16 properties totaling 12,641 acres across six states, for approximately $128.7 million. All of the new farm leases contain revenue-sharing provisions and/or annual rent escalations that should drive rents higher this year.
More acreage farmed organically. LAND is capitalizing on strong demand and rising prices for organic produce by increasing its exposure to organic produce. LAND acreage currently farmed organically or transitioning to organic represented 30% of the portfolio at year-end.
REIT trades below land value. At year-end FY:17, the REIT's land was valued at $533 million, with 76% of that value based on third party appraisals. Adding in the fair value of debt and preferred stock, NAV was $13.96, or roughly 10% above LAND's recent share price. Current NAV doesn't take into account capital improvements LAND is making to some farms, the value of which won't be recognized until the projects are completed. LAND is a total return play that rewards investors with price appreciation and rich dividends and has limited downside. We expect the REIT to extend its multi-year track record of rising NAV and dividends in FY:18 and beyond.
Steadily rising dividends. LAND increased its dividend four times during FY:17 for a total increase of 3.8% and has already raised the monthly dividend once in FY:18 to a new annualized rate of $0.53. This marks the ninth distribution increase over the past 37 months and a cumulative dividend increase of 47.5%.
Revenue-share payments likely to boost AFFO.  Many of LAND's lease agreements include provisions for revenue-sharing payments based on the performance of the farms.  During FY:17 the REIT received $300k from one such agreement, boding well for future performance. We think LAND is an attractive investment based on minimum lease payments alone and that the REIT may have considerable upside tied to revenue-share provisions built into its leases.
Although FY:17 revenues and FFO were in-line with our expectations, one item that had a bigger-than-anticipated impact on per share results was dilution from share offerings.  During FY:17, LAND completed two  common stock offerings, issuing a total of 2.9 million new shares plus another 544,075 shares under its ATM program. Another factor was revenues from acquisitions closed late in the year that did not show up in Q4:17 results, but should impact H1:18 financial performance.
FY:18 Outlook & Estimates
LAND does not provide revenue or FFO guidance.  Looking ahead, we think that additional acquisitions and several farms with revenue-sharing rent components scheduled to come on-line during FY;18 will help fuel FY:18 revenue and FFO growth.
Assuming historic cap rates and taking into account management's comments on acquisitions in the pipeline, we derive preliminary estimates for FY:18 revenues and AFFO. No appreciation in land values is assumed.
In FY:17, LAND generated $25.1 million in revenue and $7.4 million of AFFO ($0.56/share).  At year-end FY:17, the fair value of the land portfolio exceeded $533 million.  Some assets acquired late last year will begin contributing meaningfully to revenues and FFO in FY:18. In addition, the REIT has $21 million of new farm assets already under contract and many new properties in its pipeline. Our model assumes 45% growth in revenues to $36.3 million in FY:18 and 30% FFO growth to $9.4 million. To raise capital for acquisitions, we expect the REIT to issue more shares during FY:18, which will limit FFO per share growth to a 10%-11% range.
VALUATION
We derive a price target for LAND by comparing its dividend yield to REIT peers. For our dividend yield peer group, we used four timber REITs - Weyerhaeuser (WY), Rayonier (RYN), PotlatchDeltic Corp (PCH) and CatchMark Timber (CTT).
At present, LAND shares yield 4.4%, which is well above the peer group 3.4% average dividend yield. We divide LAND's current annualized dividend of $0.53 by the peer group average 3.4% dividend yield to obtain a price target of $15.
Disclosure: I/we have no positions in any stocks mentioned, and no plans to initiate any positions within the next 72 hours.