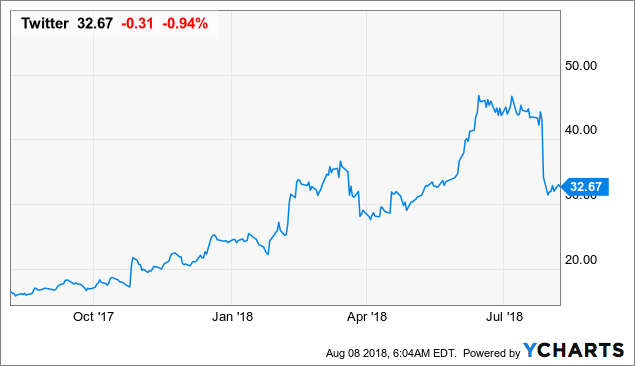 [object HTMLElement]
  Twitter has more downside ahead
Even after a sickening 20% drop in Twitter stock recently ( July 27) ,TWTR still looks significantly overvalued particularly when you look at the causation for the drop and then compare TWTR to other social media plays that have higher growth rates, more products and diversification and therefore, less risk.
Sharp decline  in user growth
TWTR's latest quarterly  report shows a sharp deceleration in monthly and annual user growth . Monthly active users were 335 million --a decline from 336 million in the first quarter, San Francisco-based Twitter said recently in a statement. Though that measure was up 2.8 percent from a year earlier, the company expects monthly visitors to fall again in the current period. One of the most important drivers of growth for TWTR is now nil. When revenue growth sputtered and flat-lined in 2016-17 TWTR swooned over 40% from a high of $25 to $14.   The forward delta of TWTR's revenue growth was expected to decay in next several quarters even before this negative guidance.
Gross margin pressures are  increasing
Twitter will have to invest in increasing its marketing and sales efforts to reinvigorate is top line growth rate of  monthly and daily users which seems to have hit a plateau.
Fake accounts purge : Reported by the Washington Post to be over 70 million ,or nearly 20% of TWTR's base,  is a wake-up call to current advertisers to carefully review their social media purchase options. This will likely pressure operating margins and pricing for Twitter from its currently lofty levels of 70%.
Fake accounts an ongoing problem
Your humble scribe has been a victim of fake  accounts and identity theft on Twitter and has tried numerous times to have them shut down and was rejected. After many unsuccessful attempts to reach human ears , a meager complaint was lodged with the Better Business Bureau.
Such fake accounts  create higher barriers to filter out fake accounts to get back to adding "real" accounts , again adding to cost of goods sold.
Significantly  higher marketing costs and increased investments in product  development, combined with higher hiring cost for personnel to filter out fake accounts juxtaposed by a declining top line growth rate will no doubt crimp Twitter's attractive gross margin significantly.
Cost of Thought Policing
Positioning themselves as the Arbiter or police of acceptable free speech  is a no-win proposition.
With the country divided they are bound to upset up to 50% of their audience at any particular point in time by intervening as referee in thought Patrol.
They would be much wiser to sit back as a utility and  allow free  discourse and ban only obscenities, vulgarities and hate speech strictly defined.
Government officials are considering bringing legal action against Twitter  for unequal treatment and suppression of political views it deems unacceptable.
Overvalued vs. Peers
Valuation exceeds recent resetting of current growth expectations.
TWTR is priced  at  huge premium to social media peers Google.and Facebook.
.
TWTR

Peers

LTM 30-Jul-18

NTM 30-Jul-18

NTM

PE

69.65

44.74

22.48

EV/EBITDA

54.11

25.13

12.19

Div Yield

--

0.00%

0.00%

EV/Sales

11.56

9.49

5.07

P/CF

29.50

23.93

17.00

P/B

4.92

4.04

4.93
Based on the above it would not be terribly surprising for Twitter to experience 30% to 50% further decline in its market price before it would reach fair value.
If you compare recent quarterly revenue growth rates of TWTR's 24% to GOOG's 26% and FB's 42% and TTM EV / EBITDA  of 54 vs  21 for  Alphabet (GOOGL) and 17 for  Facebook (FB), the combination of lower revenue growth and a  valuation premium of over 60% is startling . If we value TWTR 12 FTM EV/ EBITA , the average of its peers, we find fair value  at $17. Tweeter dee, Tweeter dum.
Disclosure: I am/we are short TWTR.
I wrote this article myself, and it expresses my own opinions. I am not receiving compensation for it (other than from Seeking Alpha). I have no business relationship with any company whose stock is mentioned in this article.