Singular Research Midwestern Values Conference Chicago, September 19 at the W Hotel, 644 N. Lake Shore Drive.
Conference Invitation
| | |
| --- | --- |
| Host | Singular Research |
| Event | Midwestern Values Conference |
| Date | September 19th |
| Location | W Hotel, 644 N. Lake Shore Drive, Chicago IL |
About Singular Research
At Singular Research, we focus on small and micro-cap stocks that are undercovered on Wall Street. These stocks have a niche business model and have yet to be widely discovered. Many of the global threats in the stock market today do not affect these stocks. Our small-cap investor conference in Chicago has thirteen public, emerging, and undercovered companies that exemplify our research and provide exciting alpha opportunities. Please see below for our conference schedule and a brief description on each company that is presenting.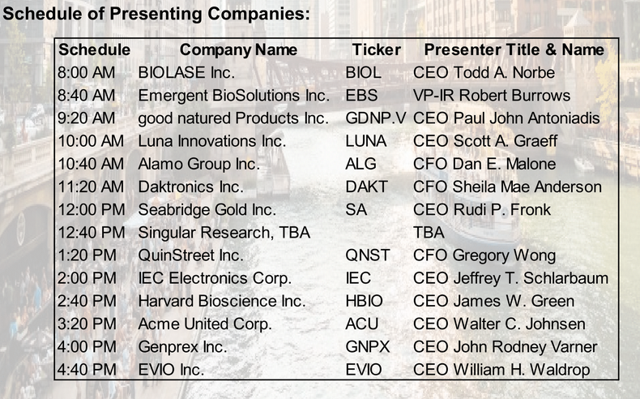 BIOLASE Inc. (BIOL)
Biolase (BIOL) is a world leader in the emerging market for dental lasers. To date, the Company has installed more than 33,000 dental lasers in over 90 countries. Compared to traditional dental instruments, lasers cause less trauma, pain and bleeding and improve patient outcomes. BIOL sells its dental lasers and related products direct in the US, Canada, Germany and India and through distributors in other countries. The Company is headquartered in Irvine, CA.
Emergent BioSolutions Inc. (EBS)
Emergent BioSolutions (EBS) is a global specialty life sciences company that develops and commercializes vaccines, drugs and devices that address biodefense threats. The Company is a preferred provider of biodefense products and services to the U.S. government under multi-year contracts. Its most valuable product, BioThrax is the only FDA-approved anthrax vaccine. The Company's products are sold mainly in the U.S. as well as internationally.
Good Natured Products (GDNP.V)
Good Natured Products Inc., formerly Solegear, is an award-winning, publicly traded bioplastics company founded in 2006 and based in Vancouver, British Columbia, Canada. Good Natured is an innovator in the field of next generation bioplastics made from annually renewable plant-based sources.
Luna Innovations Inc. (LUNA)
Luna Innovations Inc. develops and markets fiber optic sensing and test and measurement products worldwide. The company has two operating segments. The products and licensing unit sells the company's commercial fiber optic test and sensing equipment and the technology development segment performs contract R&D for U.S. government agencies.
Alamo Group Inc. (ALG)
Alamo Group is a global leader in design and manufacture of high-quality agriculture equipment for farms and ranches and infrastructure maintenance equipment for government and industrial markets. The company has 26 manufacturing locations in the U.S., Canada, England, France, Australia, and Brazil.
Daktronics Inc. (DAKT)
Daktronics, Inc. is the world's leading supplier of electronic scoreboards, large electronic display systems, and digital messaging solutions for use in sports, transportation, and communications.
Seabridge Gold Inc. (SA)
Seabridge Gold (SA) is a development stage company engaged in the acquisition and exploration of gold properties located in North America.
QuinStreet Inc. (QNST)
QuinStreet Inc. specializes in performance marketing products and technologies. The company serves clients in high-value, high-consideration market verticals, including financial services, IT / technology, home services and education.
IEC Electronics Corp. (IEC)
IEC Electronics is a provider of electronic manufacturing services to advanced technology companies that produce lifesaving and mission critical products in the medical, industrial, aerospace, and defense sectors.
Harvard Bioscience Inc. (HBIO)
Harvard Bioscience (HBIO) develops, manufactures and markets scientific equipment, systems and consumables that are used by thousands of researchers worldwide. The Company was founded in 1901 by a Harvard Medical School professor and has grown through a combination of new products and acquisitions. HBIO is headquartered in Holliston, Massachusetts and has sales and/or manufacturing operations in the US and Canada, the UK, Germany, Sweden France, Spain and China.
Acme United Corp. (ACU)
Acme United Corporation is one of the largest worldwide suppliers of innovative cutting devices, measuring instruments and safety products for the school, home, office and industrial markets. The company has facilities in the U.S., Canada, England, Germany, Hong Kong and China. Acme sells its products in countries. It had 421 employees at the end of 2017.
Genprex Inc. (GNPX)
Genprex is a pharmaceutical development company with an innovative anti-tumor platform. Oncoprex is in Phase II clinical trials for the treatment of lung cancer. Additional indications for soft tissue cancers are likely candidates for clinical trials in the future.
EVIO Labs is the nation's leading provider of accredited analytical testing, scientific research and advisory services to the regulated cannabis industry. EVIO Labs provides state-mandated ancillary services that are required to ensure the safety and quality of the nation's cannabis supply.
Disclosure: I am/we are long biol, EBS, LUNA, ALG, DAKT, SA, QNST, IEC, HBIO, ACU, GNPX, BIOL.