Qwest Corporation, a unit of global communications company CenturyLink Inc. has sold another "baby bond" (any bond with a par value under $1000 is considered a "baby bond"--our baby bond primer is here.). This issue is the typical $25/bond (or share if you would prefer) and has the typical attributes of baby bonds being that the company can call the bonds in approximately 5 years at the companies option.
Qwest currently has a total of 8 baby bond issues outstanding (including this new issue).
All of the issues are rated BBB- by Standard and Poors and Baa3 by Moodys. These are low investment grade ratings.
As you can see from the chart below the current yields are pretty tightly grouped within about 1/2%, but there is a difference in the Yield to Worst (yield to worst is the yield provided if the issue is called on the 1st possible call date). As we look at the chart we would NOT buy the CTW or CTQ issues as each of them is likely to be called on the 1st call dates. We also would not buy the CTY and CTZ issues. Although their yield to worst is high it is likely they will not be called on the 1st call date so the current yield becomes more important and these are lower than the new issue (NYSE:CTAA).
Personally, we are not currently buying issues with maturity dates that are 35 years out as they are more volatile in a rising rate environment (which may or may not be in--I mean we supposedly were entering one, but we don't think rates are going higher for a while).
We have all the links for prospectuses etc on The Yield Hunter website.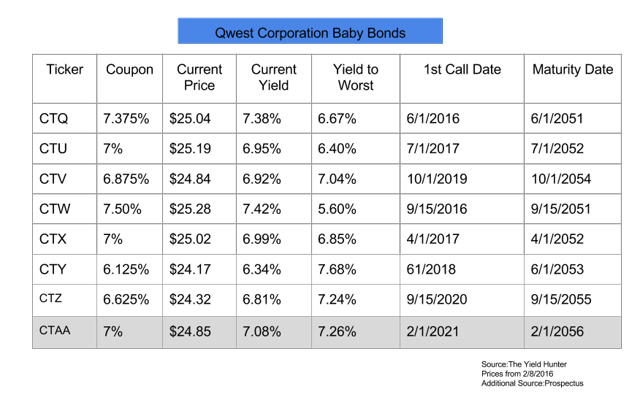 Disclosure: I/we have no positions in any stocks mentioned, and no plans to initiate any positions within the next 72 hours.