Newtek Business Services Inc, (NASDAQ:NEWT), a business development company, has announced the issuance of a new $25 baby bond.
As most of you know "baby bonds" are bonds with a face amount under $1000--typically they are $25 issues.  Retail investors like the $25 bonds because they are exchange traded (thus sometimes called exchange traded debt or ETD) so pricing is readily discernible and you can buy and sell the bonds just like you would a share of common stock.
NEWT has announced the intention to use part of the proceeds from this new baby bond issue to "call" their 7.5% issue currently outstanding.  The bonds being called became callable on 9/23/2018 and had a maturity date of 9/30/2022.  This is a small issue of just 328,000 bonds and they will be redeemed at $25 plus accrued interest.
Here are the details on the new issue which will likely trade within a week or so.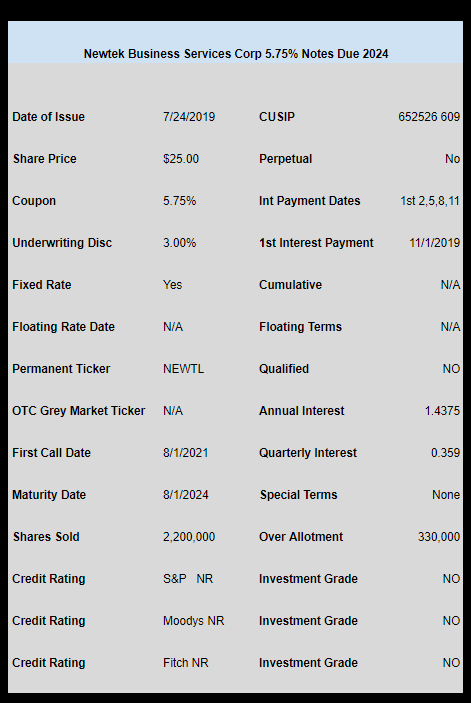 Source:Innovativeincomeinvestor
NOTE: Issue is unrated by the major ratings agencies as noted in the chart, but is rated A-/BBB+ by Egan Jones.
As investors can note this new issue has a maturity date in 2024, which should contribute to reduced volatility (compared to long dated maturity securities) in share price as interest rates move higher or lower.
The preliminary prospectus for the new issue can be read here.  
The pricing term sheet for this issue can be seen here.
Below is the data on the issue being called.  Please note the severe drop upon the announced redemption.  Investors had bid the price of this security up to unreasonable prices in their chase for yield and current holders are paying a steep price for overpaying for the securities.  Investors always need to  be aware of the "call risk" when holding baby bonds and preferred stocks--and it appears that a bunch of holders were "asleep at the wheel" on the call risk of this obviously overvalued security.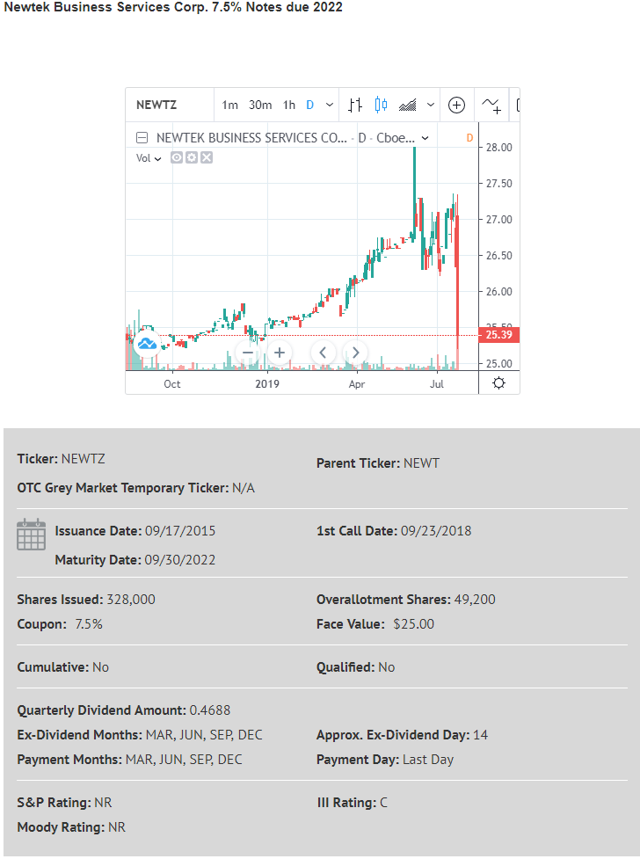 Source:Innovativeincomeinvestor
Additionally, NEWT has 1 other outstanding baby bond which is trading under the ticker NEWTI.  The info on this outstanding baby bond can be see below.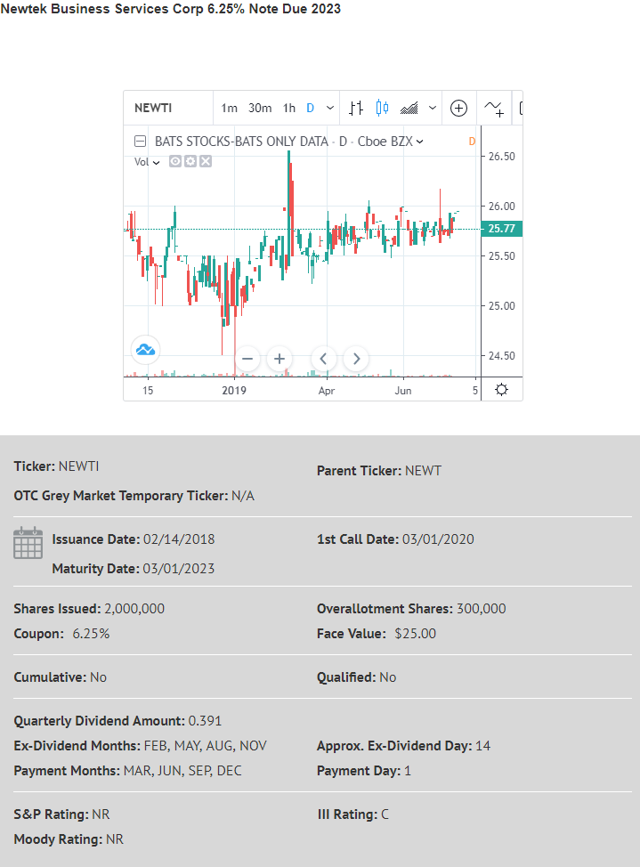 Source:Innovativeincomeinvestor
We need to mention that when one buys or sells baby bonds (or preferred stocks) limit orders MUST be used. The consequences of not using limit orders is that the investor may needlessly pay substantially more for bonds/shares than necessary. This is because that while the baby bonds are traded on an exchange the volume of trading may be very small--many times as little as a few hundred shares per day.
Unlike new preferred stock issues baby bonds do not trade on the OTC Grey Market prior to trading on their permanent exchange, thus there will be no trading on this issue prior to NASDAQ listing. We should note that occasionally, for those with a super high interest, that the "bond desk" of your broker may be able to secure shares (bonds) for you prior to public trading, but only a phone call can make that happen.
Disclosure: I/we have no positions in any stocks mentioned, but may initiate a long position in NEWTL over the next 72 hours.
I wrote this article myself, and it expresses my own opinions. I am not receiving compensation for it. I have no business relationship with any company whose stock is mentioned in this article.
Additional disclosure: We hold no NEWT common stock or baby bonds, but may purchase a position when it begins to trade.