I would like to take this time to announce that I have recently launched a website whose purpose is to help educate college-aged students about the importance and how to of investing as they begin their careers. Investing becomes less valuable the older an individual becomes so making the decision to invest from a younger age can have a major impact on the wealth one can amass throughout their career. The website is called Student Investing Guide and it will cover many themes more relevant to people in their mid to late 20s, but it will also summarize some of the value investing strategies which can be beneficial to all investors. Also, if any investment professionals feel compelled to write up a few words of advice towards younger individuals, I'd be more than happy (and appreciative) to publish it.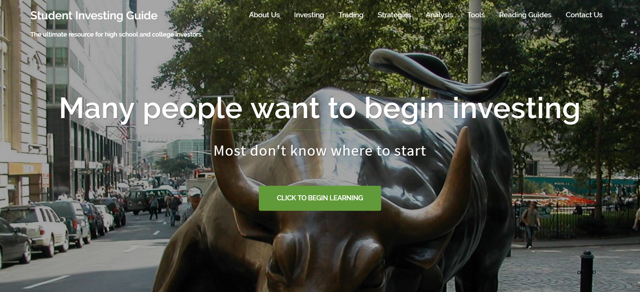 Book Give-away
In order to build some momentum for the site, I've decided to do a book give-away for those who subscribe to the website's newsletter. I will be giving away a copy of Ben Graham's The Intelligent Investor, Joel Greenblatt's You can be a Stock Market Genius, and Burton Malkiel's A Random Walk down Wall Street to two people who subscribe to the newsletter (each winner receives a copy of each book).
When signing up, simply enter your email address into either the pop-up box or the signup widget along the right side of the website.