While looking for my next investment to add to my portfolio, I came across NVE Corp. (NASDAQ: NVEC). "NVE Corp. develops and sells devices that use spintronics, a nanotechnology that relies on electron spin rather than electron charge to acquire, store and transmit information." (NVE website) Founded in 1989, and based in Minneapolis, Minnesota, NVE Corp., has had awesome growth over the last five years, and look to continue with the same growth in the future.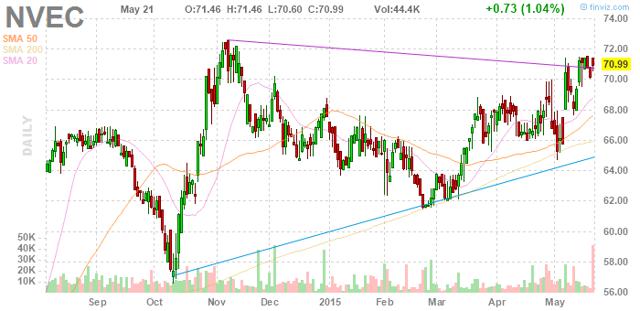 NVE Corp. just paid its first dividend this year; they have paid two dividends thus far in 2015. The first was for $2.16 per share, and most recently $1 per share. In the 2015 10-K, it stated: "While we currently plan to pay quarterly dividends indefinitely, our payment of cash dividends will be subject to, among other things, our results of operations, cash and marketable security balances, the timing of securities maturations, estimates of future cash requirements, fixed asset requirements, and other factors our Board may deem relevant. Because they are significantly more than our current free cash flow, recent and declared dividend amounts are likely unsustainable. Any reduction or discontinuance by us of cash dividends could cause the market price of our common stock to decline."

However, looking deeper into the 10-K, they reported an operating cash flow of $14,870,066 and only reported capital expenditures of $185,007, resulting in a Free Cash Flow of 14,685,059 for the 2015 fiscal year. They paid out $10,000,000 in dividends in 2015. Those dividends paid are not "significantly more than our current free cash flow." They are actually less, leaving roughly 4.6 million dollars left over. They stated in the 10-K: "Our plan for capital allocation is to continue cash dividends and opportunistic share repurchases until we have significantly decreased our balance of cash plus marketable securities." If they continue to pay a dividend, and repurchase shares over time here and there, the PPS could steadily increase.
Looking at the value of the shares at current price levels, they seem to be a tad high for my liking. They are inching closer to their 52 week high, which was $75.80, however, their ten year chart shows steady increase. They are currently trading at 24.06 times earnings, which is about in the middle for the industry, but if their revenue growth stays the same for the next year, their EPS will jump up to $3.67, resulting in them trading 19.34 times earnings, assuming the stock stays at a price of $70.99.
Moving forward, they plan to expand their sensor and coupler product lines in 2015 and further. They currently sell their products to distributors in 75 countries and are looking into adding to that number and expanding distribution into more countries. This could potentially ramp up revenue growth for the upcoming years. If revenue can continue to grow at roughly 20% like it did from 2014 to 2015, and continue to pay a constant dividend, NVE could creep closer to reaching $100 per share in the next few years. I do believe this stock is currently overbought, and I plan for it to retrace back into the mid $60s. If that happens, I might look into buying shares for a long-term play.
Disclosure: The author has no positions in any stocks mentioned, and no plans to initiate any positions within the next 72 hours.