How Did the Markets do?
Today was a good day for the markets; indexes opened up higher after falling yesterday and continued to rally until end of the day – Nasdaq closed up 1%, S&P 0.6% and Dow 0.4%
What Groups Performed Best/Worst?
Best sector was tech – up 1.2%; led by semiconductors (+1.7%) and Internet stocks (+1.4%). The worst was energy down a mere -0.16%. Today you would'a made money if you; shorted volatility (XIV +3.4%), gold (DUST +4%, JDST +6.4%), and oil (DWT +6.4%), and longed small cap companies (TNA +2.8%), real estate (DRN +1.6%), tech sector (TQQQ +3%), banks (FAS +1.8%), and semi conductors (SOXL +4.8%) 
Why? What Economic/Market Events Occurred?
Today's big news was the Employment Situation that highlighted the strength in demand for labor with nonfarm payrolls rising 47,000 to 222,000 in June vs. a revised 152,000 prior and 170,000 expected and an unemployment rate of 4.4%. Robust growth by the service sector jobs is largely responsible for the report's strength. Professional and business services added 35,000 jobs and 13,000 contractors (perhaps because they are unable to fill positions). Government jobs are also up 35,000. Manufacturing jobs however, paint a different picture with payrolls up 1,000 vs. -2,000 prior and 6,000 expected. The most important piece of data in this report (and one of critical importance to my strategy and future prognosis) is the wage growth - there is none. Up 0.2% vs. 0.1% prior and 0.3% expected for June and up 2.5% year over year. This is of pivotal importance because it substantiates (at least to me) the connection between low productivity, growth, easy-money monetary policy (low interest rates), and inflationary pressures which seem to have subdued not only domestically but abroad too as yesterday's ECB Minutes report highlighted: "Economic recovery (in the Eurozone) with stubbornly low levels of core inflation". This is the connecting point between 1) low growth here in the US (which stems from the service sector failing to innovate and make changes to the standard of living and instead revolving around entertainment and media) 2) Low interest rates and easy-money policy around the world, economic recovery, low inflation, and inflated asset prices. This is critical because without inflation the Fed can't continue to taper or tighten their monetary policy – at least not smoothly. There are $13 trillion of assets held by the world's central banks with the largest holdings in the Fed, ECB, and BoJ.
Now to digress from the larger picture and back to today – markets opened up after falling yesterday, which was a surprise to me because of the strength they showcased throughout the day. I thought that Nasdaq would be indecisive as it approaches it's MA(50) (which it still was), and I thought that the markets would see a tad less confidence and a tad more profit taking before the weekend begins amid geopolitical instability and unfolding developments in North Korea; even gold didn't have much of a recovery.

How Did my Stock Predictions go?
Yesterday I didn't lay out any specific trade ideas because in the words of Lefevre: "No man can always have adequate reasons for buying and selling stocks daily - or sufficient knowledge to make his play an intelligent play." - instead I outlined themes. One of such themes was oil's rally yesterday isn't sustainable and will likely be short lived, which turned out to be true. I suspected real estate and financials would perform well given a good report. The report was mixed but both sectors were notable winners. And lastly, I was wary about Nasdaq's recovery today because of it's pivotal technical positioning – below MA(50). It approached it in today's trading session & made brief contact. It will be interesting to see if it remains below it's resistance, which would support my larger theme of economic and market developments – that assets may be overinflated (especially high growth stocks – to which easy money flocked & ultimately led the market higher) and the robust tech growth fails to grow productivity and produce meaningful innovations (as illustrated with great detail in Robert Gordon's The Rise and Fall of American Growth).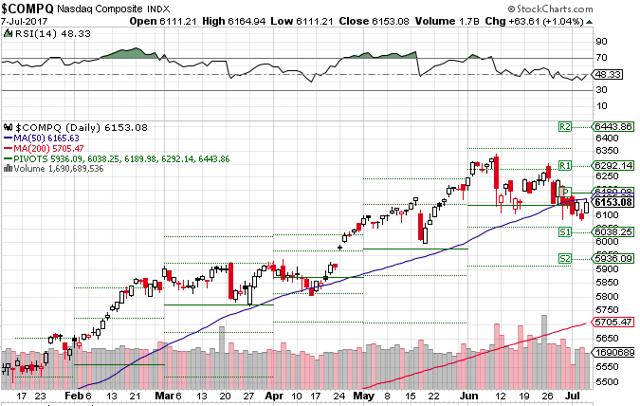 What is the Mistake/Success? Lessons Learned?
My biggest mistake – I am not ashamed to admit – would be bias and hopefulness on gold. I'm a gold bug, what can I say? But now after a capital loss therapy session my outlook for the future is brighter than the shiny metal. A couple days ago when I noted gold's deviation from it's long-term upside trend I was hopeful it would correct itself & gold would continue upward. That was not the case. What should have been plain obvious to me – that there's a fundamental change in sentiment that may alter my long-term prospects that I should at the very least revisit – was blind-sighted by hope. But at least I learned; you win some, you lose some – in the end it's all good if the outcome is income.
Next week's predictions and upcoming data will be posted later this weekend.