Written Sunday July 9th for trading week beginning10th
Upcoming data & events:
Monday, July 10 th: Labor Market Conditions Index – provides further insight into the labor market and focuses on wage growth and employment growth. Consumer Credit – shows consumer-spending debt outstanding and predicts future spending/saving.
Tuesday 11 th: NFIB Small Business Optimism Index, Wholesale Trade, & Japan PPI.
Wednesday 12 th: Great Britain Labour Market report, Eurozone Industrial Production, Atlanta Fed Business Inflation Expectations, Yellen Speaks (8:30 am EST) and testifies (10 am EST). * Important because gives insight into inflation and predicts Fed's future action. May influence global yield rates, gold, dollar, REIT's, commodities, financials, & indexes.
Thursday: China New Yuan Loans (* important because of China's high debt to growth ratio, if debt keeps climbing and growth comes below what's promised could help predict how risky it is and therefore short opportunities), Jobless Claims, PPI-FD, Bloomberg Consumer Comfort, Yellen speaks (10 am EST).
Friday: CPI, Retail Sales, Industrial Production, Business Inventories, Consumer Sentiment, & Baker-Hughes Rig Count.
Predictions for 07/10 –14 trading week:
Follow-up on gold & UGLD trade decision
Gold broke its long-term upward trend and headed lower this past week due to rising yield rates. The rise in yields began after Draghi announced EZs recovery and "reinflation" on Tuesday, June 27 th – suggesting monetary tightening. Since then the Treasury rates in the US took off as the economic conditions show improvement and another rate hike is seen as probable. Rising inflationary pressures substantiated the prior rate hikes in December, March, and June. Now inflation has slowed, with no growth in the recent Personal Income and Outlays report and virtually no wage growth in Friday's Employment Situation. This may make the Fed more cautious about hiking until the pressures pick up and they are still to address balance sheet unwinding. The upcoming week will provide further insight into inflation and Fed's perspective of the economy and future decisions (Yellen Tuesday/Wednesday, and inflation data Wednesday, Thursday, and Friday). I think Yellen's speech will contain emphasis on the inflation to come and therefore induce doubts about continuing hiking.
To conclude; I think that gold has broken it's upward trend and will be prone to volatile moves as the easy-money monetary policy is in its final stages. If inflation remains low the Fed's future decisions are less certain and gold picks up.
This week gold will bounce off weekly support levels after selling off as protection to low inflation.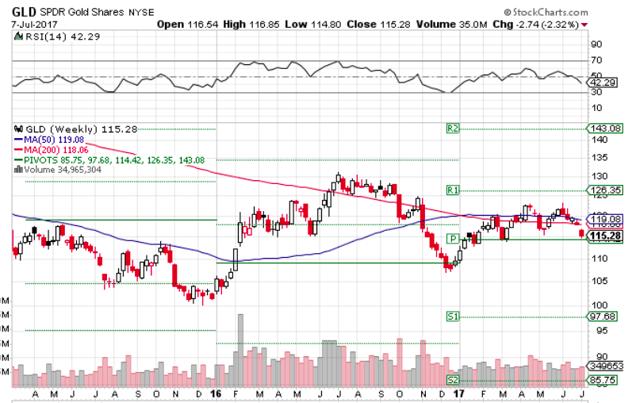 So it could be a good time to sell my gold position at the peak & enter a short position.
Market Prediction
The markets rally was led by tech and financials. Nasdaq entered bearish territory on Thursday dropping below MA(50). Friday they recovered but still remained slightly below MA(50) and pivotal resistance points. If nasdaq fails to go above them and continues to fall the whole market can follow suit. Therefore the move in yields and Nasdaq are pivotal for determining the course of the week.
What to Trade:
I will play Nasdaq's technical movements and pay attention to fundamental events, if it sells off Monday or shows a weak pattern SQQQ is a good play.
If Nasdaq does fall and markets do follow – UVXY and VXX are good trades, as well as shorting emerging market bonds.