How Did the Markets do?
Good, S&P hit new highs, markets opened higher and pushed up until about 2pm, when they reversed. Nasdaq flat, S&P up 0.3%, Dow 0.5%.
What Groups Performed Best/Worst?
Best performers were energy (+1.3%) and financials (+1.2%), worst sector was healthcare, (-0.7%)
Why? What Economic/Market Events Occurred?
Markets pushed higher as companies beat earnings. GM, MCD, and CAT to name a few. House prices rose; 0.4% according to the FHFA House Price Index (vs. 0.6% prior and expected), and according to Case-Shiller HPI prices rose 0.1% vs. -0.2% prior and 0.3% expected. While yesterdays existing home sales fell from 5.620m prior to 5.520m (5.580m expected). Consumer confidence is up to 121.1 vs. 117.0 expected & prior. State street investor confidence also up, 108.9 vs. 101 prior.
What do I Predict will Happen Tomorrow/Next Few Days? Trade Ideas
Gold is at critical levels prior to FOMC announcement tomorrow. It's widely accepted that the Fed won't do anything tomorrow, therefore, gold may rally higher, pushing above it's daily and weekly MA(50). This is supported by the daily reverse head and shoulders pattern. If Fed doesn't raise, yields go down, gold goes up as people get protection at market highs, especially prior to GDP report Friday. I thin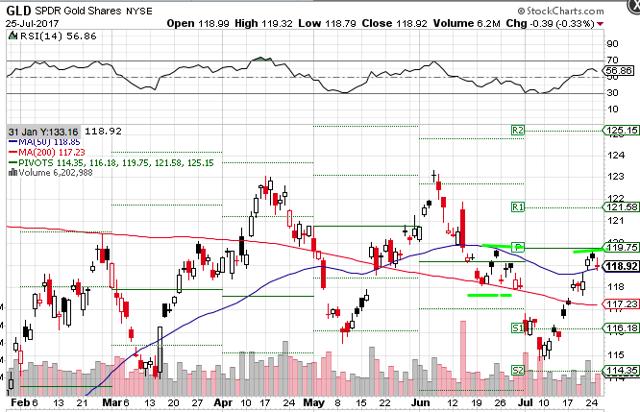 k markets will continue to rally further, making XIV a potentially good buy.
Reports/News Coming Up
Earnings: Wednesday 26 th: BO: Ford (F), Gilead (GILD), AC:Buffalo Wild Wings (BWLD), FB, KIM, ORLY, PYPL, O, WFM
Thursday 27 th: BO: ALLY, BUD, Fiat Chrysler (FCAU), TWTR, VZ, DNKN. AC: AMZN.
Friday 28 th: Chevron (CVX), Credit Suisse (CS), Exxon (XOM).
Events: Wednesday: FOMC, New Home Sales, EIA report, China industrial Production.
Thursday: Durable Goods Orders, International Trade in Goods, Jobless Claims, Chicago Fed National Activity Index, Bloomberg Consumer Confidence, Kansas City Fed Manufacturing index, Japan: CPI, Unemployment
Friday: GDP, Employment Costs Index, Consumer Sentiment, EZ: Economic Sentiment.