From time-to-time, I will provide an alert on key posts on my blog "One-Twenty Two." Given last week's manic and extreme trading, I thought this was a good opportunity to point readers to my latest market narrative: "A Manic Stock Market Leaves Behind An Extreme August Drawdown."
In this edition, I also provide extensive chart reviews and trading assessments of Apple, Advanced Micro Devices, ANGI Homeservices, Caterpillar, CVS Helath, Facebook, Alphabet/Google, Lowe's Companies, Microsoft, Netflix, NY Times, Redfin, Stamps.com, TLT, Tyson Foods, Uber, USO, and Zillow Group. 
I will also publish on SA a quick reminder of why August and September are considered the S&P 500's most dangerous months. The upshot is that August's drawdown has already surpassed the historic average and median. Combine that milestone with a near oversold reading at the time of the maximum drawdown, and the odds look high that the lows are in....for THIS month. The upside looks capped based on the market's previous inability to drive into overbought trading conditions. I use this behavior to create a signal for trading the next top in the market.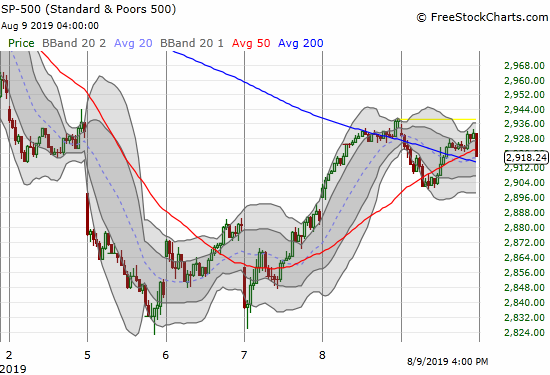 Be careful out there!
Disclosure: I am/we are long AAPL.
Additional disclosure: Full disclosure on stocks mentioned in the associated post: long long TLT puts, long UVXY put, long UVXY calls, long AAPL calls, call spread and puts, short UBER shares and long calls, long GOOG call, long LOW call, long USCR, short LYFT puts and long calls, long NFLX calendar put spread