The New Improved MAD Chart
Please Note: Blog posts are not selected, edited or screened by Seeking Alpha editors.
Summary
We've been moving at lightning speed to add features to MAD Plus.
The most recent is our new, improved MAD Chart.
We review the new features here.

Written by Sam Kovacs
One of the best parts about running an active community of investors, is that we don't need to do all the thinking when it comes to developing tech tools to help dividend investors.
Having hundreds of smart and astute investors use the tech, means we get daily suggestions about what to improve.
Being a two man team, means we have to work double hard. It also means that there isn't all the bureaucracy that even so called "lean start-ups" have.
Most often a decision to pursue something will go something like this:
Sam: Hey dad, did you see, a few guys have been requesting we improve our MAD Charts to also forecast the value of a stock a few years in the future?

Robert: Yeah son (just kidding, he doesn't call me son), how do you think we should calculate the projections?

Sam: I was thinking we could project dividends using the minimum of the 1,3,5 year CAGR to be conservative.

Robert: Seems straightforward enough, shouldn't take me more than a day or two to code.

Sam: Great, I've just sent you a couple mock-ups.
And boom, the next day the prototype is live, we smooth out some bugs, and we have a new feature.
Remind me what's a MAD Chart?
A MAD Chart is our proprietary chart which assists us in making decisions to invest in dividend stocks.
Here is what they look like. This one is for Johnson & Johnson (JNJ).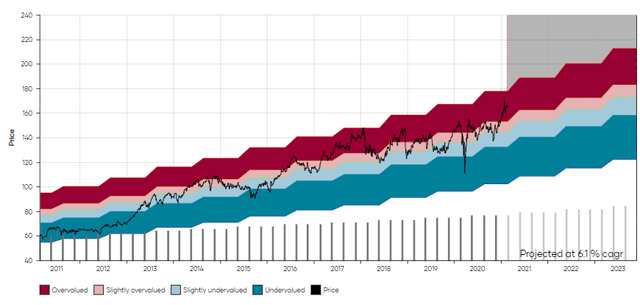 Source: Dividend Freedom Tribe
As you can see, there is the black price and the bars at the bottom which represent individual dividend payments.
Then there are four colored ranges, which are marked as "overvalued" "slightly overvalued" "slightly undervalued" "undervalued".
How do we work these out?
We take 10 years of dividend yields, then work out the minimum, maximum, median yields, as well as the 25th and 75th percentiles.
We then use the historical dividends to infer the prices if the stock were to trade at a given yield.
In the example with JNJ above, the median yield is 2.79%. In 2011, when the stock paid $2.28 in dividends per year, that means that the calculated price would be $81.
Today, JNJ pays out $4.04 in dividends per year. So the calculated price would be $144.
That is to say, if JNJ were to trade at its 10 year median yield today, it would trade at $144.
If it were to trade at its median yield in 2011, it would have traded at $81.
We calculate these inferred prices for all the yields mentioned above: the max yield, minimum yield, median, 25th percentile and 75th percentile.
So the ranges you see are as follows (remember the higher the price, lower the yield):
"Overvalued": Between the min yield and 25th percentile.
"Slightly Overvalued": between the 25th percentile and the median.
"Slightly Undervalued": between the median and 75th percentile.
"Undervalued": Between the 75th percentile and max yield.
Taking it one step further: let's go back to the future:
While the MAD Charts are a fine and dandy way to see how a stock compares to its history, everyone is left lingering with one question: what about the future?
We agreed. Projecting these ranges in the future, would be fantastic. It would allow us to clearly say: okay if this stock yields its median yield 1, 2, or even 3 years from now what would the price be?
How do we calculate projected dividend growth rates?
If we're going to display ranges of potential values in the future, we want to be sure that we're doing so in a conservative way. What is the point in overshooting it?
We wanted something that reflected management's commitment to increasing dividends. We also wanted to ensure that a stock has a history of growing the dividend (even if it's not every year).
One nifty approach to doing that, was to take the 1 year, 3 year, and 5 year dividend CAGR, and use the lowest of the 3 to project in the future.
That way if a stock has been raising its dividend at a 10% CAGR for the last 5 years, but last years increase was only 2%, we'll only project forward at a 2% rate.
So when our members log in to MAD Plus, and search for a stock, they'll get this neat little view, which shows the MAD Chart.
The projected are is greyed out in the background, and the projected dividends are indicated. For instance here on the Snap-On (SNA) chart, you can clearly see the "projected at 13.9% CAGR" on the chart.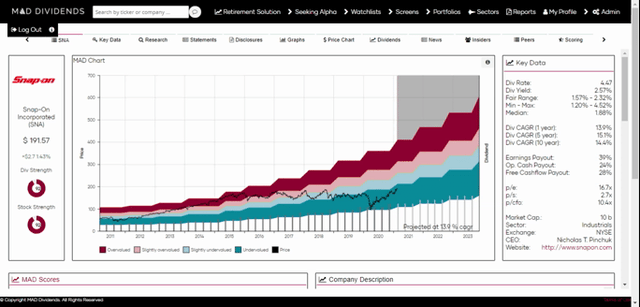 Source: Dividend Freedom Tribe
Of course you also get all the rest of the data on the sides, the dividend data, our MAD scores and quick access to everything else.
How to access these?
The only way to access these, is by joining the Dividend Freedom Tribe.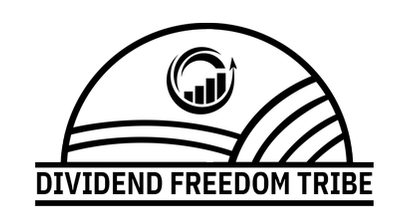 We have recently decided to close access exclusively to MAD Plus, as we believe that for a few dollars more, members get one hell of a better experience by joining the Dividend Freedom Tribe.
The 20 or so raving reviews we've received so far, tend to indicate this.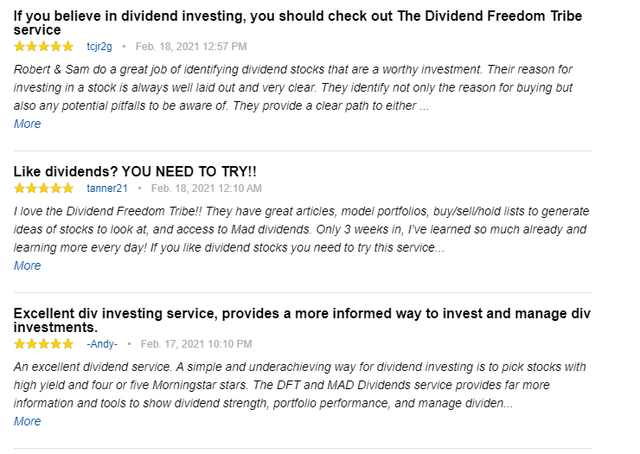 And you can get a GREAT deal, if you act now.
Until February 28th, you can get access to the Dividend Freedom Tribe for just $399/year, or 43% off the price of monthly membership.
That's just over $1/day to get EVERYTHING you need to take care of your dividend freedom.
And you get to lock in this price for life.
After that, we increase the price. As we reinvest time and money into our own service, its value increases.
We'll give you two weeks to try the product for free, no strings attached, if you don't like it, you can cancel, and we can still be friends.
Analyst's Disclosure: I am/we are long JNJ SNA.
Seeking Alpha's Disclosure: Past performance is no guarantee of future results. No recommendation or advice is being given as to whether any investment is suitable for a particular investor. Any views or opinions expressed above may not reflect those of Seeking Alpha as a whole. Seeking Alpha is not a licensed securities dealer, broker or US investment adviser or investment bank. Our analysts are third party authors that include both professional investors and individual investors who may not be licensed or certified by any institute or regulatory body.