Labor Day:5 Reasons To Join The Dividend Freedom Tribe Today
Please Note: Blog posts are not selected, edited or screened by Seeking Alpha editors.
Summary
Happy Labor Day from Robert, Me, and our 570+ members of the Tribe.
Today is the best day to join the Tribe.
Here are 5 reasons why you should join us today.
Introduction
Starting something new is always scary...
...I remember when Robert and I were discussing launching the Dividend Freedom Tribe, about a year from now.
We were just hashing out the idea of what the Tribe could be. We wanted to go beyond simply providing awesome tech tools to dividend investors.
We wanted you to have a full fledged dividend one stop shop where investors could use our tech, get model portfolios, lists of stocks to buy, but also discuss different dividend stocks.
But then Robert dropped the bomb. That question you don't want to hear...He asked:
"Sam, what happens if nobody buys? You'll have to write all this content for just a few members?"
At first I dismissed it, but by the time I went to bed, I started freaking out. All these doubts entered my mind:
Imagine this thing tanks... What a humiliation that would be... maybe nobody likes our stuff... there would be nowhere to hide. What if I don't like running a community?
Having these doubts when you start something new is normal.
I'm happy that Robert and I took a leap of faith, because 8 months after having launched the Tribe, there are now over 570 members who read all our content.
In just 8 months, we published 200 pieces of content on the Dividend Freedom Tribe, which compares to 333 articles on Seeking Alpha's public site in 7 years.
It's been a lot of hard work, but it's been very rewarding.
Had we not taken the leap of faith, Year 2021 would have been very different for us.
Sometimes, all it takes is one decision, one commitment, to change everything.
Why am I telling you this?
Because I know that if you like our articles on Seeking Alpha, you'll love being part of the Dividend Freedom Tribe.
If you're on the fence, maybe you should take a leap of faith.
If you've been considering whether or not to join the Dividend Freedom Tribe, here are 5 reasons you should do so today.
Reason #1: We're community driven.
We write about stocks that our members care about, build the tools that members need, and try and giveback to the community as much as possible.
When you join the Tribe, you'll be part of the community. Your voice will matter.
Our MAD Plus web application has had over 200 member suggestions implemented since the beginning of the year. Sometimes it's a user experience or interface suggestion. Sometimes it's a full feature (like being able to group portfolios into a super portfolio, perfect for tracking all your portfolios).

Each week we try to cover at least one stock which was requested to be analyzed by our members. This means that for the price of the membership, members are getting tailored research on the stocks they care about.
There's a bit of a waiting line because we only have so much time, but I've been routinely paid $2K+ to write such reports on equities. Members get this at no extra cost.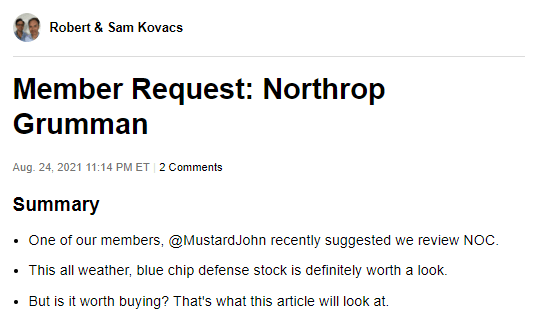 Finally we have our community contests, where members attempt to pinpoint the next dividend increase for popular stocks. Winners get free T shirts, or to jump the line on member request articles.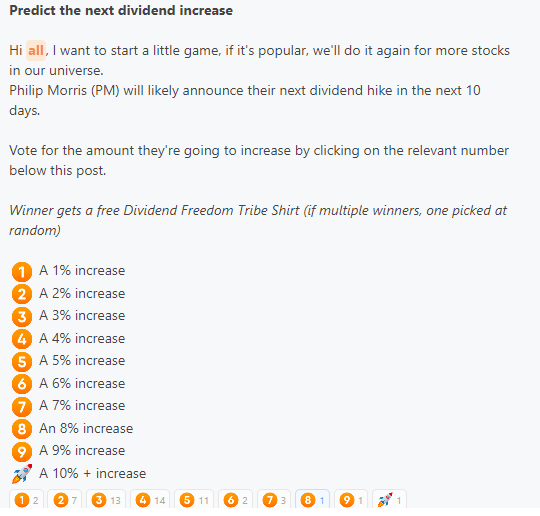 Being part of the Tribe, is a fun, inclusive experience.
Reason #2: You'll get amazing tech
You've seen our MAD Charts right?
Well you'll get them for ALL US listed dividend stocks!

But that only just scratches the tip of the iceberg. You'll have all the tools you need to find the dividend stocks your portfolio needs, and to track your portfolio and watchlists.
Reason #3: Weekly Buy/Watch/Sell Lists
Every week we publish three lists with stocks we believe investors should buy, watch (or hold), and sell.
We currently cover over 120 stocks and are adding more every month. You'll get our target "Buy Below" and "Sell Above" prices for all of these stocks.
If that's not enough, we even curated 3 model portfolios which show you exactly how we go about building a portfolio from scratch.
Reason #4: Risk Free Super Limited Special Discounts
 We're value investors, we're always shopping around for great deals. With our current best deal, investors are getting all of the above (and way more, I don't want to overwhelm you with details) for basically just over $1 per day.
We've priced this at less than a daily cup of coffee. A caffeine kick dies off within an hour or two. Dividends are forever.
But this price cannot last forever. As we keep adding more value to the Tribe its value goes up, and so we increase prices again and again.
I'm not quite sure how long we'll leave the current discount live, but right now it's there for you to enjoy.
You don't actually have to pay anything right now. We'll give you a no questions asked two week free trial.
You can come in, suck up all the info, save the portfolios to Excel, and then bail without paying a single $. A few people do this to us every week.
We're willing to risk giving it all away, because we have faith that once you join, you'll realize that you want in. You'll be paying your membership dues because you decided it, not because of a sales message... (I did say, we're community driven, not some sleezeballs).
Reason #5: Awesome Bonus Content
We go over and above to give everything we have to our members.
A subset of members wanted option strategies on dividend stocks, an area that neither Robert or I are experts in. So we sourced an Options Expert, within our Community, Wilson Harvie, To post a monthly column and maintain his own Chat thread where he posts his covered call trades and cash covered puts, to increase his income. (Some members come just for Wilson, he's that good).
We also provide you a 7 day "Dividend Freedom Course" which gives you everything you need to know about the way we do Dividend Investing.
Great Sign me up!
If you're ready to give the Tribe a risk free shot, click this link and we'll see you on the other side.
Enjoy Labor Day, Happy Investing!
Oh and this is what some of our members have to say about the Dividend Freedom Tribe.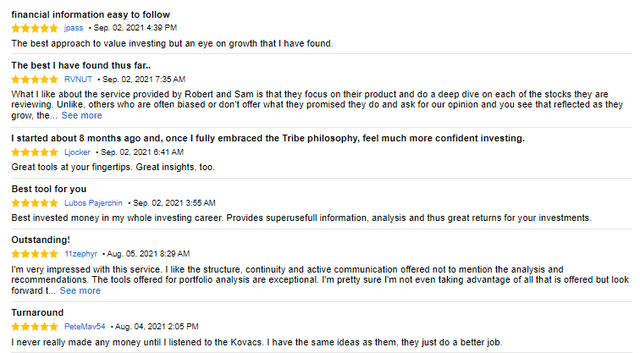 Analyst's Disclosure: I/we have a beneficial long position in the shares of all tickers in portfolios either through stock ownership, options, or other derivatives.
Seeking Alpha's Disclosure: Past performance is no guarantee of future results. No recommendation or advice is being given as to whether any investment is suitable for a particular investor. Any views or opinions expressed above may not reflect those of Seeking Alpha as a whole. Seeking Alpha is not a licensed securities dealer, broker or US investment adviser or investment bank. Our analysts are third party authors that include both professional investors and individual investors who may not be licensed or certified by any institute or regulatory body.