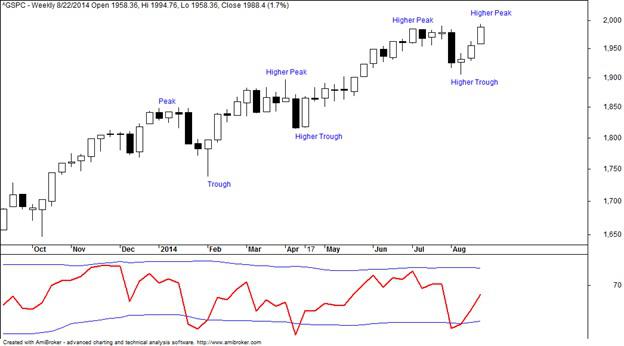 The S&P 500 rose by 1.7% for the week, effectively charting an all-time new high of 1994.75 and closing at 1988.4. Our model portfolio:

We performed exceptionally well and appreciated by 3.54% for the week. Since inception our model portfolio has gained by 13.16%. In the comparative period the S&P 500 has appreciated by 9.49%. We are indeed pleased by this outperformance. Please note the stop-loss level changes as marked in yellow.
Our proprietary sentiment models: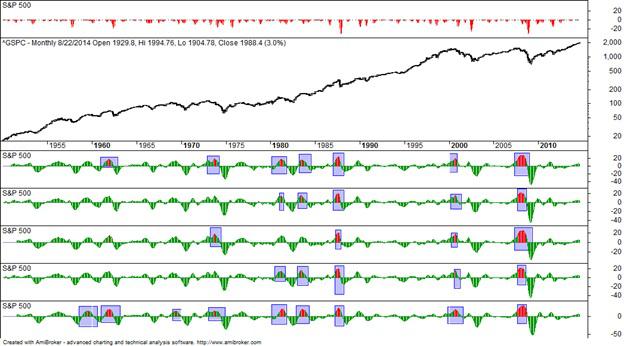 We have not seen a red uptick in any of our sentiment models. Typically a red uptick precedes dramatic market decline and represents a frothy over-valued market that has almost absorbed all its available buyers. We do not see any evidence of that.
On Thursday, unemployment claims came in lower than forecast at 298,000 (302,000). However, chairperson Yellen consistently refers to "slack" in the US economy, specifically to the labor market. We interpret this to mean that there is still an oversupply of workers in the labor market. As such wage growth is deemed to be muted.
According to the Boston Globe, "households in the top 20 percent of US socioeconomic groups saw their incomes grow by an average of $8,358 a year from 2008 to 2012, versus a $275 annual decline for the lowest 20 percent." (http://www.bostonglobe.com/business/2014/08/19/only-rich-know-wage-gains-with-worker-raise-inflation/a9blyiSQdHJhkfa84pMkfL/story.html?p1=Article_InThisSection_Bottom)
In our opinion wage growth is the key data point. Until we see a general increase in wages, the Fed will remain accommodating. This bodes well for capital gains - companies have and continue to take advantage of this economic environment to streamline and grow. With low borrowing costs we expect capital expenditures to rise and normalize. Our view is that we are in the second stage of the bull market - the improved earnings stage. A large part of the improved earnings has been a result of companies cost-cutting and streamlining. This must be continued by a measured growth in revenue as a result of internal investment and capital expenditure.
An important data release is due this Tuesday. Durable goods could signal a return to aggressive capital spending by companies . Consider: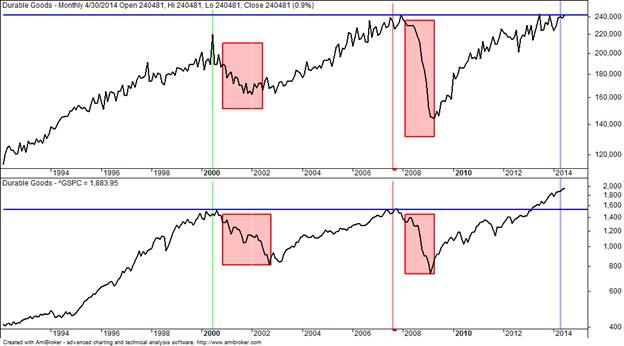 The top chart is that of Manufacturers' New Orders: Durable Goods (source: St Louis Fed) and the bottom is the chart of the S&P 500 from the beginning of 1992 until present. Before the credit crisis durable goods led the S&P 500 higher. Today it is the market that is leading durable goods orders. Nevertheless, it is quite apparent that there is a correlation. Thus, the longer durable goods stall, the greater the risk of a broader market decline as per the red highlighted areas.
It will come as no surprise to regular readers that we are bulls in this market and are of the opinion that capital expenditure will indeed increase. We will continue to be bullish until proven otherwise.
Disclosure: The author has no positions in any stocks mentioned, and no plans to initiate any positions within the next 72 hours.