The S&P 500 closed above 2000 for the second week in a row, ending at 2007.71. The index gained 0.2% for the week. By comparison our model portfolio:

We gained 0.73% for the week. Since inception our portfolio has increased by 13.64% against a gain of 10.56% for the S&P 500. Please note the raised stop-losses for Actavis and Southwest, as highlighted in yellow.
Consider the S&P 500: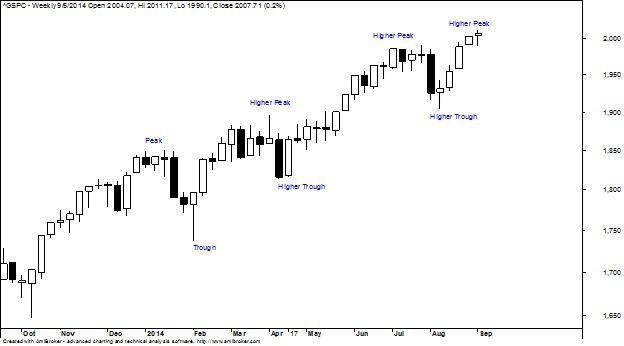 The index is charting a series of higher troughs followed by higher peaks. The trend is up. It is important to take cognizance of this for we are meant to be long in a bull market. As such we are comfortable to remain fully invested.
The question is if there will be a pullback?
We are of the opinion that indeed there will be. However we cannot tell you when this will be with any sense of accuracy. Neither can anybody else. Forecasting the market is an exercise in futility. It reminds us of the slippery snake-oil salesman. We can only act on our indicators of probability and act with a sense of intelligence.
The US economy is expanding and we want to be a part of this expansion and sit aside in the contraction. To this end we have developed proprietary sentiment indicators to help us determine the frothiness of the market: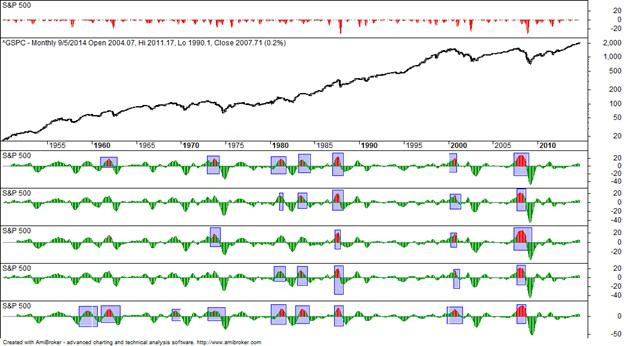 Danger is signaled when one of the sentiment indicators below the index chart ticks up red. This indicates and overheated market. We see no such signal. The market may correct; no market continues upward uninterrupted. However, these corrections will provide savvy investors with good buying opportunities.
Consider the economics before jumping to any conclusions and whilst we cannot guarantee we can at least be informed.
On Tuesday the ISM Manufacturing PMI data point was released and came in ahead of forecast at 59 (57).
Consider: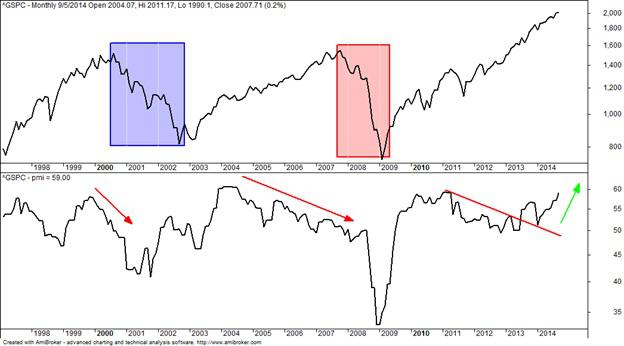 The top chart shows the S&P 500 index. Below it we have plotted the ISM Manufacturing PMI (Source: St Louis Fed). Looking back at the last 2 major bear markets - the so-called "tech wreck" (blue shaded area) and the "Global Financial Crisis" (red shaded area) - is informative. Each of these market declines were accompanied by a corresponding decline or negative divergence of the PMI. This is not the current case. In fact the PMI is showing a strong increase.
The ISM Manufacturing PMI is a survey of roughly 400 purchasing managers around the question of prevailing business conditions and is considered a leading economic indicator. This leads us to believe that our bullishness is justified.
However, we attach another data point released this week which is noteworthy. On Wednesday the number for new total vehicle sales was released. Again this number came in ahead of forecast at 17.5m (16.5m). This data series is significant as it is a measure of consumer confidence. Logically, a vexed consumer will not purchase a new vehicle, ceteris paribus.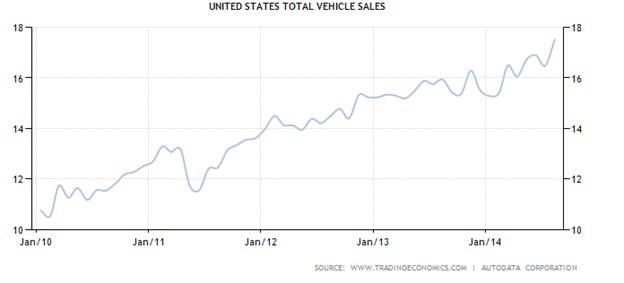 If this is a measure of consumer confidence, and we contend that it is, then consumer confidence has been growing steadily since 2010.
We do concede that the employment data out this week did surprise us - we were expecting better figures. The number came in at 142k against a forecast of 226k and unemployment claims were also more than anticipated at 302k (298k). However a lone data point does not make a trend. Nonfarm payrolls and unemployment claims have been strong in 2014. It does highlight the fact that this economy is not an easy read. The job market is ambiguous and Fed chair Yellen refers to its inherent "slack". Moreover, corporate America has been slow in responding to the economic expansion with its own capital investment. We believe that these variables are key in the US recovery and as such the Fed will remain accommodative.
Given this assumption and the strong manufacturing, we cannot help but be bulls in this economic environment.
Disclosure: The author has no positions in any stocks mentioned, and no plans to initiate any positions within the next 72 hours.
The author wrote this article themselves, and it expresses their own opinions. The author is not receiving compensation for it. The author has no business relationship with any company whose stock is mentioned in this article.