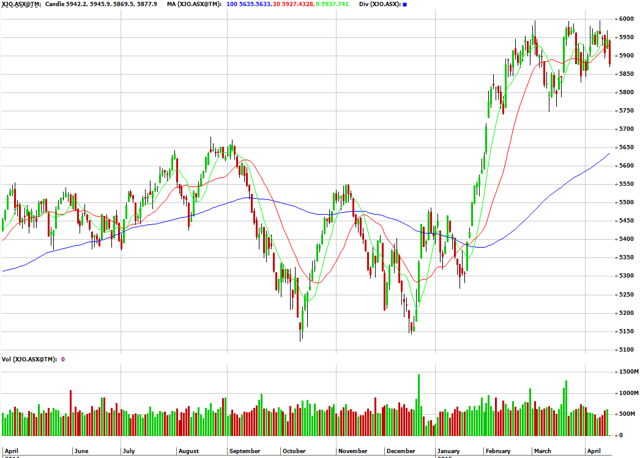 ASX200 Performance
This week -1.52% | Month to Date -0.23% | Year to Date +8.63%
Market Update
This week there was a slew of main economic data that came out of China and Australia. China's year on year GDP growth was 7% as forecasted. However, China's industrial production was 5.6% versus a forecast of 6.9%, which is a negative signal for the Chinese economy. This could signal more monetary easing which is a positive for the stock market.
Australia's unemployment rate came out at 6.1% compared to a forecast of 6.3%. This was a positive sign for the Australian economy and could possibly push back the interest rate cut which the majority of economists have forecasted to come in May.
Iron Ore rallied this week to a high of $50.78 but closed down today to $49.78. Brent oil continued its rally this week from $58/bbl to $64/bbl and could be the start of a recovery.
Major news stories of the week include AGL Energy (AGL) committing to close major Coal fired power stations by 2050, Whitehaven Coal (WHC) increased production targets and Santos (STO) suffered a steep fall in revenue.
FTV Model Update
The FTV model currently has no open positions. Due to the interest rate decision limbo that we are currently in, the Australian market seems to have found a tight trading range between 5800 and 6000.
As the FTV model is a trend following model, there has not being any trade signals so far in April. Until the market breaks the 8500 point and moves lower towards 5650 support level or finally breaks through the 6000 level and a new trend is established, the number of trade ideas will be limited.
Additional disclosure: Back-tested performance is hypothetical (it does not reflect trading in actual accounts) and is provided for informational purposes only to indicate historical performance had the model portfolio been available over the relevant time period. The advice given to you is general advice only and has been prepared without taking account of your personal objectives, financial situation or needs. Because of that you should, before taking any action to acquire any of the financial products mentioned, consider whether it is appropriate having regard to your own objectives, financial situation and needs.