GDPhursday - Fiscal Cliff Progress Good for 200 Points Ahead of GDP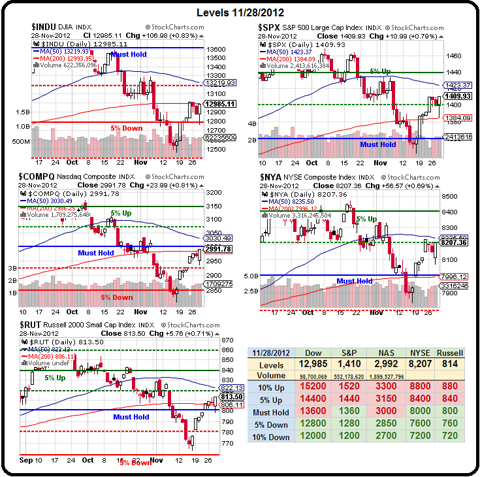 Wow, what a move!
The Dow opened yesterday and quickly dropped to 12,760 but finished the day at 12,984 as both John Boehner and President Obama made nice noises about the ongoing Fiscal Cliff talks. Since then, we've had another 100 points of follow-through in the Futures and, as I commented in Member Chat yesterday, this is all very, very brave action ahead of the 8:30 GDP report, which is expected to show Q3 growth of 2.8% but, based on yesterday's Beige Book (see our commentary here) may come in closer to 2.4%.
If we can avoid or get past that disappointment, THEN we can put a rally together on happy talk out of Washington. Other happy talk comes from John Hilsenrath, who claims the Fed is nearing a decision at the upcoming meeting to create an additional bond-buying program to replace Operation Twist with something in the $500Bn range - and we know how the makets love rumors of More Free Money!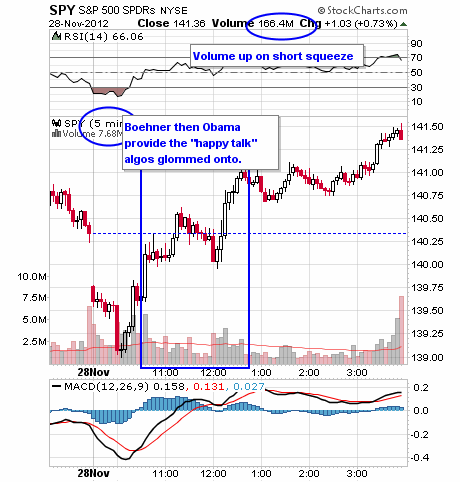 As you can see from Dave Fry's intra-day SPY chart, the bears were severely punished yesterday and this morning we move back within striking distance of closing out November back where we started - at S&P 1,420 - and we'd have to call a flat month a huge victory for the bulls at this point but still a long way to go before we work our way back to the October highs (1,470).
8:30 am Update: GDP was indeed a little lighter than 2.8% expected but 2.7% is not too bad and the Futures are only taking a small pause on that release. Inventory builds, which are considered a positive, were the main contributor to the bump and now the question is whether or not we actually sell that stuff in Q4. Private Business Inventories jumped $61.3Bn in Q3, adding 0.77% to the GDP while Real Final Sales of Domestic Products only increased 1.9% - leading to the pile-up in inventories.
Goldman Sachs is clearly trying to engineer a big finish to November, releasing a report detailing their 1,575 price target for the S&P next year. Expecting better growth than most, the firm likes cyclical over defensive sectors, and tech over staples, telecom, and health care. A "grand bargain" in D.C. along the lines of Simpson-Bowles "would spark a PE multiple expansion and a higher target."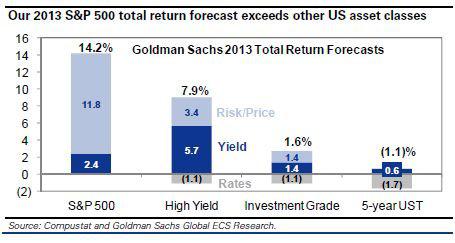 "S&P 500 sales, which are measured in nominal terms, will rise by 4.4% in 2013 and 4.7% in 2014," wrote Goldman Equity Strategist David Kostin. "We forecast net margins will remain static as they have for the past 18 months, hovering in the 8.8%-9.0% band through the end of 2014. Given this environment, S&P 500 EPS will rise from $100 in 2012 to $107 in 2013 and $114 in 2014."
Goldman's strategies to capture growth:
(1) Stocks will outperform Treasuries;
(2) Equities will beat credit returns, although not on a risk-adjusted basis;
(3) Cyclical sectors will beat defensive sectors (Materials, Industrials, Information Technology will outperform Consumer Staples, Telecom, and Health Care);
(4) Double Sharpe Ratio stocks offer both high risk-adjusted earnings growth and prospective returns; and
(5) Stocks with high BRICs sales exposure will beat domestic-facing firms.
We certainly don't disagree with Goldman - I've been advocating staying long-term bullish and doing some bottom-fishing all through the November downturn. It's just their timing is very interesting - as they seem to be trying to put a little top-spin on this move into the close of the month as Blankfein also had nothing but happy talk yesterday coming out of the fiscal cliff meeting at the White House. Clearly this situation ain't going to be over until it's over but, for today - everyone seems pleased - at least until someone says something else this afternoon…
Meanwhile, we're right back to testing our strong bounce lines at Dow 12,950, S&P 1,400, Nasdaq 3,000, NYSE 8,100 and Russell 805 and this time we need to hold them all to stay bullish. We expected a pump job to end the month and it's what happens after the weekend that counts - meanwhile, we're generally bullish and well-positioned to sit back and enjoy the show while it lasts.