There is No Spoon
Courtesy of Rich Chappell (Springheel Jack)
Is the value of gold purely notional? Does it have value in absolute terms? Does our currency? Does anything? If value is what someone will pay for something, then we still have to figure out the value of that store of value - the money or currency that is being used in the exchange. "There is no spoon" is from the Matrix. A boy bending spoons with his mind explains to Neo that he can do this seemingly impossible feat because in reality there is no spoon. In the same way, there is no such thing as absolute value. Everything that has value, has value only insofar as people believe it does. The task of the investment analyst is therefore to try to predict what looks likely to rise in value relative to everything else.
This is a key basis of the QE policies pursued by the Fed. Quantitative easing (QE) has worked so far because the Fed has used it to depress the value of US dollars relative to everything else. Keeping interest rates near zero also boosts asset prices because the returns on these assets are higher than the returns offered by holding cash. Does this boost the value of shares or commodities in absolute terms? No. but for now, equities look relatively attractive next to cash and bonds yielding very low rates. Equities represent real businesses with some underlying value, while cash and government bonds represent promises to pay in a currency that continually loses value.
Will this current round of QE from the Fed work to boost asset prices? Past QE has been successful in doing so, and there is no doubt that equities still look relatively attractive compared to cash and bonds. I'm inclined to give QE the benefit of the doubt until we see the usual technical signals for a major top on equities, and we aren't seeing those yet.
Nevertheless, these policies have been tried for over twenty years in Japan. In Japan, QE policies have delivered two and counting decades of stagnation. With debt well over 200% of GDP, and tax revenues in the current year less than half of government spending, one might wonder whether Japan will ultimately default on its debt - either actually defaulting or defaulting by hyperinflation (as current holders of Japanese sovereign debt would lose much of their capital via hyperinflation). As for Japanese equities, they have fallen over 75% from the 1990 bubble peak. Judging by Japan, policies of the kind currently pursued by the Fed have failed to deliver. And Japanese equities still look very attractive compared to Japanese sovereign debt: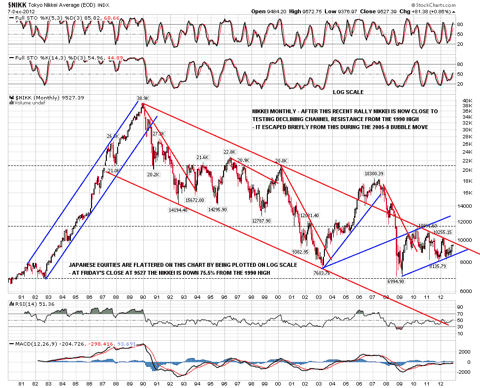 What are the lessons from Japanese equities here? First, that current policies in the developed world may undermine the value of every asset class over the next decade, and that equities may fall a long way regardless of what the Fed does. Buying and forgetting does not seem like a productive investment strategy in this kind of a Fed-infused market.
Companies that have low debt and that deliver a strong income stream, including dividends, are much more attractive than those that have high debt and/or do not deliver a strong income stream. These companies are more likely to hold their value and deliver decent returns long term. Most of the trade setups I show here will be on companies with reasonable debt levels and good dividend streams. In the event of major market shocks, which are much more likely in this fragile overall environment, these companies are more likely to survive and maintain their cash flow and dividend payouts.
So what is in store over the next few months on US equities? I think the Nasdaq 100 chart is setting up for a rally into the New Year. That is an inverted head and shoulder pattern with a target above the 2012 high on a break over 2700 - a Santa Claus Rally in the making. On the other hand, there is a shorter term head and shoulders pattern as well, and on a break below 2625, the target would be a test of the November lows. Although it could go either way, I'm leaning long overall for the next few months: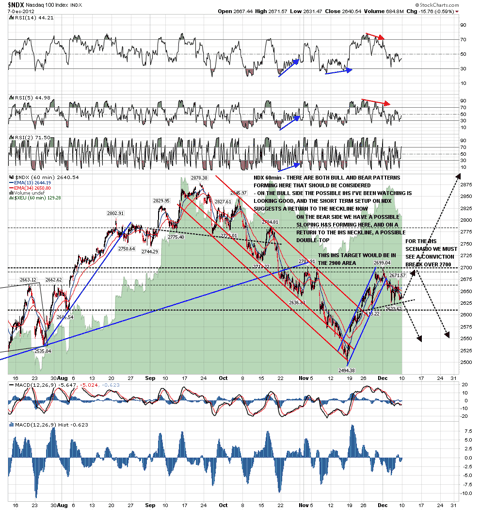 Here's a trade setup on Etablissements Delhaize Fr (DEG, $36.80), a Belgian grocer yielding 5.88% at Friday's close. DEG has been in an overall declining channel since early 2004. It hit channel support and an important long term support/resistance level a few months ago. That low has held, and a possible double-bottom has formed with an upside target in the $55 area on a conviction break over $43. Given the strong dividend, low debt, and decent looking fundamentals, we may well see a return into channel resistance in the $75-80 area over the next year or two.
The technical trade here is to buy under $37 with a stop at $30, under both channel support and the important support/resistance level around $32. If we see a break up towards the double-top target at $55, I would sell half at $54 and set the stop on the remaining half at $43. If DEG moves to the channel resistance area without taking out the $43 stop, I would sell the balance at around $76.50, just under some resistance in the $76.70 to $78 range. The maximum loss would be $7 (due to the stop at $30). A gain (in the overall position) on a move to the double-top at $54 and reversal into $43 would be $11.5. A gain (overall position) on a move into $76.5 would be $28.25 (selling half at $54 and half at $76.5). I like this risk/reward profile.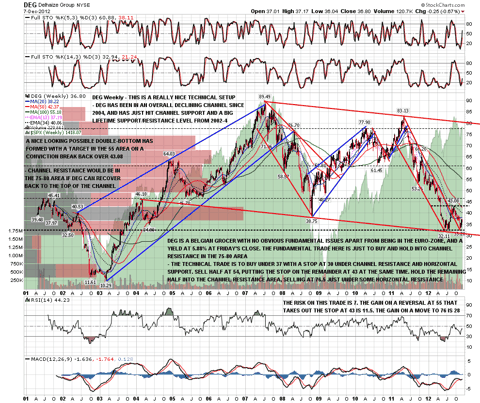 I have shown the bullish looking technical setup on oil a couple of times in recent weeks. You can see a setup on the USO chart here. I still like the BPT trade idea from last week and would be using this as a potential opportunity to add lower if BPT falls in sympathy with oil.
From the Market Shadows Newsletter: Tables Can Turn (12/9/12)
Special Offer from PSW: Click on this link to try Phil's Stock World FREE!

Market Shadows (http://s.tt/1woIa)