Wall Street Cheats - Don't be fooled
Courtesy of Dr. Paul Price at Market Shadows
Readers of main stream financial publications expect what is printed to be accurate. This should be especially true when a brokerage firm is putting out a specific buy/sell opinion that is priced and dated.
The December 22, 2012 issue of Barron's illustrates how firms can pad their performance numbers by issuing 'past-posting' recommendations after a stock has already moved up.
Here is a look at exactly what was published. The column is dated Dec.22, but the 'Outperform' rating claims to have been made on Dec. 20, 2012. Robert W. Baird & Co. really liked Sealed Air (NYSE:SEE) at $15.21 per share.
[Click on images to enlarge]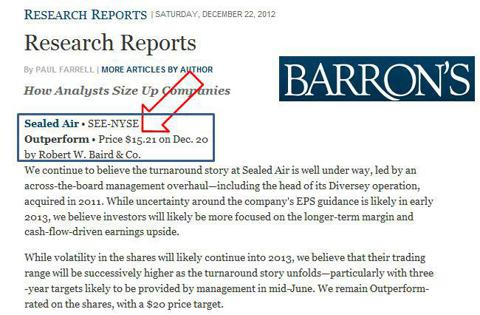 I found only one itsy bitsy problem with that. SEE had a weekly range (Dec. 17 - 21) from a low of $16.13 to a weekly high of $17.36. Despite Friday's sell-off SEE closed the week at $17.35.
How, then, could Baird & Co. have put it on the buy list at $15.21? Give them the benefit of the doubt and assume they put out their research recommendation after the close on December 19, and prior to Thursday's opening... Sorry, it closed at $17.23 that day.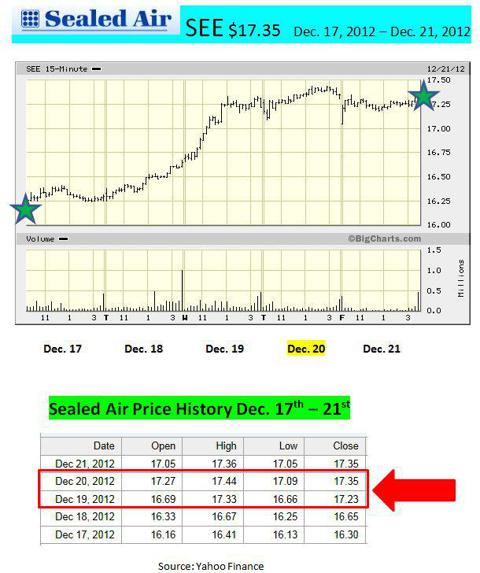 Robert Baird & Co. will probably take credit for a very nice $2.14 per share (+14.07%) gain for the first day following their well-timed buy at $15.21.
Why complicate matters by saying that it didn't happen?
I'll be waiting to see if Barron's or Baird & Co. publishes a correction. I won't be holding my breath, though.