Not Done Rising
Featured in: MarketShadows February 24 2013 Newsletter: Not Done Rising, But Night Will Come
By Ilene
Over the last four months, we've been buying (virtual) stocks and selling (virtual) puts, without hedging our bullish bets. We explained our reasoning earlier in the year:
"We are starting 2013 long stocks in Paul's Virtual Value Portfolio with no covered call writing hedges for one reason - the Federal Reserve's and other central banks' plans to continue printing money into existence while debasing their currencies. This does not solve any problems such as too much wasteful spending, a perverse tax code, and a rushed-through fiscal deal that does not reduce the growing debt burden." (Comfortably Bullish)
But stocks are one vehicle to help protect wealth during a time of money printing, zero rates, and devaluation of currency.
Lee Adler of the Wall Street Examiner had asked 'Has orgiastic market shot its cash wad?' No...
"The Fed will be pumping every other day now, and another huge slug of MBS [mortgage backed securities] purchase cash will be coming around mid month. That should outweigh any questions that might arise about the technical analysis, the biggest of which right now is how big this rally might be." In this issue, Lee wrote, "as long as the Fed keeps pumping, the tide of systemic liquidity should continue to rise exponentially in the US and stocks should continue to oscillate along that upward wave."
Ambrose Evans-Pritchard had also argued that the world's central banks are racing to drive down their currencies, and that will increase asset prices. He warned, "Bears beware. A monetary revolution is underway:"
The side-effects of this currency warfare - or 'beggar-thy-neighbour' policy as it was known in the 1930s - is an escalating leakage of monetary stimulus into the global system.

So don't fight the Fed, and never fight the world's central banks on multiple fronts…

The New Year ritual of predictions is a time for bravado, so let me hazzard that the S&P 500 index of stocks will break through its all time high of 1565 in early 2013 - mindful though I am of flagging volume and a wicked 12-year triple top… (Stocks to soar as world money catches fire, Calvinst Europe left behind - Telegraph)
In Lights, Camera, Rally?, Paul Price argued,
With the backdrop of very low interest rates, the overall 'should-be' P/E of the stock market increases because the alternative 'safe' investments are paying such low yields. Stocks become more desirable. This dynamic makes higher risk assets, such stocks, look even more attractive. And that's exactly what the Federal Reserve wants.

The Fed is artificially holding interest rates down with its successive quantitative easing programs (QE1, QE2, QE3, QEternity….) and its Zero Interest Rate Policy (ZIRP). Part of Ben Bernanke's plan (or plot, some might say) is to compel investors to buy "risk-on" assets, such as equities and commodities - while interest rates are hovering near zero and the dollar is continually losing value."

The Fed's Zero Interest Rate Policy should support higher multiples going forward. It may be cliche to say 'Don't fight the Fed.' But essentially, we are not going to fight the Fed.
This week, in "Dow 20,000 Only a Matter of Time," Econmatters argued that we need to be invested due to the growing money supply and currency in circulation, and the printing press phenomenon. Money is being created to chase assets, and that will inflate prices. It's no accident.
The Dow will blow past 15,000, 16,000, 17,000 and so on based upon the currency creation effects alone. The fact is that markets are liquid, capital will flow in and out, and there will be occasional major pullbacks. "Those who fail to time the market will suffer losses at times. Make no mistake, though, Dow 20,000 is a foregone conclusion."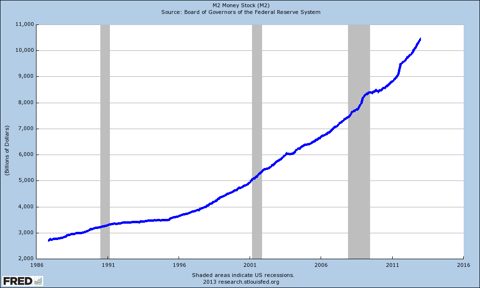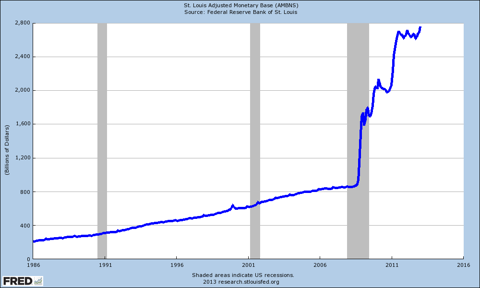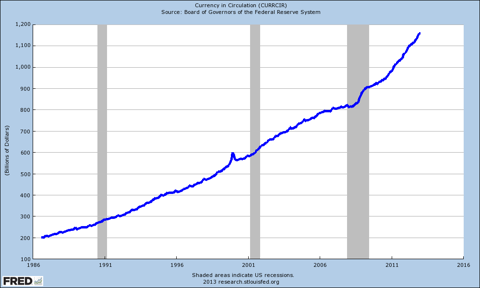 Econmatters argues that if the economy cooperates even modestly over the next three years, the Dow will hit 20,000. "Watch how the market performs once we break through the 14,200 level, and start putting in new highs in the other indexes. The pace can really take off once markets are in unchartered territory, and we can start taking 1000 point monthly clips that will leave you speechless... We are on the verge of taking that next leg up in the Dow, in fact, we should set a new high pretty soon; enjoy the ride as this breakout has been a long time coming." (Dow 20,000 Only a Matter of Time)
In The Pullback Memo, EconMatters predicted the timing for the market's near-term upswing. March and April. (Yes, according to EconMatters, that's it for the first half of the year. If you've missed a few months of this run, too bad, it's over.)
We are in the midst of the strongest four months of the investing cycle for each of the last four years. Basically, everyone and their uncle go long assets until late April before the annual summer selloff. Don't expect this year to be any different.

The way I look at it new money comes into the market March 1st which is next Friday, so any window for a pullback has 5 days to occur, and less than that because everybody front runs the monthly 401k money that comes into the market the first of every month, and is usually good for a major Risk On day.

So investors have 4 days for a pullback, you get the idea, Thursday's mid-day selloff was the pullback. There isn't going to be any ideal 7% pullback so all those who missed the rally can conveniently get right in with the rally that they missed for the first two months of the year.

You think this stuff just happens randomly?

There are no do-overs in markets! What were you thinking, haven't you been paying attention the last four years? You start going long in November of the previous year and you stay long until option's expiration in April, then you sell, wait for the summer sell-off when some crisis in Europe or Downgrade is the end of the world, and after the sell-off, then everybody buys back for the "Money Manager Make Their Numbers Yearly Close"!...

Nothing stops the rally, we don't go backward, we just keep going higher till mid-April, Got it? Good, now quit your hoping, praying for the 7% pullback.

Have we set new highs yet? I didn't think so…

We will give you your damn pullback at the end of April after we have set new highs in all the market indexes. So don't ask "Are we going to pullback yet"? No we are not going to pullback, you will know when it is time for the pullback by checking the damn calendar!

Here is the memo….. (The Pullback Memo)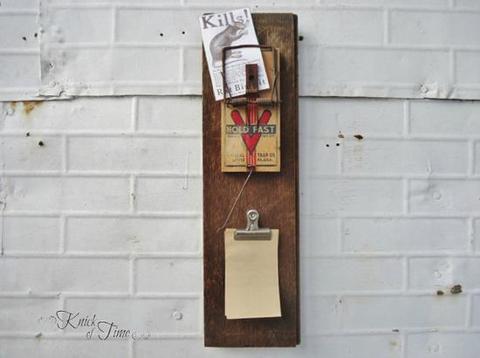 Source: etsy.com via Knick of Time Interiors on Pinterest