Quick Rise, Sharp Pullback- That's LIFE
See also: MarketShadows February 24 2013 Newsletter: Not Done Rising, But Night Will Come
Courtesy of Paul Price
Global biotechnology supplier Life Technologies (LIFE, $58.19) was formed in November 2008 when Applied Biosystems and Invitrogen merged. The company has prospered since. LIFE was reportedly being courted for a buyout by publicly traded Thermo Fisher Scientific (NYSE:TMO) as well as some private equity outfits.
It appeared a deal would be struck. LIFE shares surged to a new all-time high of $65.84 this year in anticipation of a bid. Last week the stock sunk back to the $58 range after terms could not be agreed upon.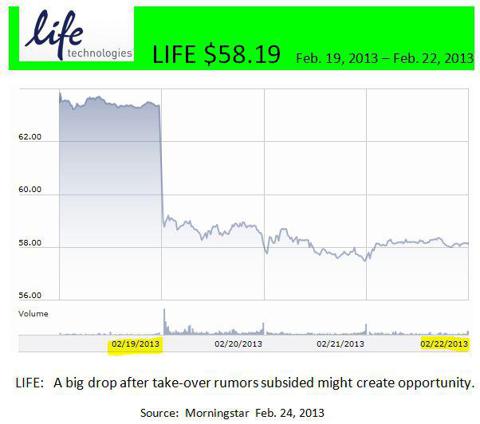 The company continues to do well. Adjusted earnings for 2012's Q4 and full year were both records. Management gave 2013 guidance of $4.30 - $4.45 which compares favorably with non-GAAP EPS of $3.98 for the year just completed.
LIFE's strong business trends and international footprint would be attractive to many suitors. The 80% or so of total revenues that come from consumables/services mimic Gillette's classic 'Make money on recurring razor blades sales and don't worry about the margins on the razors' approach.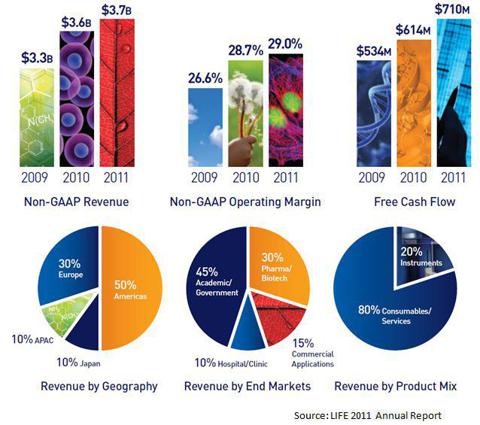 LIFE was willing to sell but is holding out for a higher price than was being offered. Many times one or more of the interested parties will come back to the table. Research firm Morningstar saw fair value for LIFE at $64 as a stand-alone.

The company bought back 13.8 million shares during 2012 at an average cost of $46.01 per share. Directors indicated another 2 million shares had been retired just since January 1, 2013.
The stock has decent but unspectacular upside if no deal materializes. It could surge quickly again if takeover rumors resurface. I used last Wednesday's price dip and increased volatility to sell some January 2014 $55 puts for a premium of $4.20 per share. Friday's bid was slightly lower due to the shares' late-week stability. The $50 strike would allow for a lower break-even point while offering less potential profit if the stock holds steady or rebounds.

Note: These options are not actively traded. Be sure to use limit orders that fall between the bid/ask spreads.
Maximum gains on each put would come as long as LIFE closes at, or above, their respective strike prices ($50 or $55). Gains would be 100% of the premium received ($2.25 and $4.00, respectively).
If LIFE closes below the strike price on the expiration date, the worst-case scenario would require purchase of 100 shares per put contract at a net outlay of the 'if put' prices shown in the chart above (strike price minus premium collected). $50 or $55 strike put sellers could sustain up to 17.9% or 12.3% drops, respectively, from the trade inception price without suffering a loss.
We will place an order to sell 1 contract on the LIFE Jan. 2014 $55 strike with a limit of $4.00 when the market opens on Monday February 25, 2013.

Disclosure: Short LIFE Jan. 2014 $55 puts
Click here for a screenshot of the full Virtual Put Selling Portfolio that our LIFE put will be joining.