Paul Price is SELLING one CAT Jan. 2014 $100 Put in the Market Shadows Virtual Put Selling Portfolio.
Featured in: MarketShadows February 24 2013 Newsletter: Not Done Rising, But Night Will Come
Become a Cat Lover
By Paul Price
The world's largest producer of earthmoving equipment has dropped dramatically since early 2012 as fears of a global economic slowdown have taken hold. Caterpillar (CAT, $91.45) topped out at $116.95 less than a year ago and was $99.70 as recently as February 1, 2013. The stock was trading for $91.45 at 3:15 pm EST on Friday.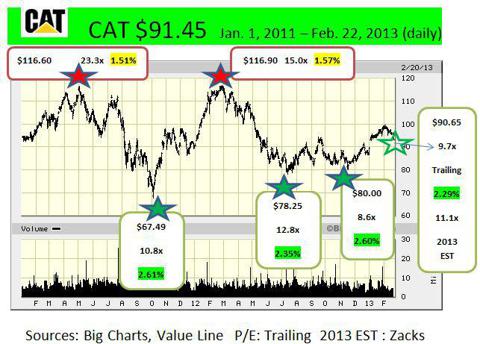 The three best buying opportunities of the past 26 months all came at P/E multiples and yields very similar to those now. Prior selloffs were associated with similar a negative psychological environment as present today.
The riskiest times came from buying Caterpillar when all the news was positive. At those junctures, CAT sported higher P/Es and lower yields than now (see chart). Apple (NASDAQ:AAPL) was a similar story last fall. Traders were fearless going into AAPL above $700 last September, yet hesitate to plunge in today at around $445.
CAT is rated A+ for financial strength and has outperformed 90% of Value Line's 1700 stock research universe over the long haul. Investors have been well-rewarded for taking on CAT's high beta (@ 1.35) and its inherent lack of near-term predictability in earnings.

With CAT trading for $91.45, it offers a very sustainable 2.27% yield at only a 22.2% payout ratio based on the already reported, trailing 12-month earnings of $9.36. Dividend grew 197% since 2002. The annual rate climbed from $0.70 to $2.08.
Even though CAT's earnings may dip in 2013, the 13% drop in profits expected by Zacks would still put CAT at just 11.1x its already reduced forward estimate. That is far from a scary valuation.
Morningstar sees fair value as $106 or about 16% above Friday afternoon's price of $91.45. Standard & Poors takes a slightly more positive view with its 12-month target price of $117.
Caterpillar offers solid upside through outright purchase. Selling one January 2014 $100 Put is a conservative way to play CAT's upside.
Here's what the math looks like for writers (sellers) of a January 2014 $100 Put contract at current quotes.

If we sell one Jan. 2014 $100 Put for $14.60 now, and CAT is trading below $100 at expiration, then 100 shares of CAT will be "put" to us at expiration - i.e., we will buy 100 shares for $100 on Jan. 18, 2014.
Our net cost (break-even) will be $85.40/share because we keep the $14.60 premium for selling the Put. The $14.60 offsets the $100 share price we pay if CAT is trading below $100. Thus, as long as CAT is above $85.40 at expiration, we have broken even (CAT at $85.40) or achieved a profit (CAT above $85.40).
If CAT rises to $100 or above by Jan. 18, 2014:
Jan. 2014 $100 strike-price put expires worthless
We keep $1,460 as pure profit (the put contract is $14.60 per 100 shares - a contract is for 100 shares)
Our obligation to buy CAT below $100 disappears
This best-case scenario will occur on any move up of $8.55 or greater (+ 9.35% from the trade inception price of $91.45).
If CAT remains below $100 on Jan. 18, 2014:
Jan. 2014 $100 put is exercised by the buyer
We will be forced to buy 100 shares of CAT per put contract sold for $100/share
We will need to lay out $10,000 in cash per put contract
Our final position will be 100 CAT at a net cost of $8,540 - i.e. we owe $10,000 for 100 shares, but that is offset by the $1,460 we collected for selling the put.
The worst-case scenario purchase price of $85.40 per share is 6.6% below the trade inception price. It's closer to the 52-week low of $78.25 than to CAT's yearly peak of $116.95. The effective yield would be 2.44% based on the current payout level. Our P/E would be reduced to just 9.12x the actual 2012 reported EPS.
We are going to SELL one CAT Jan. 18, 2014 put @ $14.60 /share to our Virtual Put selling portfolio today, Feb. 22, 2013.

Disclosure: Long CAT shares at the time of publication.