Adding Life Time Fitness to our Virtual Value Portfolio
By Paul Price of Market Shadows
We'll be buying 71 shares of Life Time Fitness (LTM, $42.26) for ourmodel portfolio on February 20, 2013, with a limit price of $42.26. (Update: our price was $42.23)
We will also be SELLING one LTM Aug. 13, $45 Put in the Virtual Put Selling Portfolio on February 20, 2013 (below).
The stock was as high as $52.68 recently but dipped after a Q4 2012 pre-announcement that EPS would be under previous estimates for both the quarter and the full year 2013. Nevertheless, the company has been showing solid growth since going public in 2004. Even with the revisions, the numbers for 2012 and 2013 are all-time record highs.
My 12-month target price is for a return to the $50 - $55 price range.
Please read further details in my article on Guru Focus: Life Time Fitness - What Doesn't Kill You Makes You Stronger.
Excerpt:
Was LTM a bad company or was this a case of a good company's shares that had, perhaps, gotten a little ahead of themselves? Judge for yourselves. The figures for 2012 reflect the downwardly revised expectations announced February 1.

Unlike most companies, Life Time Fitness came through the Great Recession with almost no loss of fundamental momentum. In 2009 it had just a one penny dip in EPS despite dire economic conditions. As the economy recovered so did LTM's earnings growth. That tells me their business plan is working and that their customers love them.
[...]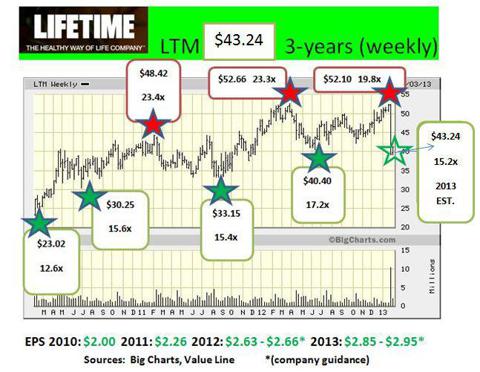 During the eight years from 2004 through 2011 LTM carried an average P/E of 22.6x. It peaked at multiples of $19.8x and 23.4x during 2012 and earlier this year. Today's forward P/E is lower than was available at its three most recent "best buying opportunities."
A rebound to a middle-of-the-road 18 times projected 2013 EPS of $2.85 would support a $51.30 one-year price target. That's a solid 18.6% above last week's close. It's also a reachable and realistic goal that was already exceeded in 2012 and 2013.
More here: Life Time Fitness - What Doesn't Kill You Makes You Stronger.
Selling one LTF Aug. 2013 $45 Put in the Virtual Put Selling Portfolio.
We are going to SELL one contract on Life Time Fitness (LTM) tomorrow (2/20/13). The shares closed at $42.26 today. We will hit the $5.40 bid on the August $45 put tomorrow. If we were using real money, and watching the trading in the a.m., we might strategically put in an offer to sell at $5.50, trying to get a better deal. But for our purposes, to simply execute the trade rather than get the best price, we will come down to the bid level.
(Update: The lowest the Aug. 2013 $45 Put sold for on 2/20 was $5.60, so we are going to use $5.60 as our sell price.)
We will collect $540 less commission: Our break-even is as follows:

Any drop of less than $2.66 per share (-6.3%) would not result in a loss. ($39.60 is 6.3% below the current price of $42.26). If LTM remains below $45, the stock will be "put" to us for $45 - but we already collected $5.40 for selling the put. Thus, we are really paying a net of $45 - $5.40 = $39.60 for the shares. We only lose if LTM is below $39.60 at expiration.
LTM's 52-week range has been $39.10 - $52.68.
I will be happy to own more LTM at $39.60. If LTM closes at $45 or higher on August 16 (the final trading day before expiration) we will keep the $540 and our obligation to buy will disappear.

Disclosure: Paul is long LTM shares and short LTM Aug. $45 and $50 puts.
Featured in this week's newsletter: MarketShadows, February 24 2013: Not Done Rising, But Night Will Come
Disclosure: I have no positions in any stocks mentioned, and no plans to initiate any positions within the next 72 hours. I wrote this article myself, and it expresses my own opinions. I am not receiving compensation for it. I have no business relationship with any company whose stock is mentioned in this article. Paul Price is long LTM.