Improve your Portfolio - Sell Home Depot
By Dr. Paul Price of Market Shadows
One of the toughest investor decisions is to part with a stock that has performed brilliantly. Seeing a ticker in your portfolio that is a major winner makes you feel smart. Selling it extinguishes any chance for further gains and that 'big percentage' gainer is erased from your actively held list.
The old adage, "Cut your losses short, but let your winners run" is often employed when holding on to stocks that have already run up substantially. How can you rationally decide to take profits?
Valuation is the key. If shares are trading at well higher than their own typical valuation metrics, it's usually the right move to kiss them goodbye.

Determining 'normal' requires going over historical data for that same company's shares. Value Line, Standard & Poors etc. provide good compilations of 10 - 15 years of values. Why be the fool who pays more for every dollar of earnings, book value or cash flow than others have paid over previous multi-year periods? Why accept a lower dividend than buyers of the same stock have received over the previous five or ten years?
The chart shown below speaks volumes about the present day valuation of Home Depot (HD) based on two of my criteria. At the most recent three 'best buying opportunities' HD was available at 9.8x - 16.3x trailing EPS. Holders locked in 3.3% - 5.1% dividends at those low points.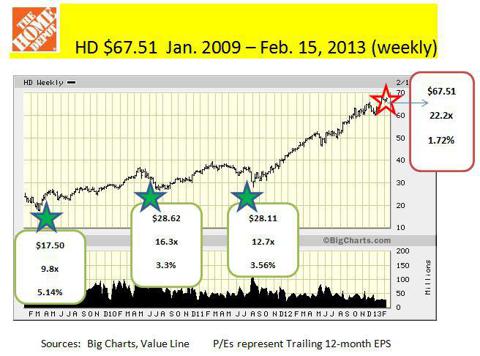 Today, Home Depot commands greater than 22 times estimated earnings for FY 2012 which ended Feb. 2, 2013. Actual results will be announced on Feb. 26. The 1.72% yield is about one-third what was paid at the March 2009 nadir. It is less than half of what could have been locked in as recently as August of 2011.
History tells us that HD has traded for much more reasonable valuations during most of the past decade. Home Depot's P/E is almost 50% above normal. At $67.51 price / book value is now more than 5.6x. At the last three lows it was 1.7x, 2.3x and 2.4x respectively. Price to cash flow hasn't been this extreme since 2002.

Respected research firms Trefis and S & P each indicate rarely found SELL ratings on Home Depot. Trefis sees more than 12% downside from last week's close.

Standard & Poors enigmatically calls fair value as $60.30 while maintaining a 12-month price target of $50. Either way it makes for a bad hold at current prices.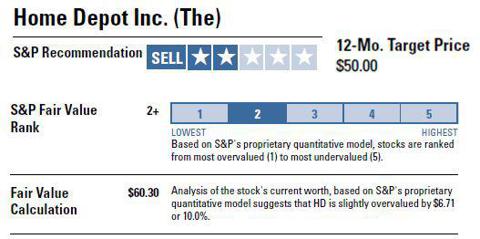 Applying a slightly higher than average 16 multiple to Zacks' FY 2013 estimate of $3.47 would only support a $52.05 goal by this time next year. Today's price falls within the 2015-2017 price range expected by Value Line. That range is premised on optimistic EPS growth of 43% between now and 2017. The Home Depot is clearly overpriced on a rational basis.
Expensive shares can sometimes get even more expensive. Holding onto them on the possibility of that happening is a statistically bad bet.
If you are lucky enough to be long HD, I think it's time to take profits. Speculators might wish to buy some puts out to January 2014 or 2015. A reversion to more typical valuation levels could make those quite profitable on a stock that has already priced in years of improvement that may not materialize.

Please read our latest weekly newsletter: MarketShadows February 24, 2013, Newsletter: Not Done Rising, But Night Will Come
Disclosure: I have no positions in any stocks mentioned, and no plans to initiate any positions within the next 72 hours. I wrote this article myself, and it expresses my own opinions. I am not receiving compensation for it. I have no business relationship with any company whose stock is mentioned in this article.