This is an excerpt from the Week Ahead section of Stock World Weekly. (For more SWW, sign up for a free trial here.)

Disconnected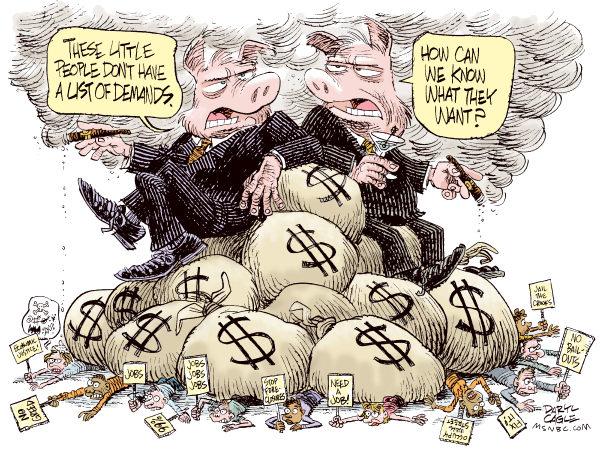 The "Occupy Wall Street" protests are showing no sign of abating. Rather, they're spreading. The Guardian reported, "More than 950 demonstrations against the global financial system and corporate greed are being held in more than 80 countries around the world today. Inspired by the huge rallies organized by 15-M movement in Spain and more recently Occupy Wall Street, tens of thousands of people have taken to the streets from as far afield as Seoul and Rome...
"In Spain, hundreds of thousands of indignados thronged the streets in cities across the country. The biggest demonstration has been at the Puerta del Sol in Madrid, which is overflowing with tens of thousands of people. There were 60,000 people in Barcelona, and 20,000 in Seville...
"In New York, protesters took their campaign from the outpost of Zuccotti Park into the heart of the city, staging a dramatic rally at Times Square. More than 10,000 people thronged to the landmark. There were a few minor flashpoints: police said about 70 people were arrested during the day. The largest group, 42, were arrested near Times Square after what our reporter described as a police blunder led to a group of people being trapped." (Occupy Wall Street live: march on Times Square) 
In Rome, the protests are turning violent, with some protesters breaking shop windows and torching cars. "Black smoke billowed into the air in downtown Rome as a small group of violent protesters broke away from the main demonstration. They smashed car windows, set at least two vehicles on fire and assaulted two news crews of Sky Italia, the TV reported. Others burned Italian and European Union flags." (Occupy Wall Street Protests Go Worldwide, Turn Violent in Rome) Police in riot gear deployed water cannons and tear gas in an attempt to regain control of the situation. (Riots in Rome as Wall Street protests go global)
Mish summed up the situation: "Social Mood is Ugly and Getting Uglier. Bailing out the bondholders ever is simply wrong. Those who take risks need to pay the price. These protests are just a start of what we will see if bondholders and banks are bailed out again on the backs of taxpayers. (Occupy Wall Street Protests Go Global)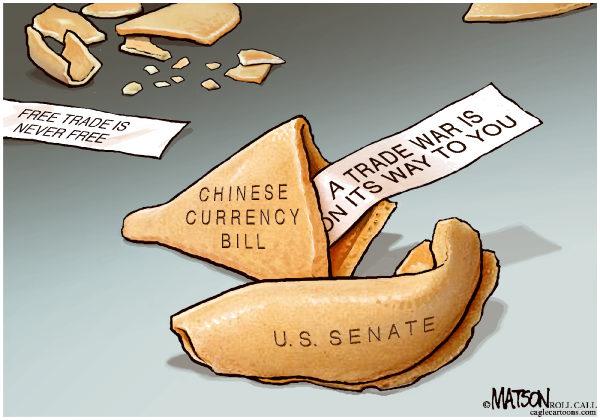 As a warning against unbridled optimism, if recent headlines aren't enough, Lee Adler of the Wall Street Examiner wrote, "Two weeks ago I began to report to subscribers of the Wall Street Examiner Professional Edition, that Foreign Central Banks (FCBs) had begun to engage in unprecedented levels of disgorgement of their massive holdings of US Treasury and Agency paper...  
"Apparently, the FCBs were among those who took the Fed's announcement [of Operation Twist] as a sell signal. They are selling at the heaviest pace in the nine years that I have been tracking this data. Normally, prior to the last five weeks, the instances when they were actually net sellers were few and far between. What has been going on here lately is no less than a sea change.
"Making matters worse is that the Primary Dealers have also become massive sellers of Treasuries and all manner of fixed income paper in recent weeks. This chart of the Primary Dealer fixed income holdings (below) is posted weekly in the Wall Street Examiner Professional Edition Fed Report...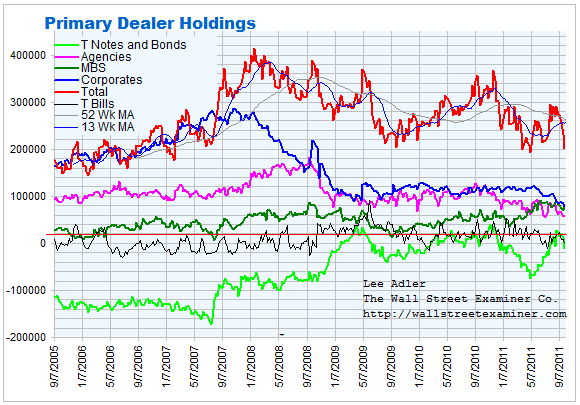 "The dealers appear to be in trouble. They began selling off their fixed income paper of all types in early September. That accelerated to what I can only characterize as wholesale dumping in the weeks ended September 21 and 28. It is no coincidence that those where the weeks where we began to see yields reverse from their record run. These are troubling developments, not just for their implications for the bond market, but for what they imply about the health of the backbone of the US financial system--the Fed's Primary Dealer (PD) network." (Threads In A Foreboding Tapestry)
The steep drop in the Dollar this week, and the concurrent rise in the equity markets, left us wondering about the Dollar's near-term direction. Russell, one of our Members, asked Phil, "Any guess about when and/or if Japan will step into the currency markets again? What level of the Dollar/Yen should I be watching?"
Phil replied "Next week for sure. Good point, may as well go long UUP ($21.65) now. Oct $21 calls have no premium at $0.67, so it's a fun way to play a Dollar bounce for good leverage.  
"DIA Nov $120/116 bear put spread at $2 makes a 100% guarantee that the Dow will go up 200 points or you get your money back. Any failure of the Dow to get over 11,600 pays you double. So, if you have, for example, $100,000 worth of long positions that you expect to make $5,000 on, if the Dow goes up 5%, and lose $5,000 on, if the Dow drops 5%, then you can hedge with $2,000 and it will mitigate 40% of a drop. You don't lose a penny on the hedge until your longs are up $2,500. In step 2, if there is something you want to buy - such as 1,000 shares of AA at $10 – you can sell 10 Jan $10 puts for $0.92 ($920) and now you are in the $4,000 hedge for net $1,080."  
Another Japanese "Yentervention," which usually involves Japan's central bank buying large amounts of dollars, would likely move the Dollar up and have bearish consequences for the equity markets. 
Bearish sentiment is plentiful among investors, according to Ryan Detrick, senior technical strategist with Schaeffer's Investment Research. The Investors Intelligence poll is showing fewer investors being bullish now than at any time since March 2009. Hedge funds have just 45% exposure to stocks, after subtracting their short positions from shares they own. This is well below typical levels, and approaches the 42.5% level hit in March 2009, which marked the bottom of the financial crisis. (Rally or No, Short-Selling Hits a High)
Pharmboy provided a trade idea for this week. He wrote, "Amidst a market run-up of epic proportions, I like selling premium. I also like buying good companies, with stable revenues, and a sizable dividend. TEVA ($39.17) is a generic drug maker that just acquired Cephalon for its drug pipeline. The stock is cheap, and revenues should be stable over the coming year. I like buying 100 shares here, and selling the Jan. 2013 $40 call and Jan. 2013 $35 put for $9 or better."