Last Wednesday (June 17, 2015), Federal Reserve released high anticipated FOMC statement, FOMC Economic Projections, and of course the Federal Funds Rate (interest rate). Federal Open Market Committee (OTCPK:FOMC) kept the interest rates on hold while they decreased their rate projections for 2016 and 2017.
The projections, or "dot plot", which shows where FOMC members expect interest rates in the future, suggest that there will be one, or two quarter percentage (%) point interest rate increase by the end of the year. In March, the projections suggested more than two quarter percentage increases. That was before they knew that the first quarter of 2015 dragged on the economy...temporarily. 15 of 17 FOMC members believe that the first rate-hike will take place this year, same as March's projections. Five officials foresee one increase in the rates this year by quarter percentage point, up from 1 official in March. Another five officials foresee 0.50% increase this year, down from seven officials in March. Two officials wants to keep rates unchanged this year. In March, officials did not know if the first quarter slump was temporary or not. They just believed negative economic news were due to "transitory effects" which includes West Port strike, low energy prices, bad weather, and stronger dollar. Now that we been seeing more positive economic news, many officials believe first quarter slump was temporary.
Officials reduced their median estimate for the federal funds rate by the end of 2016 to 1.625% from 1.875% in March, and to 2.875% by the end of 2017, down from 3.125% in March.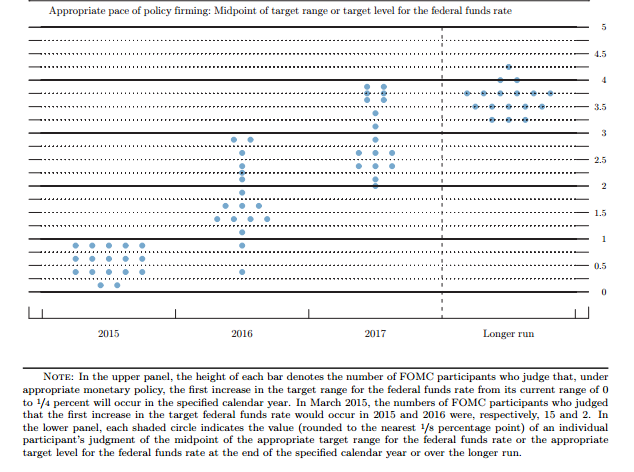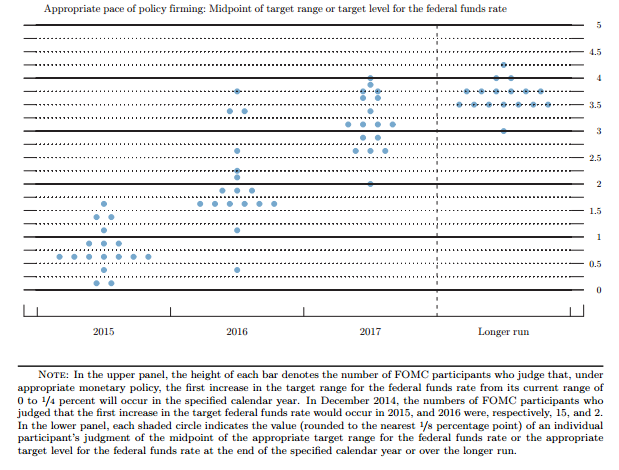 The Fed lowered their economic projections for 2015. They see economic output growth to 1.8% to 2.0%, from 2.3% to 2.7% in March. For 2016, it is seen growing by 2.4% to 2.7%, from 2.3% to 2.7% in March. For 2017, it is seen growing by 2.1% to 2.5%, from 2.0% to 2.4% in March. For 2016 and 2017, it's essentially the same forecasts. They also changed their forecasts slightly for unemployment rate and inflation.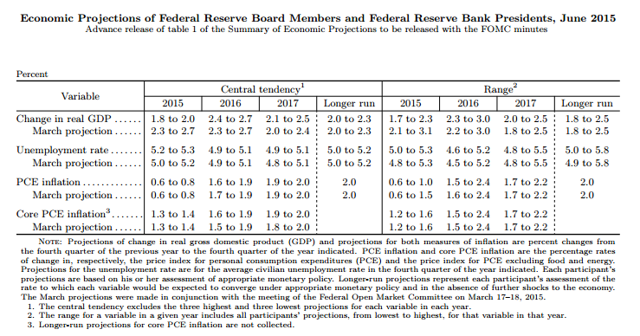 In the statement, Fed policy makers reiterated that they must see "further improvement in the labor market" and be "reasonable confident that inflation will move back to its 2 percent objective over the medium term". If the labor market continues to improve like they did in May, and inflation continues to improve, I strongly believe we will see rate-hike in July or September. It's likely to be September because there will be no press conference in July. If the federal funds rate is increased in July, there will so much uncertainty and volatility in the markets because the Fed will not have a chance to explain their actions. However, there still might be rate-hike in July because the Fed wouldn't want to increase rates too late.
During the press conference, Yellen said "...we have seen some progress. Even so, the Committee judged that economic conditions do not yet warrant an increase in the federal funds rate. While the Committee views the disappointing economic performance in the first quarter as largely transitory, my colleagues and I would like to see more decisive evidence that a moderate pace of economic growth will be sustained, so that conditions in the labor market will continue to improve and inflation will move back to 2 percent." It shows that the Fed is not confident enough to raise the rates yet. She said that the policy will be "data dependent". I believe future US economic reports will be positive until December when we might get unfavorable weather again. Bad weather always derails the Fed's view on the policy because it affects majority of country.
Regarding the US Dollar, or Greenback, Yellen said that the dollar "appears to have largely stabilized" and its significant appreciation is going to continue to drag on the economy for some time to come. The dollar has risen more than 15% against major currencies over the last 12 months.
US markets rose after the Fed announcements while the greenback (US Dollar) slipped. US markets continued to rise the next day.