Spherix Completes $500,000 Financing, Posts IR Presentation.
Jul. 01, 2013 3:18 PM ET
DOMH
Please Note: Blog posts are not selected, edited or screened by Seeking Alpha editors.
Long-Term Horizon, Long Only, Biotech, Special Situations
Seeking Alpha Analyst Since 2008
Roland Rick Perry is the Managing Director of Institutional Analyst Inc. (IA), an independent investment research firm, as well as editor of nine industry-specific investment reviews.
One of the top one-mile runners in history to come out of the Chicago area, he attended Southern Illinois University, Loyola of Chicago and UCLA on track scholarships, achieving an Olympic Qualifying time in the late 70's, right in time for the Olympic boycott in 1980.
Roland began his career on the floor of the Chicago Board Options Exchange (CBOE) as a runner in 1974 while in high school. He later worked for a number of well-respected investment banking firms such as Merrill Lynch, Paine Webber, AG Becker Paribas and Drexel Burnham Lambert, prior to launching his own firm in 1995.
He is the founder of the Chicago Stock & Bond Club, Morgan & Weed and Blank Check Capital Corp., which participated in Wall Street's first "Ultra Mini™" blank check (SPAC) offering, as President of Life Sciences Opportunities Inc., which successfully merged with Beverly Hills-based "Dr Tattoff" the leading Tattoo removal company in the U.S., with over 250,000 treatments on more than 25,000 patients.
Mr. Perry has been quoted and/or interviewed in the New York Times, the Los Angeles Times, CBS MarketWatch, South China Morning Post, the London Register, the UK Register and featured in Australia's ABC televised broadcast Lateline, and in a featured segment piece on National Enquirer TV.
IA is a leading publisher of news, perspective, and market intelligence reports on the equity markets. Working with publicly traded corporations, the firm works with small-cap companies which have products and/or services which can best be described as "best of breed." To align itself with shareholders, IA typically seeks to have 90% of its retainer, represented by an equity stake in their client companies.
Founded in 1995 and based in Chicago, the heart of the trading industry, Institutional Analyst has offices in Beverly Hills, CA, Chicago IL, Delray Beach, FL and Port Jefferson, NY.
Industries covered include:
Internet
Patent Monetization (on hold)
Psychedelics
Alternative Energy
Marine Exploration (on hold)
Special Situations
Biotech
Restaurants (on hold)
Stem Cells 
Beverages
Marijuana
Blockchain (of course, but with major trepidation)
Precious Metals
BDC's and Private Equity
Blanket disclaimer for all of our postings: Important Distinction #1. First and foremost the Watch List is just that. A watch list. It is not a buy list. Meaning that there will be no buys or sale recommendations issued by the various Reviews. If this was a buy list, you can rest assured that we would crank up our Public Relations arm into high gear, full speed ahead and damn the torpedoes to make everyone know just how brilliant we were when we issued the original Watch List in 1998 with the average stock gaining 157% the first year.. Interviews on CNBC, articles in Barron's and accolades in the Wall Street Journal--the only thing we love more than money is praise and fame--but it just isn't going to happen. What the Reviews are...is a "news aggregation service". With the advent of the Internet, everyone knows what that term means. What it means to us is the following: We will follow the progress of as many industry specific related publicly traded stocks as humanly possible (The large, the small and the minuscule) and advise you of when they have reported news. As a subscriber to any of our Reviews, this means you will be able to broadly follow an entire industry right from a single e-mail. We will report who released news and point (with hyperlinks) to where the news can be found. We try to use Yahoo! Finance and Seeking Alpha as extensively as possible so we don't send you all over cyberspace. We love Yahoo and Seeking Alpha, you will too. Any decisions as to buy or sell, however, are strictly up to you. Which leads to important distinction #2. How do we get paid? The Reviews are owned by a Public Relations firm (Institutional Analyst Inc.) that specializes in getting (or creating) coverage for publicly traded companies.
As such, is important to note that anytime we say anything about a company, it is because the company is a client of our parent company, or because we would like them to be a client of our parent company. In a nutshell, you can throw out any thoughts of us being even a little bit impartial. It just ain't gonna happen. We love everyone. Institutional Analyst Inc. is an independent research and investor-relations consulting firm that publishes investment-research reports such as The Reviews on independently selected companies. While it is its intent to identify and research companies that it believes might prove to be profitable investments, we have no control over the eventual outcome.
The Review is not liable for any investment decisions by its readers. Neither The Reviews nor any report published by Institutional Analyst Inc., represent a solicitation to buy or sell the securities discussed within the report. It is strongly recommended that any purchase or sale decisions be discussed with a financial adviser or broker prior to completing any such purchase or sale decision. The information contained herein is provided as an information service only and is based upon sources deemed reliable, but not guaranteed by The Reviews. Past performance of previously featured companies does not guarantee the future success of any currently featured or mentioned company. The information contained herein is subject to change without notice, and The Reviews assumes no responsibility to update the information in this or any report published. Use of this or any report published by The Review may be subject to the applicable rules of certain self-regulatory organizations and the securities mentioned herein, which are traded Over The Counter, and may not be cleared for sale in certain states. Institutional Analyst Inc and/or its employees, officers, affiliates or members of their families may have long or short positions in any of the securities discussed in this or other reports published herein (and/or options or warrants relating thereto) and may purchase and or sell these securities, options or warrants from time to time in the open market or otherwise.
Institutional Analyst Inc may derive compensation through research services and subscriptions and/or investor-relations consulting from the companies featured or mentioned in its reports. Write or call Institutional Analyst Inc for disclosure details as required by Rule 17b as it relates to individual issues. Institutional Analyst Inc., In no event, shall The Reviews report be liable for direct, indirect, incidental or consequential damages resulting from the use of this information. The Reviews shall be indemnified and held harmless from any actions, claims, proceedings or liabilities with respect to the information herein. Institutional Analyst Inc is not a securities broker-dealer, investment advisor or a securities exchange and is not registered as such with the Securities and Exchange Commission nor any state securities regulatory authority. Readers of this e-mail newsletter should recognize that the Reviews are only providing a delivery service to electronically transmit information to potential investors. In this respect, the Reviews are no different than the provider of any other delivery service such as the United States Post Office or any other express delivery service. Accordingly, investors should be aware that the Reviews have not evaluated nor investigated any of the companies listed in this e-mail to determine their merit or the risk of investment in any such company. The Reviews do not endorse any company listed herein and the Reviews do not represent that the information contained in any offering documents states all material facts or does not omit a material fact necessary to make the statements therein not misleading. Roland@institutionalanalyst@com
For specific company disclaimer, please visit any of our websites about disclaimers where we have been compensated are on each blog right-up-front in big print, on each research report written and in the general disclaimer section. We have nothing to hide, our disclaimers are everywhere. As the majority of our compensation is in restricted stock, the better our clients perform (which we have no control over), the better we are compensated and vice versa. This is in sharp contrast to firms which only accept cash as compensation, and who really couldn't care less how the stock performs, as long as their check keeps coming in. We believe this puts us on the same page as shareholders and our readers because we are in fact shareholders.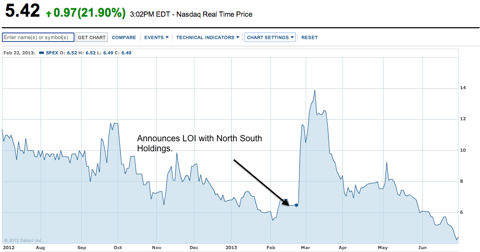 TYSONS CORNER, VA--(Marketwired - Jul 1, 2013) - Spherix Incorporated (NASDAQ: SPEX) an intellectual property development and life sciences company, today announced that an investor has privately purchased 100,000 shares at $5.00 per share. The shares of Spherix Series E Convertible Preferred Stock sold are convertible into common stock on a share for share basis. Total proceeds to the company was $500,000.
"Spherix intends to use the proceeds for general working capital and expenses leading up to the acquisition of important patents that will advance the company's plan to acquire patent protected intellectual property to develop and license," said Harvey Kesner, Spherix' CEO. "Spherix is working to complete acquisitions expected to add hundreds of valuable patents under our ownership which include wireless communications, antennae technology and pharmaceutical distribution patents. We recently signed a further letter of intent with a major private patent ownership collaboration covering additional areas of telephony and telecommunications technology which we expect to close in the third quarter," continued Mr. Kesner.
Spherix previously announced an agreement to acquire 222 patents from North South Holdings, Inc. principally developed by inventors at Harris Corp., a 118 year old pioneer in wireless communications and equipment and a $6 billion defense contractor. The Harris portfolio has applicability in law enforcement communications, military and homeland security, satellite communications, portable electronics, Wi-Fi, microwave and cellular transmission, and solar concentrator technologies. Additional North South patents cover automated pharmacy ordering practices. The closing of the North South transaction is awaiting regulatory approval which is expected within 60 days.
IR Presentation posted on 8K.
www.otcmarkets.com/edgar/GetFilingHtml?FilingID=9370411
Seeking Alpha's Disclosure: Past performance is no guarantee of future results. No recommendation or advice is being given as to whether any investment is suitable for a particular investor. Any views or opinions expressed above may not reflect those of Seeking Alpha as a whole. Seeking Alpha is not a licensed securities dealer, broker or US investment adviser or investment bank. Our analysts are third party authors that include both professional investors and individual investors who may not be licensed or certified by any institute or regulatory body.