Patent Stock Week In Review
Please Note: Blog posts are not selected, edited or screened by Seeking Alpha editors.
==================================================
Patent Stock Review, Tuesday, 7/23/2013.
Los Angeles, CA 65...78F Partly Cloudy.
Chicago, IL 70..84F Mostly Cloudy.
Delray Beach, FL 77..90 Sunny.
Port Jefferson, NY 73...84F Rain. (176)
==================================================
Week In Review
1. Court Sets Date for CopyTele (COPY), Au Optronics (OTC:AUO) and E Ink (private) Settlement Conference.
2. Marathon Patent Group (MARAD) Announces 1 for 13 Reverse Stock Split.
3. When Does a Reverse Split Make Sense? (SeekingAlpha)
4. Spherix (SPEX) to Partner With World Famous Rockstar Consortium.
5. Spherix And Its Rockstar Announcement: A Big Deal For A Small Company (SeekingAlpha)
6. Worlds Inc., (OTCQB:WDDD) Finalizes Settlement With Investor Group, Retains Chardan Capital.
7. Finjan (FNJN) Files S-1.
8. Patent Properties (GLOI), New Kid on the Block.
9. Oh, the Good Old Days.
10. Disclaimer.
To subscribe, visit patentstockreview.com
To contact us send a email to: patentstockreview@gmail.com
==================================================
We are of the opinion that CopyTele (COPY) today -- as of this very second, offers investors an excellent entry point amidst a bit of confusion about one of its litigation most exciting proceedings.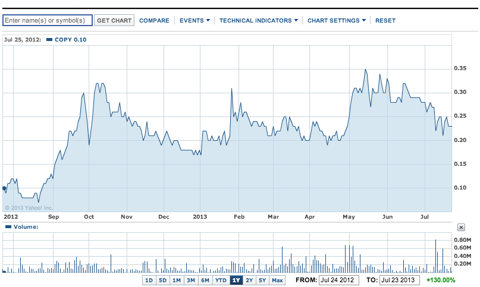 News out today about a September 9th settlement conference with AU Optronics and E Ink Holdings , which we might fondly refer to as an all-points bulletin. So please pay attention.
Follow the bouncing ball:
Suit Filed:
FIRST...on January 28th of 2013, CopyTele filed suit against E Ink Holdings and AU Optronics (NYSE: AUO). The lawsuit, alleging breach of contract, fraud, conspiracy to monopolize, unfair business practices, antitrust, and other anti-competitive acts, seeks punitive and treble damages.
This type of lawsuit and its wide range of charges and potential benefits (treble damages) is unlike anything we've seen filed by any other patent monetization in our Watch List. If CopyTele succeeds in it's assertion efforts -- all hell could break loose, with regards to the share price.
The suit is against two multi-billion dollar foreign companies. And CopyTele doesn't simply claim they "inadvertently" infringed (as often is the case in technology patent disputes) CopyTele's technology, but rather claims that they "conspired to steal" the technology and intended to cause CopyTele "financial hardship," to the extent that they wouldn't even be able to defend themselves and fight back.
Yep, dem's fighting words!
AU Optronics is one of the world's largest manufacturers of flat panel displays for televisions, computers, and tablets, including Apple's iPad. E-Ink is the world's largest supplier of electrophoretic displays including displays for e-Reader products such as Amazon's Kindle, and Barnes and Noble's Nook. Nice targets.
Finally -- and this is where it gets good (or even better). CopyTele is represented in the lawsuits by San Francisco based Lieff Cabraser Heimann & Bernstein, who together with the U.S. Justice Department, recently lead antitrust and unfair competition actions against AU Optronics (what a coincidence), resulting in criminal fines of $500 million, civil settlements of $199.5 million, and Federal prison sentences for several top AUO officials.
$1/2 a billion in fines, prison sentences, the Kindle and the Nook -- this is bout as juicy as a story gets. We fully expect this proceeding to grab front line attention as it nears resolution And we also are of the opinion that it is bound to grab the attention of investors. For a company with a market capitalization less than $50 million -- this can be a very good thing.
Initial Suit filed:
finance.yahoo.com/news/copytele-files-la....html
Second, on June 4th, CopyTele announces that it was awarded an additional patent (its 13th) covering electrophoretic displays. The patent relates to improvements in the resolution and response time for particles used to generate images. Electrophoretic displays are commonly used in eReader devices such as the Kindle sold by Amazon, and the Nook sold by Barnes and Noble.
Third, and of extreme importance (to the impatient) --CopyTele agreed to arbitrate against AU Optronics. Arbitration will enable CopyTele to seek the same level of damages and other relief that they would be entitled to in Court, via a process that should be faster and more efficient than the overcrowded Federal Court system.
Fourth on July 9th, and this is where we believe confusion enters into the picture. E-Ink's litigation team Wolf Greenfield's announced it secured an order dismissing the patent infringement lawsuit brought by CopyTele, Inc. CopyTele traded as high as $0.30 the day before and two days later traded as low as $0.22 (it trades at $0.23 as we write).
In a emailed statement, Robert Berman CopyTele CEO wrote, "In the interest of judicial economy, the court is requiring E Ink to participate in the arbitration proceedings between CopyTele and AU Optronics and to first resolve the antitrust, fraud, conspiracy, and other allegations against them. Because issues in the arbitration must first be decided before the patent infringement case can proceed, it makes perfect sense for the court to dismiss the patent infringement case now without considering the merits of the case, and to allow CopyTele to refile the patent infringement case once the arbitration is over."
Fifth on July 10th, the Federal District Court for the Northern District of California ordered CopyTele, AU Optronics Corp. and E Ink Holdings to attend a settlement conference, before a Magistrate Judge, to be scheduled within the next ninety (90) days.
CopyTele issued a press release stating, "The District Court declined to grant E Ink Holding's request to be dismissed from the AUO/E Ink lawsuit, and ordered E Ink to participate in the arbitration proceeding agreed to by CopyTele and AUO, for purposes of discovery. CopyTele's lawsuit against E Ink will be conditionally stayed, provided that E Ink continues to comply with the arbitrator's discovery rulings. Because issues pending in the arbitration proceeding must first be adjudicated before CopyTele can proceed with its patent infringement lawsuit against E Ink, the District Court dismissed that lawsuit, without prejudice, meaning that CopyTele can re-file the lawsuit, if necessary, following the arbitration.
The press release also noted, "The Court's ruling provides that discovery developed from the arbitration proceeding may be used in later litigation by CopyTele against E Ink."
Nonetheless -- despite this clarifying press release, we believe confusion ruled over the share price and contributed to its weakness.
Sixth today, we get a date ! September 9th is the start date for a settlement conference. They had 90 days to schedule a the conference and only took 12 days to do so. Things look like they are being fast tracked.
=====
Today's News:
MELVILLE, NY--(Marketwired - July 23, 2013) - CopyTele, Inc. ("CTI") (COPY), a company specializing in patent monetization and patent assertion, today announced that the U.S. District Court for the Northern District of California has scheduled a Settlement Conference on September 9, 2013, in connection with CopyTele's ongoing lawsuit against AU Optronics Corp. and E Ink Holdings. The Settlement Conference, which must be attended by lead trial counsel, and representatives with unlimited settlement authority from CopyTele, AU Optronics, and E Ink, will be presided over by a United States Magistrate Judge.
The Settlement Conference is an informal process where the Magistrate Judge acts as a mediator in an attempt to compel the parties to resolve their differences. The Settlement Conference could be completed in as little as one day, or may take place over several days, depending on the Magistrate Judge and the parties.
Robert Berman, CTI's President and CEO stated, "Since taking over CTI as new management, this is our first opportunity to meet face to face with officials from AU Optronics and E Ink. Personal interaction plays an important part in resolving any dispute, and we are looking forward to starting the process."
Full Release: finance.yahoo.com/news/court-sets-date-c....html
====
Click here to read copy of Complaint:
www.copytele.com/wp-content/uploads/2013....pdf
Summary:
The time-clock in what may be one of the most exciting patent litigation cases of the year has just started.
==================================================
2. Marathon Patent Group (MARAD) Announces 1 for 13 Reverse Stock Split.
ALEXANDRIA, VA--(Marketwired - Jul 19, 2013) - Marathon Patent Group, Inc. (OTCBB: MARA) ("Marathon"), a patent licensing company, announced today a 1 for 13 reverse stock split of the Company's issued and outstanding common stock. The reverse stock split will be effective at the opening of trading on July 22, 2013. The Company's common stock will trade under the symbol "MARAD" for a period of 20 business days to designate that it is trading on a post-reverse split basis.
Full Release: finance.yahoo.com/news/marathon-patent-g....html
==================================================
3. When Does a Reverse Split Make Sense? (SeekingAlpha)
With all the negative perception of reverse splits, there are those rare situations where a company can affect one out of opportunity versus traditional desperation.
Case in point, on Friday afternoon Marathon Patent Group (MARAD.OB) announced a 1-13 reverse split of their common shares. No surprise as the company shareholders had approved it months earlier. The company's proxy filing clearly explains the company's intent.
Full Article: seekingalpha.com/article/1561812-when-do...-sense
==================================================
4. Spherix (SPEX) to Partner With World Famous Rockstar Consortium.
TYSONS CORNER, VA--(Marketwired - July 17, 2013) - Spherix Incorporated (NASDAQ: SPEX) -- an intellectual property development company, today announced it has entered into a definitive agreement with Rockstar Consortium, the owner of the world famous Nortel Networks patent portfolio of over 4,000 patents, to acquire a suite of patents.
Through the Rockstar Consortium transaction, Spherix will substantially increase its intellectual property portfolio and be positioned to enhance its opportunities for revenue generation through the monetization of these assets.
"We are very excited to partner with Rockstar. Spherix's acquisition is even more significant because in addition to this suite of patents Rockstar has agreed to become a shareholder of Spherix." said Harvey Kesner, Spherix CEO. Mr. Kesner continued, "We expect to bring our first action against known infringers within 30-60 days." The terms of the transaction were not disclosed.
Full Release:
finance.yahoo.com/news/spherix-partner-w....html
==================================================
5. Spherix And Its Rockstar Announcement: A Big Deal For A Small Company (SeekingAlpha)
Although the SPEX press release does not disclose what Rockstar patents it is acquiring or the terms, it provides useful information regarding the quality of the assets in question (and about SPEX) in a number of ways. First, I know firsthand that Rockstar has high quality assets and a seasoned team of professionals. The core of Nortel's IP licensing group went to Rockstar with the deal, and is still there. Rockstar's combination of high quality assets and people gives me confidence that SPEX has likely obtained high quality patents.
Second, partnering with a public company in a combination of patent sales and equity ownership is a new and public endeavor for Rockstar. They would not showcase a questionable portfolio in such a public campaign.
Third, Rockstar and its portfolio are highly regarded in the patent monetization world. They can pick their partners, and do so conservatively - and they chose SPEX. This is a badge of honor and feather in the cap, especially for an IP company that is just getting started.
Fourth, SPEX now has its foot in the door of one of the world's most valuable patent portfolios. If they produce results for Rockstar on this deal, they will almost certainly get access to more Rockstar patents, and there is a lot of gold in that vault. Lastly, Rockstar becoming an SPEX shareholder means that they have a financial interest in SPEX's success. That bodes well for this and future Rockstar deals.
Based on these factors, I view today's press release, even though it has few details, as a significant positive development for SPEX.
Full Article:
seekingalpha.com/article/1553092-spherix...?source=yahoo
==================================================
6. Worlds Inc., (OTCQB:WDDD) Finalizes Settlement With Investor Group, Retains Chardan Capital.
BOSTON, MA--(Marketwired - Jul 22, 2013) - Worlds Inc. (OTCBB: WDDD) received a majority of shareholder votes at its annual shareholder meeting on July 18th in support of Worlds' recent request to increase its authorized shares of common stock from 100 million to 150 million shares, as well as authorization for a reverse split for a potential senior market up-listing. Details in SEC Filing DEF 14A on SEC.gov.
As part of its efforts to achieve listing on a senior exchange, Worlds also formally entered into a representation agreement with Chardan Capital Markets to provide financial advisement services.
Mr. Thom Kidrin, Worlds' President and CEO, stated, "Shareholder approval of these matters enables us to move forward with the next steps to apply and qualify to be listed on NASDAQ or another senior exchange. We believe that Chardan Capital's experience with companies specializing in IP and their track record in assisting companies to successfully up-list to major exchanges makes them an ideal fit for Worlds."
Full Release: finance.yahoo.com/news/worlds-finalizes-....html
==================================================
7. Finjan (FNJN) Files S-1.
Interestingly Cisco (CSCO) which has a 20% stake in Finjan, offered to pay $2.7 billion to acquire SourceFire (FIRE).
Finjan S-1 Filing:
www.otcmarkets.com/edgar/GetFilingHtml?FilingID=9401594
Cisco Sourcefire Release:
finance.yahoo.com/news/cisco-announces-a....html
==================================================
Patent Properties, (GLOI) New Kid on the Block.
GlobalOptions Group, Inc. ("GlobalOptions") (OTC BB: GLOI) and Walker Digital Holdings, LLC, a newly formed, wholly-owned subsidiary of Walker Digital, LLC ("Walker Digital"), announced today that they have entered into an agreement to merge. GlobalOptions will then include the patent portfolio created by Walker Digital, the research and development lab led by renowned inventor and entrepreneur Jay Walker. The transaction is expected to close in the third quarter of 2013. Following the close of the transaction, GlobalOptions intends to seek to change its name to Patent Properties, Inc.
Mr. Walker will serve as Executive Chairman of the Board of Directors of the combined company, while current Walker Digital Chief Executive Officer Jon Ellenthal will serve as the Company's Chief Executive Officer.
"Over the past 20 years, Walker Digital has focused on inventing solutions to large-scale problems for businesses and consumers and then successfully monetizing a number of our inventions and intellectual property through a multi-pronged strategy of commercialization, partnership and enforcement," said Mr. Walker. "This transaction will enhance our ability to continue to achieve returns on our current and future patent portfolio and to develop new commercial initiatives."
"In addition to providing the company with a reliable source of capital, this transaction will also enable the company to accelerate the commercialization of a new digitally-driven business system for patent licensing currently under development that will address the significant inefficiencies in the multi-billion dollar patent licensing market," said Mr. Ellenthal.
==================================================
9. Oh, the Good Old Days.
Stumbled an old article from 1999. Wow.
CMGI up $30 to $200 !
Lycos (LCOS) gained 20 1/4, or 28 percent, to 91 3/4. Yahoo! (YHOO) YHOO -1.22%shares jumped 27 1/2 to 347 1/2. Network Solutions (NSOL) shares rose 21 3/4, or 10 percent, to 238 1/4. MindSpring Enterprises (MSPG) climbed 5 1/8to 93 1/8.
E-Trade Group (EGRP) was up 3 9/16 to 67 5/8, while rival online brokerage Ameritrade (AMTD) AMTD +3.05% was up 1 9/16 to 36 1/16.
Some high-profile Net names ended the day down after reaching highs earlier in the day. Shares of America Online (AOL) AOL +0.35% slipped 2 1/8 to 145 3/4, and online auctioneer uBid (UBID) dipped 1/4 to 119.Shares of eBay (EBAY) EBAY -0.86% fell 5 5/8 to 292 3/8.
Littler firms' big gains
Throughout the Net sector, investor enthusiasm fired up share prices.
Sports site SportsLine USA (OTCPK:SPLN) SPLN +20.00% sprinted ahead 43 percent, rising 8 3/8 to 28. See complete story.
Shares of Christian-oriented Web company Didax (OTCPK:AMEN) AMEN 0.00% gained 52 percent, getting a boost from its Crosswalk.com's recognition as "best Christian Web site of the year" by an organization called Best of the Christian Web. The stock climbed 4 3/4, to 13 7/8.
Online audio provider AudioHighway.com (AHWY) gained 35 percent, or 3 1/2, to 13 3/8.
Among other gainers: CMGI (CMGI) surged 30, or 18 percent, to 200 1/4 and Cybercash (CYCH) added 2 7/16 to 21 3/4.CNET(CNET) CNET 0.00% jumped 6 3/8 to 62 3/8 amid general bullishness in the Internet group, and after BancBoston Robertson Stephens reiterated its "buy" rating on the publisher of News.com and other Internet sites.
www.marketwatch.com/story/growth-outlook...-99
==================================================
Disclaimer: COPY: Forward-Looking Statements: Statements that are not historical fact may be considered forward-looking statements within the meaning of the Private Securities Litigation Reform Act of 1995. Forward-looking statements are not statements of historical facts, but rather reflect CopyTele's current expectations concerning future events and results. We generally use the words "believes," "expects," "intends," "plans," "anticipates," "likely," "will" and similar expressions to identify forward-looking statements. Such forward-looking statements, including those concerning our expectations, involve risks, uncertainties and other factors, some of which are beyond our control, which may cause our actual results, performance or achievements, or industry results, to be materially different from any future results, performance, or achievements expressed or implied by such forward-looking statements. These risks, uncertainties and factors include, but are not limited to, those factors set forth in "Item 1A - "Risk Factors and other sections of our Annual Report on Form 10-K for the fiscal year ended October 31, 2012 as well as in our Quarterly Reports on Form 10-Q and Current Reports on Form 8-K. We undertake no obligation to publicly update or revise any forward-looking statements, whether as a result of new information, future events or otherwise, except as required by law. You are cautioned not to unduly rely on such forward-looking statements when evaluating the information presented in this press release. CopyTele is a client of Institutional Analyst Inc., and we have been compensated with twenty five hundred dollars per month and five-hundred thousand restricted shares from the company to provide various investor relation services including the publication and distribution of the report mentioned herein.
MARA: Certain statements in this press release constitute "forward-looking statements" within the meaning of the federal securities laws. Words such as "may," "might," "will," "should," "believe," "expect," "anticipate," "estimate," "continue," "predict," "forecast," "project," "plan," "intend" or similar expressions, or statements regarding intent, belief, or current expectations, are forward-looking statements. While the Company believes these forward-looking statements are reasonable, undue reliance should not be placed on any such forward-looking statements, which are based on information available to us on the date of this release. These forward looking statements are based upon current estimates and assumptions and are subject to various risks and uncertainties, including without limitation those set forth in the Company's filings with the Securities and Exchange Commission (the "SEC"), not limited to Risk Factors relating to its patent business contained therein. Thus, actual results could be materially different. The Company expressly disclaims any obligation to update or alter statements whether as a result of new information, future events or otherwise, except as required by law.
Disclaimer: Important Distinction #1. First and foremost the Watch List is
just that. A watch list. It is not a buy list. Meaning that there will be
no buys or sales issued by the Reviews. If this was a buy
list, you can rest assured that we would crank up our Public Relations arm
into high gear, full speed ahead and damn the torpedoes to make everyone
know just how brilliant we were when we issued the list. Interviews on
CNBC, articles in Barron's and accolades in the Wall Street Journal--the
only thing we love more than money is praise and fame--but it just isn't
going to happen. What the Reviews are...is a "news
aggregation service". With the advent of the Internet, everyone knows what
that term means. What it means to us is the following: We will follow the
progress of as many Internet related publicly traded stocks as humanly
possible (The large, the small and the minuscule) and advise you of when
they have reported news. As a subscriber to the Reviews,
this means you will be able to broadly follow the entire industry right
from a single e-mail. We will report who released news and point (with
hyper links) to where the news can be found. We try to use Yahoo! Finance
as extensively as possible so we don't send you all over cyberspace. We
love Yahoo, you will too. Any decisions as to buy or sell however, are
strictly up to you. Which leads to important distinction #2. How do we get
paid? The Reviews are owned by a Public Relations firm
(Institutional Analyst Inc.) that specializes in getting (or creating)
coverage for publicly traded companies. As such, is important to note that
anytime we say anything about a company, it is because the company is a
client of our parent company, or because we would like them to be a client
of our parent company. In a nutshell, you can throw out any thoughts of us
being even a little bit impartial. It just ain't gonna happen. We love
everyone. Final note is we that have over 20,000 subscribers so please
excuse our dust. Institutional Analyst Inc. is an independent research and
investor-relations consulting firm that publishes investment-research
reports such as The Reviews on independently selected
companies. While it is its intent to identify and research companies that
it believes might prove to be profitable investments, The
Review is not liable for any investment decisions by its readers. Neither
The Reviews nor any report published by Institutional Analyst
Inc., represent a solicitation to buy or sell the securities discussed
within the report. It is strongly recommended that any purchase or sale
decisions be discussed with a financial adviser or broker prior to
completing any such purchase or sale decision. The information contained
herein is provided as an information service only and is based upon
sources deemed reliable, but not guaranteed by The Reviews.
Past performance of previously featured companies does not guarantee the
future success of any currently featured or mentioned company. The
information contained herein is subject to change without notice, and The
Reviews assumes no responsibility to update the information
in this or any report published. Use of this or any report published by
The Review may be subject to the applicable rules of
certain self-regulatory organizations and the securities mentioned herein,
which are traded Over The Counter, and may not be cleared for sale in
certain states. Institutional Analyst Inc and/or its employees, officers,
affiliates or members of their families may have long or short positions
in any of the securities discussed in this or other reports published
herein (and/or options or warrants relating thereto) and may purchase and
or sell these securities, options or warrants from time to time in the
open market or otherwise. Institutional Analyst Inc may derive
compensation through research services and subscriptions and/or
investor-relations consulting from the companies featured or mentioned in
its reports. Write or call Institutional Analyst Inc for disclosure
details as required by Rule 17b as it relates to individual issues.
Institutional Analyst Inc., In no event shall The
Reviews report be liable for direct, indirect, incidental or
consequential damages resulting from the use of this information. The
Reviews shall be indemnified and held harmless from any
actions, claims, proceedings or liabilities with respect to the
information herein. Institutional Analyst Inc is not a securities
broker-dealer, investment advisor or a securities exchange and is not
registered as such with the Securities and Exchange commission nor any
state securities regulation authority. Readers of this e-mail newsletter
should recognize that the Reviews are only providing a
delivery service to electronically transmit information to potential
investors. In this respect, the Reviews are no different than
the provider of any other delivery service such as the United States Post
Office or any other express delivery service. Accordingly, investors
should be aware that the Reviews have not evaluated nor
investigated any of the companies listed in this e-mail to determine their
merit or the risk of investment in any such company. The Reviews do not
endorse any company listed herein and the Reviews do not
represent that the information contained in any offering documents states
all material facts or does not omit a material fact necessary to make the
statements therein not misleading. institutionalanalyst@gmail.com
Disclosure: I am long COPY.OB, MARAD.OB.
Seeking Alpha's Disclosure: Past performance is no guarantee of future results. No recommendation or advice is being given as to whether any investment is suitable for a particular investor. Any views or opinions expressed above may not reflect those of Seeking Alpha as a whole. Seeking Alpha is not a licensed securities dealer, broker or US investment adviser or investment bank. Our analysts are third party authors that include both professional investors and individual investors who may not be licensed or certified by any institute or regulatory body.