==================================================
Patent Stock Review, Wednesday, 01/29/2014.
Los Angeles, CA 52…69F Sunny.
Chicago, IL 16…22F Sunny.
Delray Beach, FL 61...77 Sunny.
Port Jefferson, NY 13…33F Light Snow. (190)
==================================================
1. Vringo ($VRNG) $4.49, Halted. Short Squeeze ?
2. CopyTele ($COPY) $0.34. Short Squeeze ?
3. Regulation A+ Proposal: Highlights.
4. Disclaimer.
To contact us send a email to: patentstockreview@gmail.com
To Subscribe to the Patent only letter, click here: eepurl.com/uy6Lb
Visit us on Facebook: www.facebook.com/patentstockreview
Visit us on Twitter: twitter.com/patentstock
Blog Version: patentstockreview.ning.com/profiles/blog...-nicely
==================================================
I guess the first thing we should point out is we do not (for the most part) "trade" these stocks, we don't even subscribe to a real-time quotation system.
==================================================
1. Vringo (VRNG) $4.49, Halted. Short Squeeze ?
And we have a double ! Took a while (two years from April 2012 at $2.10), but it appears momentum is building and there is a rather large open short position of 18,375,255 or 24% of the float as of January 15th. Oh boy.
Someone had a restless night. Imagine if your short this and this is what you're looking at today. What a way to start your morning. "Double espresso and two packs of Marlboro Reds please and no Wall Street Journal today, won't have time to read!"
Why someone would short anything with "uncertain and unpredictable" catalysts in either the Patent or Biotech industries, when there are so many other good short sale candidates is beyond us.
And in reality, the patent play field is doubly worse for short hunting because 1) a day ruining settlement* can come "before" a court ruling. And 2) the entire group of stocks is fueled by smaller and nimbler retail investors, who's enthusiam can run these stocks on a whim, where the buying itself creates buying (and viva versa).
Meaning someone (or 2,000 someones) who aren't really sure what Vringo does for a living other than "they won," may want to buy 2,000 shares of Vringo at the open this morning at say $4.50 with a goal of selling at $4.75 and that's a 4 million share buy order. And a whole set of new traders who see it's up $0.25 and may buy at $4.75 with a goal of selling at $5.00. Who would want to battle that type of Kamikaze buying mentality! Not us, that's for sure.
Real-Time Chart $4.49 as of 5:12AM .
www.nasdaq.com/symbol/vrng/real-time
Historical Trading 2014: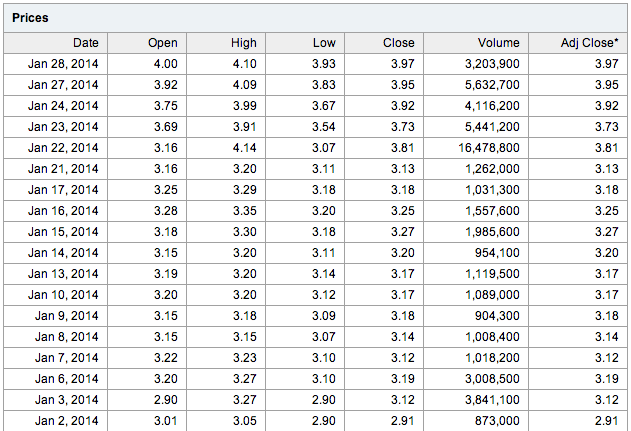 finance.yahoo.com/q/hp?s=VRNG+Historical+Prices
NASDAQ Short Interest Table:
www.nasdaq.com/symbol/vrng/short-interest
=====
Vringo jumps after court reportedly orders Google to pay royalty on AdWords (Fly On The Wall)
Vringo (VRNG) shares traded sharply higher before being halted in after-hours trading following reports that Google (NASDAQ:GOOG) will pay the company a royalty on sales of AdWords. WHAT'S NEW: According to a report from Bloomberg, a federal judge has ordered Google to pay Vringo a 6.5% royalty on sales of Google's AdWords after the two sides were unable to reach an agreement. This report follows a January 22 ruling that Vringo is entitled to ongoing royalties from Google as long as it uses its current system, which infringes patents held by Vringo's wholly-owned subsidiary I/P Engine. PRICE ACTION: Shares of Vringo were up 13.35% to $4.50 in after-hours trading before being halted, pending news. Shares of Vringo remain halted in the after-hours.
goo.gl/X49OPQ
=====
Shares Of Vringo Jump 22% After Work-Around Ruling: Are You Capitalizing On This Big Opportunity? (Justin Giles @ SA)
seekingalpha.com/article/1962461-shares-...?source=yahoo
=====
*ADT Settles with Vringo.
"...today announced that its subsidiary, Vringo Infrastructure, has entered into a confidential agreement with ADT Corporation and its subsidiary, ADT LLC doing business as ADT Security Services. The agreement resolves litigation…"
finance.yahoo.com/news/vringo-enters-agr....html
==================================================
2. CopyTele (COPY) $0.34. Short Squeeze ?
An equally impressive share price movement has been building which is up 70% for the year, up from $0.20, near where we added to to the Watch List (April 3rd, 2013 at $0.22)
Historical Trading 2014: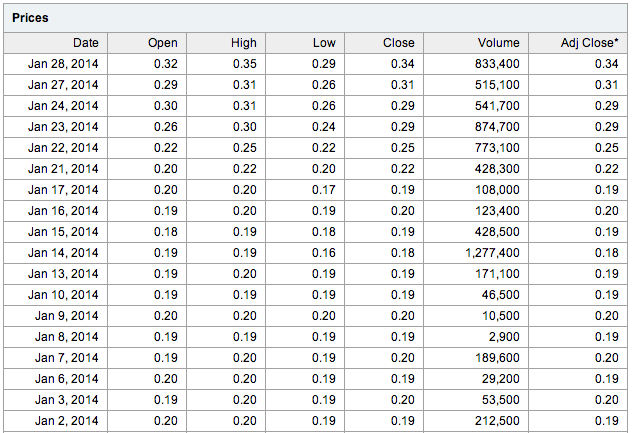 finance.yahoo.com/q/hp?s=COPY+Historical+Prices
Initiation of Coverage Report:
goo.gl/JAEBVz
On January 27th, BuyIns.Net (a database) which is run by a good friend of ours Tom Ronk noted that, "The total aggregate number of shares shorted since August 2009 is approximately 44.5 million shares. Approximately 31.63% of daily trading volume is short selling. The SqueezeTrigger price for all COPY shares shorted is $0.294. A short squeeze is beginning as COPY is crossing above its $0.294 SqueezeTrigger price.
Note the important distinction between the terms "shorted" and "short" from the above quotation which different from short interest.
BUYINS.NET Updates CopyTele SqueezeTrigger Report.
Approximately 44.5 Million Shares Shorted Since August 2009; Short Squeeze Beginning As Stock Above $0.294 SqueezeTrigger Price.
=====
MELVILLE, NY--(Marketwired - January 27, 2014) -BUYINS.NET, www.buyins.net, a leading provider of Regulation SHO compliance monitoring, short sale trading statistics and market integrity surveillance, has updated coverage on CopyTele, Inc. (COPY) after releasing the latest short sale data through January 24, 2014. The total aggregate number of shares shorted since August 2009 is approximately 44.5 million shares. Approximately 31.63% of daily trading volume is short selling. The SqueezeTrigger price for all COPY shares shorted is $0.294. A short squeeze is beginning as COPY is crossing above its $0.294 SqueezeTrigger price.
Click For Original Report: www.buyins.com/reports/copy12-13-13.pdf
Click For Updated SqueezeTrigger: www.buyins.com/images2/copystr1-26-14.jpg
Click For Updated Friction Factor: www.buyins.com/images2/copyff1-26-14.jpg
Click here for detailed explanation: www.buyins.com/brochure.pdf
Friction Factor calculates if a fair market is being made in the shares of COPY. 47% of the previous 38 trading days have been positive or bullish-biased and 53% have been negative or bearish-biased.
Regulation SHO requires bona-fide market-making activities to include making purchases and sales in roughly comparable amounts. The Commission has stated that bona-fide market-making DOES NOT include activity that is related to speculative selling strategies or investment purposes of the broker-dealer and is disproportionate to the usual market making patterns or practices of the broker-dealer in that security. Likewise, where a market-maker posts continually at or near the best offer, but does not also post at or near the best bid, the market-maker's activities would not generally qualify as bona-fide market-making. Moreover, a market-maker that continually executes short sales away from its posted quotes would generally not be considered to be engaging in bona-fide market-making.
BUYINS.NET monitors COPY market-makers daily for compliance with Fair Market-Making Requirements.
About BUYINS.NET
BUYINS.NET, www.buyins.net, monitors trading in all US stocks in real time and maintains massive databases of short sale and naked short sale time and sales data, short squeeze SqueezeTrigger prices, market-maker price movements, shareholder data, statistical data on earnings, sector correlation, seasonality, hedge fund trading strategies and comparable valuations. Reports include:
REGULATORY & COMPLIANCE NEWS
Friction Factor - market-maker surveillance system tracking market-makers to determine Price Friction and compliance with new "Fair Market-Making Requirements".
RegSHO Naked Shorts - tracks EVERY failure to deliver in all US stocks and all Threshold Security Lists daily for which stocks have naked short positions.
INVESTMENTS & TRADING
SqueezeTrigger - 40 billion cell database tracks EVERY short sale (not just total short interest) in all US stocks and calculates volume weighted price that a short squeeze will begin in each stock.
Earnings Edge - predicts probability, price move and length of move before and after all US stock earnings reports.
Seasonality - predicts probability, price move and length of move based on exact time of year for all US stocks.
Group Trader - tracks sector rotation and stock correlation to its sector and predicts future moves in ALL sectors and industry groups.
Pattern Scanner - automates tracking of technical patterns and predicts next move in stocks.
GATS - tracks all strategies
DISCLAIMER:
BUYINS.NET is not a registered investment advisor and nothing contained in any materials should be construed as a recommendation to buy or sell any securities. Buyins.net has been paid $1,116 per month for data provided in six monthly reports. COPY has not approved the statements made in this release. Please read our report and visit our web site, www.buyins.net, for complete risks and disclosures.
Contact:
BUYINS.NET
Thomas Ronk
800-715-9999
tom@buyins.net
www.buyins.net
Subscribe to the database here:
==================================================
3. Regulation A+ Proposal: Highlights (David Feldman).
I spent part of my holiday reading the 300+ page SEC proposal to overhaul Regulation A. My grade: Regulation A+ gets very close to an A+ on substance. If adopted mostly as proposed, this has the potential to literally transform the offering and reporting process for smaller companies (although I plan a comment letter to suggest some improvements!). In the next series of posts, I will summarize the key provisions in the proposal, which is still subject to comment and possible change. Here I will list the highlights briefly, then take them in a little more detail ahead. Of course not everything's in here, you have to call me! Keep watching this space in 2014!!!
Here are the basics. Regulation A lets you do a simpler IPO with an "offering circular" approved by the SEC that has less disclosure than a typical S-1 registration, but you're public and trading after. The challenge had been that you could only raise $5 million and the states individually reviewed the offerings, delaying them and causing significant cost and hassle.As mandated by the Jumpstart Our Business Startups (NASDAQ:JOBS) Act, the Reg A offering limit was increased to $50 MM. The proposal sets up two tiers. Tier I is for offerings up to $5 million and Tier II is raising up to $50 million. Only US and Canadian based companies can use Reg A. Here are key provisions of the proposal:
Read Full Article here:
www.davidfeldmanblog.com/regulation-a-pr.../
==================================================
Disclaimer:
VRNG: This press release includes forward-looking statements, which may be identified by words such as "believes," "expects," "anticipates," "estimates," "projects," "intends," "should," "seeks," "future," "continue," or the negative of such terms, or other comparable terminology. Forward-looking statements are statements that are not historical facts. Such forward-looking statements are subject to risks and uncertainties, which could cause actual results to differ materially from the forward-looking statements contained herein. Factors that could cause actual results to differ materially include, but are not limited to: our inability to license and monetize our patents, including the outcome of the litigation against online search firms and other companies; our inability to monetize and recoup our investment with respect to patent assets that we acquire; our inability to develop and introduce new products and/or develop new intellectual property; new legislation, regulations or court rulings related to enforcing patents, that could harm our business and operating results; unexpected trends in the mobile phone and telecom infrastructure industries; our inability to raise additional capital to fund our combined operations and business plan; our inability to maintain the listing of our securities on a major securities exchange; the potential lack of market acceptance of our products; potential competition from other providers and products; our inability to retain key members of our management team; the future success of Infomedia and our ability to receive value from its stock; and other risks and uncertainties and other factors discussed from time to time in our filings with the Securities and Exchange Commission ("SEC"), including our annual report on Form 10-K filed with the SEC on March 21, 2013. Vringo expressly disclaims any obligation to publicly update any forward-looking statements contained herein, whether as a result of new information, future events or otherwise, except as required by law.
COPY:Statements that are not historical fact may be considered forward-looking statements within the meaning of the Private Securities Litigation Reform Act of 1995. Forward-looking statements are not statements of historical facts, but rather reflect CopyTele's current expectations concerning future events and results. We generally use the words "believes," "expects," "intends," "plans," "anticipates," "likely," "will" and similar expressions to identify forward-looking statements. Such forward-looking statements, including those concerning our expectations, involve risks, uncertainties and other factors, some of which are beyond our control, which may cause our actual results, performance or achievements, or industry results, to be materially different from any future results, performance, or achievements expressed or implied by such forward-looking statements. These risks, uncertainties and factors include, but are not limited to, those factors set forth in "Item 1A - Risk Factors" and other sections of our Annual Report on Form 10-K for the fiscal year ended October 31, 2011 as well as in our Quarterly Reports on Form 10-Q and Current Reports on Form 8-K. We undertake no obligation to publicly update or revise any forward-looking statements, whether as a result of new information, future events or otherwise, except as required by law. You are cautioned not to unduly rely on such forward-looking statements when evaluating the information presented in this press release.
Past performance of other companies added to Institutional Analyst's various newsletters or otherwise mentioned in its research reports, newsletters or communication is no indication of future performance of any current of future companies mentioned. This publication is a Corporate Profile on behalf of CopyTele (COPY) Inc and may not be construed as investment advice. This profile does not provide an analysis of the Company's financial position and is not a solicitation to purchase or sell securities of the Company. Readers should consult their own financial advisors with respect to investment in this or any company covered by the Reviews. An independent financial analyst should verify all of the information contained in this profile with the profiled company. Institutional Analyst, Inc. the parent company of the Patent and Internet Stock Review is an investment research and public relations firm, which has been compensated by COPY for investor and public relations services including but not limited to this report. Institutional Analyst, Inc., or principals of, has entered into a contract with COPY to be compensated with five hundred thousand restricted shares and seventy-five hundred dollars. In preparing this profile, the Publisher has relied upon information received from the company, which although believed to be reliable, cannot be guaranteed. This profile is not an endorsement of the shares of the company by the publisher. The publisher is not responsible for any claims made by the company. You should independently investigate and fully understand all risks before investing in this and any company profiled or covered by the publisher. The majority of companies listed on the OTC Bulletin Board have factors, which create an uncertainty about their ability to continue as a going concern. These concerns are typically related to financing (or lack of), competitive environments, lack of operating history and operating at loss levels which is typical of most start-ups. These statements can be found in their most recent 10Q filings and should most definitely be read. Safe Harbor Statement under the Private Securities Litigation Reform Act of 1995: The statements which are not historical facts contained in this profile are forward looking statements that involve certain risks and uncertainties including but not limited to risks associated with the uncertainty of future financial results, additional financing requirements, development of new products or services, government approval processes, the impact of competitive products or pricing, technological changes, the effect of economic conditions and other uncertainties detailed in the Company's filings with the securities and Exchange Commission.
Additional Disclaimer: Important Distinction #1. First and foremost the Watch List is
just that. A watch list. It is not a buy list. Meaning that there will be
no buys or sales issued by the Reviews. If this was a buy
list, you can rest assured that we would crank up our Public Relations arm
into high gear, full speed ahead and damn the torpedoes to make everyone
know just how brilliant we were when we issued the list. Interviews on
CNBC, articles in Barron's and accolades in the Wall Street Journal--the
only thing we love more than money is praise and fame--but it just isn't
going to happen. What the Reviews are...is a "news
aggregation service". With the advent of the Internet, everyone knows what
that term means. What it means to us is the following: We will follow the
progress of as many Internet related publicly traded stocks as humanly
possible (The large, the small and the minuscule) and advise you of when
they have reported news. As a subscriber to the Reviews,
this means you will be able to broadly follow the entire industry right
from a single e-mail. We will report who released news and point (with
hyper links) to where the news can be found. We try to use Yahoo! Finance
as extensively as possible so we don't send you all over cyberspace. We
love Yahoo, you will too. Any decisions as to buy or sell however, are
strictly up to you. Which leads to important distinction #2. How do we get
paid? The Reviews are owned by a Public Relations firm
(Institutional Analyst Inc.) that specializes in getting (or creating)
coverage for publicly traded companies. As such, is important to note that
anytime we say anything about a company, it is because the company is a
client of our parent company, or because we would like them to be a client
of our parent company. In a nutshell, you can throw out any thoughts of us
being even a little bit impartial. It just ain't gonna happen. We love
everyone. Final note is we that have over 20,000 subscribers so please
excuse our dust. Institutional Analyst Inc. is an independent research and
investor-relations consulting firm that publishes investment-research
reports such as The Reviews on independently selected
companies. While it is its intent to identify and research companies that
it believes might prove to be profitable investments, The
Review is not liable for any investment decisions by its readers. Neither
The Reviews nor any report published by Institutional Analyst
Inc., represent a solicitation to buy or sell the securities discussed
within the report. It is strongly recommended that any purchase or sale
decisions be discussed with a financial adviser or broker prior to
completing any such purchase or sale decision. The information contained
herein is provided as an information service only and is based upon
sources deemed reliable, but not guaranteed by The Reviews.
Past performance of previously featured companies does not guarantee the
future success of any currently featured or mentioned company. The
information contained herein is subject to change without notice, and The
Reviews assumes no responsibility to update the information
in this or any report published. Use of this or any report published by
The Review may be subject to the applicable rules of
certain self-regulatory organizations and the securities mentioned herein,
which are traded Over The Counter, and may not be cleared for sale in
certain states. Institutional Analyst Inc and/or its employees, officers,
affiliates or members of their families may have long or short positions
in any of the securities discussed in this or other reports published
herein (and/or options or warrants relating thereto) and may purchase and
or sell these securities, options or warrants from time to time in the
open market or otherwise. Institutional Analyst Inc may derive
compensation through research services and subscriptions and/or
investor-relations consulting from the companies featured or mentioned in
its reports. Write or call Institutional Analyst Inc for disclosure
details as required by Rule 17b as it relates to individual issues.
Institutional Analyst Inc., In no event shall The
Reviews report be liable for direct, indirect, incidental or
consequential damages resulting from the use of this information. The
Reviews shall be indemnified and held harmless from any
actions, claims, proceedings or liabilities with respect to the
information herein. Institutional Analyst Inc is not a securities
broker-dealer, investment advisor or a securities exchange and is not
registered as such with the Securities and Exchange commission nor any
state securities regulation authority. Readers of this e-mail newsletter
should recognize that the Reviews are only providing a
delivery service to electronically transmit information to potential
investors. In this respect, the Reviews are no different than
the provider of any other delivery service such as the United States Post
Office or any other express delivery service. Accordingly, investors
should be aware that the Reviews have not evaluated nor
investigated any of the companies listed in this e-mail to determine their
merit or the risk of investment in any such company. The Reviews do not
endorse any company listed herein and the Reviews do not
represent that the information contained in any offering documents states
all material facts or does not omit a material fact necessary to make the
statements therein not misleading. institutionalanalyst@gmail.com
Disclosure: I am long VRNG, COPY.