Let's step back for a minute and look at the big picture (assuming Vitaros® is a commercial success) - we potentially have total milestone payments of $210 million and then add to that, $30 million in royalty revenues, which of course are ongoing as ED solutions are ongoing.
Then let's take a look at recently patented RayVa's annual market of $200 million (assuming it is approved and then goes on to commercial success).
And the market valuation? 43.6 million Shares x the current price of $1.33 = $58 million. Are we missing something here? Actually no. Is Wall Street missing something here? In our opinion, actually yes.
Of course all of the above numbers are predicated on a successful full roll-out of Vitaros® (which is approved outside the US) and then later down the road approval and commercialization of RayVA.
While trying to predict the future sales success of Vitaros (an Erectile Dysfunction drug) is sheer speculation, when you have assembled a marketing dream team (Takeda and Sandoz) to launch a better, safer and easier to use drug into a market which has world-wide "annual" sales of $5.5 billion, we feel pretty good about things and comfortable with projecting a share price considerably higher than where it currently trades 2-3 years down the road.
DOUBLED BARRELED OPPORTUNITY FOR BOTH SHORT & LONG TERM INVESTORS.
With a market cap under $100 million ($58 million to be exact), with European and Canadian approval of its novel erectile dysfunction (ED) topical cream called Vitaros® (affecting 150 million men worldwide), with its marketing and sales just launched in June by two Pharmaceutical giants - Takeda ($16 billion in sales) and in August by Sandoz ($9 billion in sales) - Apricus has considerable short-term upside potential and in our opinion could easily return to its 2012 high of $4.00 per share, providing aggressive investors with potential gains in excess of 150%.
The long-term share price potential (double digit) will be bolstered by any reports of significant success in its current markets of Vitaros® (300,000 doses were shipped and re-orders have commenced) with the company estimating "peak" revenue potential of $300 million in existing European markets. The upside is further bolstered with potential approval news and sales in Asia or Latin America (14% of worldwide sales) and of course, the US (40% of ED sales). Sales of ED drugs are tracking $1.3 billion annually in Europe alone, as ED solutions aren't one time solutions, but rather ongoing solutions (and thus ongoing revenues) for men with ED problems.
In addition to Vitaros®, the Apricus pipeline features enormous long-term potential from the successful development of two other medical solutions - RayVa™ for Raynaud's disease and Fispemifene (announced in October 2014), as a potentially safer and more effective solution to the current $2 billion Low Testosterone (Low-T) market and whose current solutions are mired in controversy. An estimated 13 million men in the U.S. experience low levels of testosterone.
All in all, Apricus Biosciences (APRI) has all the characteristics we look for in an undiscovered medical company including a small market capitalization, proven and approved medical solutions, well developed markets exceeding $100 million and deep-pocketed billion dollar marketing partners which most importantly rigorously vett both the efficacy and sales potential (in this case for Vitaros®) before agreeing to becoming their marketing arm and investing millions to assure a successful launch of a new product - something a company of Apricus' size could never do alone.
The importance of the involvement of both Takeda and Sandoz to the investment equation, is such that in all likelihood, we would not be adding Apricus to the Watch List - had their involvement not been announced to spearhead the introduction of Vitaros® into the very competitive ED market. They are that good.
BACKGROUND
Apricus entered the pharmaceutical industry in 1995 and initially focused on its NextACT DDAIP drug delivery technology culminating with licensing agreements in 2005 with Novartis (and later Tribute Pharma) for a nail fungus drug and in 2007 with Warner Chilcott for Vitaros®. The NextAct technology allows drug molecules (including those made by other pharmaceutical companies) to be rapidly absorbed by the patient.
In plain English, NextACT is designed to enhance the topical or oral delivery of an active drug to the patient and if successful, improve the effectiveness of the drug (which may not be able to penetrate the skin) and potentially reduce the side effects. As such, Apricus is a technology company whose technology could improve the drugs made by many other companies (including drugs off-patent) in a variety of formulations such as creams (like Alprostadil in Vitaros®), gels, sprays, ointments, lotions, patches etc. In addition its oral delivery technology employs the same permeation enhancers which can slow or increase the delivery of drugs, which may have difficult characteristics with regards to being permeable or soluble.
As such, Apricus Bioscences' next big drug could be a drug on the drawing board of another company or a drug from a major pharmaceutical giant (which Apricus has proven success in developing relationships) just coming off patent - and thus offers investors spectacular "out-of-the-blue" revenue potential. It's this technology, not just Vitaros® which makes Apricus such an attractive long term investment candidate.
Vitaros® is an excellent (if not perfect) example of this potential. Vitaros® isn't a drug invented by Apricus, but rather a "package" which is in essence the patented delivery method of the drug Alprostadil - using the NextACT delivery technology. Alprostadil has been around for erectile dysfunction for years, but the other guys (aka competitors) use a needle or pellet to deliver it to the penis. HELLO a needle?
We'd love to see that TV commercial. Just imagine a gray haired couple "After all these years, she's still the one for you" and here she comes, needle in hand. Suddenly side effects such as headaches, dizziness, lower back pain, fainting, swollen lips, and complete loss of vision as well as dangerous interaction with high blood pressure medications from the pill version of ED drugs - don't seem so scary after all.
Alprostadil in our opinion is a better drug, a better solution, than Viagra, Cialis, Levitra or the latest entrant Stendra from Vivus. The problem in the past has been the "problematic" delivery system for Alprostadil - (a needle or pellet) which is something two of the largest pharmaceutical drug giants in the world (Sandoz, Takeda) apparently agree. Alprostadil - great drug. Delivery method - not so great. Vitaros® with the Apricus skin-permeation enhancer that speeds and aids absorption - game on.
Pharma-giants do not agree to take on the sales and marketing for companies which have drugs with $25 or $50 million in annual sales potential. In fact anything under $100 million is mathematically defined as "statistically insignificant" for a billion dollar corporation. And yet, through their expertise and huge presence, pharma-giants often create their own success. Companies like Takeda, Sandoz and Abbott don't take drugs with small potential and make them big, they take drugs with big potential and make them huge.
They see the enormous potential in Vitaros® - something which is not yet recognized on Wall Street, as it's not approved for sale here. There's no commercials for Vitaros® during the Super Bowl for Wall Street traders to see. Smart money in our opinion comes in here, at these price levels, with a market cap under $100 million - before Vitaros® becomes a proven success. Investors with lesser risk tolerances could of course wait until Vitaros® is a proven blockbuster (which we define as annual sales exceeding $100 million), but odds are the share price will be considerably higher than where it trades at today if it achieves that status.
E/D DRUG REVENUE BACKGROUND:
In late 2013, Transparency Market Research released an extensive report (cost $4,795) covering the ED market titled "Global Erectile Dysfunction Drugs Market - Industry Analysis, Size, Share, Growth, Trends and Forecast 2013 - 2019."
In it they revealed the following information (it is a bit dated as it mentioned Vitaros® as "..under investigation in both preclinical and clinical settings…"). The report included an annual sales forecast of $3.4 billion in 2019, despite the loss of patent protection, showing just how powerful the demand for E/D solutions are.
Erectile dysfunction is the inability to attain or maintain penile erection in men, sufficient for successful sexual intercourse. Erectile dysfunction is a common medical disorder primarily affecting men older than 40 years of age. In addition, other than the typical causes of erectile dysfunction, such as diabetes and hypertension, a number of common lifestyle related factors are also associated with development of the condition. These include obesity, excessive alcohol consumption, smoking, use of recreational drugs, and poor physical and psychological health. Commonly, oral drugs belonging to the PDE 5 inhibitors class form the mainstay of erectile dysfunction treatment. Other treatment options include lifestyle modification, testosterone therapy, penile devices, injection therapies and psychotherapy.
The global market for erectile dysfunction drugs has been studied from the perspective of currently marketed branded drugs and pipeline drugs. Branded drugs include Viagra (sildenafil citrate), Cialis (tadalafil), Levitra/Staxyn (vardenafil), Stendra/Spedra (avanafil), Zydena (udenafil), MUSE (medicated urethral systems for erection), Mvix (mirodenafil) and Helleva (lodenafil).
The drugs in the pipeline for erectile dysfunction treatment primarily consist of two major drugs, namely Vitaros® (alprostadil) and Uprima (apomorphine) currently in later phases of clinical trials.
In 2012, Viagra (sildenafil citrate) accounted for the largest share (45%) by revenue of the total erectile dysfunction drugs market. However, due to the loss of the drug's patent exclusivity in Europe and other countries in 2013, the overall market revenue is expected to decline during the forecast period as international markets contribute considerably to the overall market revenue of the drug.
In the U.S. market, Viagra will continue to maintain a major revenue share due to its extended patent exclusivity till 2020. The market for Cialis (tadalafil) accounted for the second largest share at USD 1,926.8 million, in 2012. However, it is expected to witness a decline in market revenue at a CAGR of (12.6%) from 2013 to 2019, owing to loss of patent exclusivity in 2017. In addition, the patent for Bayer's Levitra/Staxyn (vardenafil) is scheduled to expire in 2018 and is thus expected to contribute to the declining market revenue.
A few novel compounds are currently under investigation in both preclinical and clinical settings, for the treatment of impotency. These studies are majorly focused on medications with improved efficacy, shorter onset of action and fewer side effects as compared to the currently available treatments. Such pipeline drugs include Vitaros® (alprostadil), Uprima (apomorphine) and Topiglan (alprostadil), amongst others.
Geographically, North America dominated the global market for erectile dysfunction drugs in terms of revenue generation and is expected to maintain its position throughout the forecast period. The extended patent exclusivity for Pfizer's Viagra (sildenafil citrate) in the U.S., till 2020, will be responsible for the leadership of the North American market. Europe was the second largest regional market for erectile dysfunction drugs in 2012, owing to the increased demand for ED drugs. Market growth will also be facilitated by the expected marketing approvals for a few promising drug candidates such as Stendra/Spedra (avanafil) and Zydena (udenafil) by mid 2014.
The global erectile dysfunction dugs market is dominated by few major players including Pfizer, Inc. Eli Lilly & Co., and Bayer AG. Post patent expiration of the major branded drugs and intense genericization of the market, the competition in this market is expected to be characterized by consolidation activities, partnerships, and intensive mergers and acquisitions. The other key players in the erectile dysfunction drugs market include Dong-A Pharmaceutical Co. Ltd., Vivus, Inc., Apricus Biosciences, Inc. and Meda Pharmaceuticals.
The full report can be purchased here: www.transparencymarketresearch.com/erect...
THE HISTORY OF APROSTADIL:
Aprostadil as we mentioned earlier is the key ingredient in Vitaros® which has been made "super-effective" when enhanced by Apricus NexACT skin-permeation technology, to the extent it attracted the attention of Takeda Pharmaceutical and Sandoz (and Abbott Labs - details below).
Aprostadil was first launched in the US as an E/D solution in 1997 by Vivus (VVUS) using the MUSE delivery system (pellet). It was probably one of the most fantastic boom to bust drug stories in history. Muse was off to a good start, with sales totaling $129 million during its first year on the market, shortly before Viagra's appearance. Muse was the first revolutionary product for erectile dysfunction, but Viagra basically trumped it. Despite its effectiveness, Muse's mode of "pellet" delivery was uncomfortable for many men. To make a long story short, Muse was sold it to Sweden based MEDA Pharmaceutical (OTCPK:MDABY) for $23.5 million in 2010.
But it was quite a ride for both the sales it generated and the excitement in the share price, as the chart below shows in a five-year period from May of 1995 to May of 2005 - with Vivus shares running from $3 to $40.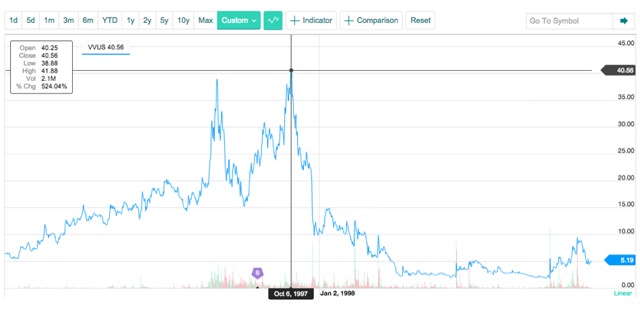 Due to the presence and involvement of Takeda and Sandoz - we literally don't feel the need to spend an undue amount of time, effort and writing space in analyzing the Vitaros® effectiveness and sales potential. In sum, investors have to ask, do they have the capabilities to better analyze the sales potential of Vitaros® thenTakeda and/or Sandoz - who combined have agreed to upfront and pre-commercialization payments of $7.5 million and potential milestone payments of $110 million?
This is in addition to the millions required to successfully market Vitaros®? We think their due diligence suffices, so at this point we'll simply share some slides from a recent corporate presentation and share what we think are the three most attractive markets.
In our opinion, there are three markets which hold the greatest potential for Vitaros® - despite consumers' propensity to solve problems by "popping pills." The first is the growing amount of individuals who simply prefer not to orally treat issues (aka pills) which may have wide ranging potential side-effects.
Vitaros demonstrated none of the side effects of PDE-5 inhibitors like Viagra, Cialis and Levitra, which are known to commonly cause headaches (in over 10% of patients), nasal congestions, vision changes, dizziness, flushing, etc. In fact, it appears that Vitaros is actually considerably safer than current oral treatments. With Health Canada's nod, Vitaros is the only drug that can be prescribed to the entire patient population.
Vitaros® has no known interactions because of its non-systemic nature. As such, it is not known to be affected by food, alcohol or medication. This makes it appropriate for many patients in whom oral therapies are not, such as those patients taking nitrates.
The second market is to overweight individuals who as a result of their obesity, suffer from high blood pressure and are required to medically treat the blood pressure with medications which may conflict with PDE-5 inhibitors. The slide above describes them as "contraindicted" users.
1. 67 million American adults have high blood pressure (That's one in three).
2. High blood pressure costs the nation $47.5 billion each year.
3. 54% of all men over the age 55 have high blood pressure.
CDC Factoids: http://www.cdc.gov/bloodpressure/facts.htm
The third market is for the "easy of use and quick to desired results" consumer. Consumer reviews which we read state that using the Vitaros® applicator is no more difficult or time consuming than putting on a prophylactic. It takes a few seconds to apply and a 30 second wait. It's a discreet drop of crème, which comes in a single dose, disposable container. No mess, no application pain, though some consumers have reported unexpected "warmth" when first used which is later posed no issue.
UK Information leaflet: www.drugs.com/uk/vitaros-3-mg-g-cream-le...
With regards to time of effectiveness, due the NextACT technology, Vitaros® has been reported to be the fastest acting E/D product on the market with desired results in as quick as five minutes. This in our opinion is probably one of the most compelling product features over the competition.
Not to get overly technical, but what makes Alprostdail work, is the NexACT technology. The skin "down below" is relatively impermeable, even at its thinnest point. This is due to a tissue layer called the stratum-corneum which limits the absorption of drugs.
The NexACT interacts with proteins which keep these cells together, loosening them up enough, to allow the active drug to swiftly pass through (This is the NexACT magic which can work with a host of other drugs).
Using Vitaros® the Alprostadil is rapidly absorbed into the corpus songiosum and then the corpora cavernosa to quickly and effectively do its job. Afterwards, NexACT is quickly broken down into fatty and amino acids that occur naturally in the body.
In comparison, one additional competitor to Vitaros ® as a side note is called Alprostadil for Injection (brand names Caverject and Edex) once available as a powder in an injection bottle (vial). Caverject had to be mixed with a solution called Bacteriostatic Water for Injection USP. Messy. And an actual injection.
Edex had to be mixed with a solution called Sodium Chloride Injection USP. The solution for mixing came with the product and/or may have be already loaded into a syringe or contained in another injection bottle (vial). Not surprisingly, they didn't have the likes of Takeda or Sandoz knocking on their doors. Vitaros® - No pills, no mixing, no needles and no pellets - just a single dose drop of crème.
MARKETING PARTNERS:
In June 2013, Apricus received approval in Europe through the DCP for commercialization of Vitaros®, giving them the right to sell Vitaros® in multiple countries in the European Union. In little more than a year preceding the approval, Apricus announced that two of the most successful and powerful Pharmaceutical companies in the world were launching and spearheading the sales of the product.
In August of 2014, Nick Haggar, Sandoz Head of Western Europe, Middle East & Africa stated, "Vitaros® is the first topical ED therapy to be made available to patients in Europe and the first novel ED treatment in nearly a decade. It is characterized by its ease of use, rapid onset and high tolerability. This launch demonstrates Sandoz's commitment to finding novel and innovative ways to meet patient need across a wide range of therapeutic areas."
Sandoz employs over 26,500 employees and its products are available in more than 160 countries, offering a broad range of high-quality, affordable products that are no longer protected by patents. With $9.2 billion in sales in 2013, Sandoz has a portfolio of approximately 1,100 molecules, and holds the #1 position globally in biosimilars as well as in generic injectables, ophthalmics, dermatology and antibiotics, complemented by leading positions in the cardiovascular, metabolism, central nervous system, pain, gastrointestinal, respiratory, and hormonal therapeutic areas. They couldn't find a better marketing partner, unless of course you consider Takeda!
In June of 2014 Takeda announced their launch of Vitaros®, Yasuhiro Fukutomi, Managing Director, Takeda UK Ltd. stated, "This is an innovative new product that offers the potential to provide men with a new first line or alternative treatment option. Vitaros® has been shown in clinical trials to provide rapid efficacy together with convenient local administration that is well tolerated. Takeda UK Ltd envisages that it will be a significant addition to our urology franchise... this is great news for Takeda UK and for the many men living with erectile dysfunction."
Takeda is the largest pharmaceutical company in Japan and Asia and one of the top 15 pharmaceutical company in the world. The company has over 30,000 employees worldwide and achieved $16.2 billion in revenue during the 2012 fiscal year.
With two of the 15 largest Pharmaceutical companies in the world (Sandoz is part of Novartis, the second largest in the world behind Pfizer - who interestingly owns Viagra), we feel extremely optimistic that Vitaros® goes on to achieve the success it deserves.
The launch into Canada by Abbott Labs has been delayed by Mylan's division acquisition from Abbott which included an attractive portfolio of more than 100 specialty and branded generic pharmaceutical products in five major therapeutic areas including Vitaros®. Mylan will retain an active sales organization of approximately 2,000 representatives in more than 40 non-U.S. markets. So we'll have to wait.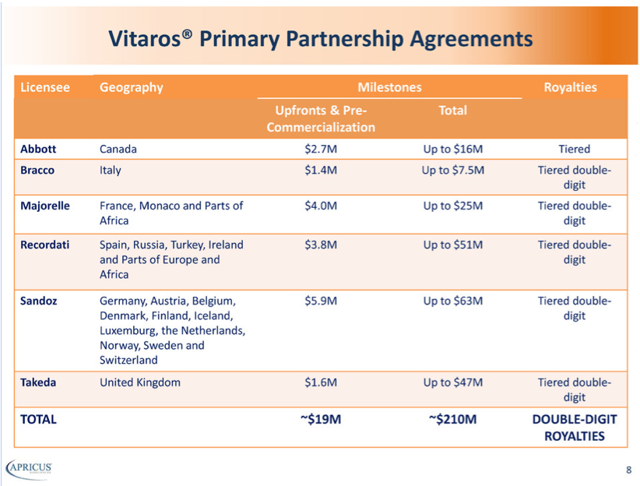 SUMMARY
Biotech companies can be much less complicated than they look, if investors focus on who is investing in the company, who is partnering with the company and what the overall size of the market they are addressing is in relation to their total market capitalization. Or in other words, what is the total value Wall Street is placing on the company - which is determined by simply multiplying the shares outstanding by the current market price. This in our opinion much easier than trying to assess the science and then further assess the marketability of whatever drug or solution a particular biotech company is working on. Drugs don't sell by themselves.
On the fronts that are of concern to us, Apricus Biosciences scores high on every mark. Of course always at issue is how much can make they make (revenues) from selling Vitaros® - but we feel any attempts to estimate revenues on a newly launched drug is sheer speculation. In the most basic of view-points, we will note that (solely as it relates to Vitaros®) the company reported potential upfront and pre-commercialization milestone payments of $19 million, total potential milestone payments of $210 million and potential royalties in the double digits. In numerous press release the company has mentioned analyst estimated peak-revenues in the range of $300 million (excluding the US). While management has not revealed what percentage the royalty is, we'll be conservative and take the minimal definition of double-digit as 10% (not 12, 25 or 20%) and that adds to $30 million. And they have $16 million in the bank (as of 9/30/2014)
So let's step back for a minute and look at the big picture (assuming Vitaros® is a commercial success) - we potentially have total milestone payments of $210 million and then add to that, $30 million in royalty revenues, which of course are ongoing as ED solutions are ongoing. And the market valuation? 43.6 million Shares x the current price of $1.30 = $58 million. Are we missing something here? Actually no. Is Wall Street missing something here? In our opinion, actually yes.
Of course all of the above is predicated on a successful full roll-out of Vitaros®. Again, trying to predict the future is sheer speculation, but when you have assembled the dream team to launch a better, safer and easier to use drug into a market which has world-wide "annual" sales of $5.5 billion, we feel pretty good about things and comfortable with our initial price target of $4.00 per share.