First profile now up on site, along with a couple newsreels from local news Good Morning Phoenix Channel 3 and Fox KSAZ Channel 10.
http://www.beveragestockreview.com/research-reports.html
Alkaline Water Co. Advises That Beverage Stock Review Initiates Coverage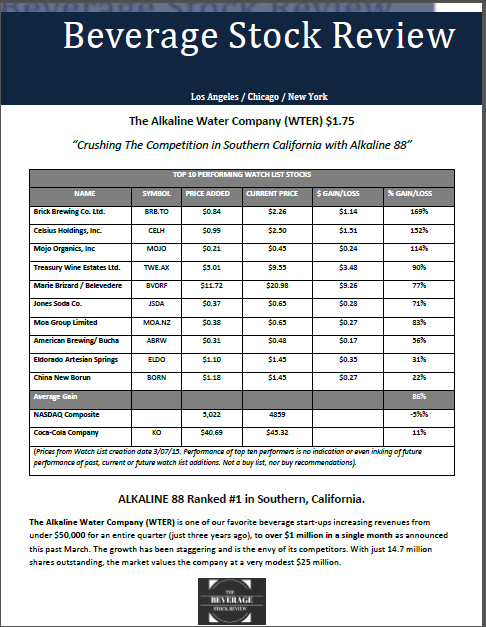 Report Notes Alkaline88 Is "Crushing the Competition in Southern California"
Marketwired The Alkaline Water Company, Inc.
May 9, 2016 9:05 AM
SCOTTSDALE, AZ--(Marketwired - May 9, 2016) - The Alkaline Water Company Inc. (OTCQB: OTCQB:WTER) (the "Company"), developers of an innovative state of the art proprietary electrolysis beverage process packaged and sold in 500ml, 700ml, 1-liter, 3-liter and 1-gallon sizes under the trade name Alkaline88, is pleased to announced today that online research and reporting service, Beverage Stock Review has initiated coverage of the Company's recent activity's.
The Beverage Stock Review launched in March of 2015 and is the only financial site devoted solely to coverage of publicly traded beverage companies. Advisors to the Beverage Stock Review consists of a unique blend of Wall Street and Industry experts, who work in the distribution sector of the beverage industry. This perspective offers the opportunity to quickly identify from the front lines any newly developing brands gaining ongoing consumer acceptance and traction as opposed to what might otherwise be considered a short term fad.
"Alkaline88 is one of the most exciting new launches we have witnessed in the fast growing Alkaline segment of the designer waters marketplace," stated Roland Rick Perry, Editor of the Beverage Stock Review. "Despite modest bootstrapped beginnings, in two short years Alkaline88 has flown past its deep-pocketed competitors in the hotly contested Southern California market, surpassing both 15-year-old Essentia Water, which is backed by Castanea Partners, as well as First Beverage Group and AquaHydrate, which is backed by billionaire Ron Burkle plus celebrities Mark Wahlberg and Sean 'Diddy' Combs." Mr. Perry concludes, "We are excited to initiate coverage on The Alkaline Water Company and to provide ongoing coverage as they conquer west coast markets and continue their journey to hydrate consumers across the country."
About Institutional Analyst Inc.
Headquartered in Chicago, Institutional Analyst introduces small and microcap companies to professional and high net worth investors. The firm publishes research reports, corporate updates and operates several leading industry specific investment websites, including the Beverage Stock Review, Internet Stock Review, the Biotech Stock Review, the Stem Cell Stock Review, the Gold Street Journal, the Alternative Energy Stock Review and IA's Special Situation Research. As disclosed in the research report, Institutional Analyst has been compensated by The Alkaline Water Company to provide ongoing coverage which is delivered to its subscriber base and made available online.
About The Alkaline Water Company Inc. :
The Alkaline Water Company Inc. has developed an innovative, state of the art, proprietary electrolysis process that produces healthy alkaline water for a balanced lifestyle. The company is focused on the business of distributing and marketing the retail sale of its cost-effective packaged Alkaline88 water beverage products. The Alkaline Water Company Inc. is currently in the midst of a national mass-market expansion program and is available for consumer sales at major retail locations across the United States. Learn more about The Alkaline Water Company Inc. by visiting: thealkalinewaterco.com.
About Alkaline88:
Alkaline88 is a premier bottled alkaline drinking water with an 8.8-pH balance. Enhanced with trace minerals and electrolytes, the product offers consumers the unique opportunity to purchase alkaline water in conveniently packaged 500ml, 700ml, and 1-liter, 3-liter and 1-gallon sizes. Learn more about the science of Alkaline88 at alkaline88.com.
Notice Regarding Forward-Looking Statements
Statements in this press release may be "forward-looking statements" within the meaning of the Private Securities Litigation Reform Act of 1995. Words such as "optimizing," "potential," "anticipate," "goal," "intend" and similar expressions, as they relate to the company or its management, identify forward-looking statements. These statements are based on current expectations, estimates and projections about the company's business based, in part, on assumptions made by management. These statements are not guarantees of future performance and involve risks, uncertainties and assumptions that are difficult to predict. Actual outcomes and results may, and probably will, differ materially from what is expressed or forecasted in such forward-looking statements due to numerous factors, including those described above and those risks discussed from time to time in Alkaline Water Company Inc., Inc. filings with the Securities and Exchange Commission. The company notes that the numbers contained in this release are unaudited, and are made in good faith and based on all the financial information available to the company today. Further, past financial business, operations and stock performance are not necessarily indicative of the company's future performance. The Alkaline Water Company Inc. paid $2,500 to Institutional Analyst Inc. for this independent research report. The opinions expressed in the research report are the analyst's personal views about the company. Definitions of ratings are available to the public and to the analysts. No rating is to be issued that is labeled a recommendation. No analyst may recommend the purchase or the sale of any equity. The analyst is responsible only to the public and this report is not a service to the company. The report is for information purposes and is not intended as an offering or a solicitation to buy or sell the securities mentioned above.
Contact:
The Alkaline Water Company Inc.
WTER Investor Relations
(480) 656-2423
investors@thealkalinewaterco.com
Institutional Analyst Inc.
Roland Rick Perry
Roland@institutionalanalyst.com
310-594-8062
Disclosure: I am/we are long WTER.
Additional disclosure: Past performance is no indication of future performance or inkling into future performance.
WTER. This press release contains "forward-looking statements." Statements in this press release that are not purely historical are forward-looking statements and include any statements regarding beliefs, plans, expectations or intentions regarding the future. Such forward-looking statements include, among other things, The Alkaline Water Company Inc.'s expectations for continued growth and expansion of the Alkaline88 brand over the next fiscal year. Actual results could differ from those projected in any forward-looking statements due to numerous factors. Such factors include, among others, the inherent uncertainties associated with developing new products and operating as a development stage company, our ability to raise the additional funding will need to continue to pursue our business and product development plans, competition in the industry in which we operate and market conditions. These forward-looking statements are made as of the date of this press release, and we assume no obligation to update the forward-looking statements, or to update the reasons why actual results could differ from those projected in the forward-looking statements, except as required by applicable law, including the securities laws of the United States of America. Although we believe that any beliefs, plans, expectations and intentions will prove to be accurate, investors should consult all of the information set forth herein and should also refer to the risk factors disclosure outlined in the reports and other documents we file with the SEC, available at www.sec.gov. We have been retained by the company for twenty-five hundred dollars for investor relation services and own twenty-five thousand shares.