================================================
Institutional Analyst Inc, Sunday 8/13/2017

Beverly Hills CA, 65..77F Partly Sunny.
Chicago IL, 69..77F Mostly Cloudy.
Delray Beach FL, 81..91F  Mostly Sunny.
Port Jefferson NY, 66..78F Partly Sunny. 

================================================

Beverage Stock Review

1. Forget Craft Beer. Craft Liquor Is the Next Big Thing.
2. Eastside Distilling (ESDI) $3.50, Graduates to NASDAQ, Raises $5.4 Million.

================================================
.
Subscribe here. Internet Stock Review

================================================

Forget Craft Beer. Craft Liquor Is the Next Big Thing.

After new management, determined to graduate to NASDAQ, undertook two splits in two years (10/16 and 3/17) - the Company announced a coveted NASDAQ Capital Markets listing along, with an approximate $5.4 million capital raise on Thursday.

Sloppy post-market trading resulted in the shares closing at $3.40 - a great entry point for long-term investors and below the secondary price of $4.50 led by Roth Capital and Aegis Capital. 

The shares traded 238,000 on Thursday and 60,000 on Friday - closing at $3.50.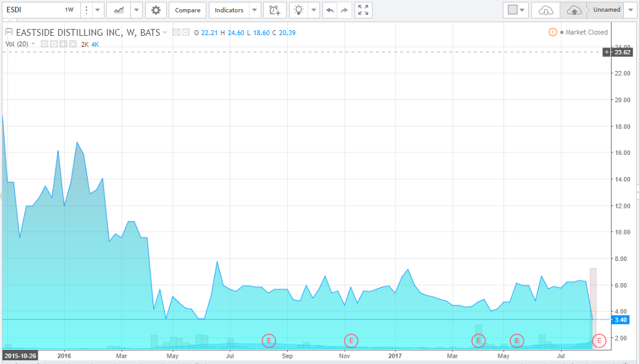 With 3,313,127 shares outstanding a/o 6/15/17 and 1,200,000 sold in Thursday's offering, there are now approximately 4,513,217 shares out resulting in a market valuation of $15 million - meaning again, in our opinion, an excellent entry point.

The Company is now lean and mean, with a small capital base and run by a great management team which now has the funding to acquire other liquor start-ups, using a combination of cash and stock. 

We fully expect the company to make headlines and become well known throughout the industry in the coming years ahead. 

We can't think of another publicly traded company in a better position to roll-up new and promising liquor brands, in a rapidly growing industry. Eastside Distilling has a large pool of 'craft candidates' with 1,315 craft distillers active and dozens being launched monthly. Here's a peek: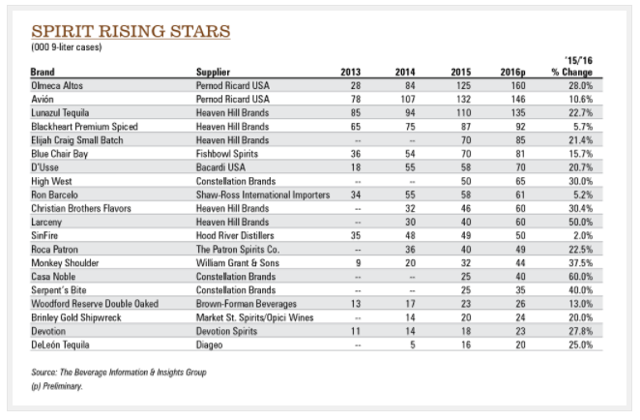 As a recent Fortune article stated, "Forget Craft Beer. Craft Liquor Is the Next Big Thing."

In a broad study backed by the American Craft Spirits Association that is being billed as a first-of-its-kind deep dive into the craft spirits movement, the industry has reportedly achieved $2.4 billion in retail sales in 2015, growing at a compound annual growth rate of 27.4% in volume. The market share for craft spirits reached 2.2% in volume last year, up sharply from 0.8% in 2010.

Industry practice is to acquire more 'proven' brands, such as Constellation Brands acquisition of High West Distillery for $160 million and Diageo acquiring Casa Amigos for $700 million - leaving Eastside a look at fast growing brands much earlier in their growth stage. 

CORPORATE PRESENTATION: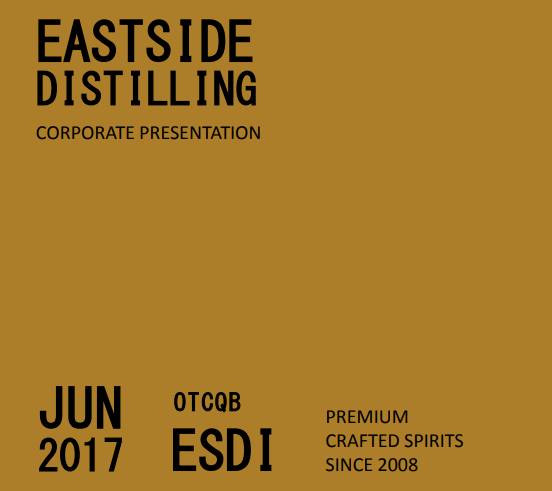 The prospectus can be found here, we will offer up a detailed look at the Industry and Eastside this week.

Eastside Distilling, Inc. Announces Pricing of Follow-on Public Offering and Listing on the NASDAQ Capital Market.

PORTLAND, OR / ACCESSWIRE / August 10, 2017 / Eastside Distilling, Inc. (OTCQB: ESDI) (NASDAQ: ESDI) ("Eastside" or the "Company"), today announced the pricing of an underwritten public offering of 1,200,000 units consisting of 1,200,000 shares of its common stock and warrants (the "Warrants") to purchase up to an aggregate of 1,200,000 shares of its common stock (each, a "Unit") at a public offering price of $4.50 per Unit. The warrants will have a per share exercise price of $5.40, are exercisable immediately and will expire five years from the date of issuance. The gross proceeds to Eastside from this offering are expected to be approximately $5.4 million, before deducting underwriting discounts and commissions and other estimated offering expenses. Eastside has granted the underwriters a 45-day option to purchase up to an additional 180,000 shares of Common Stock and/or 180,000 Warrants to cover over-allotments, if any. The offering is expected to close on August 15, 2017, subject to customary closing conditions. Shares of our common stock and the Warrants will begin trading on August 10, 2017 under the symbols "ESDI" and "ESDIW," respectively, on the Nasdaq Capital Market.

FULL PRESS RELEASE.

Disclaimer. Certain matters discussed in this press release may be forward-looking statements. Such matters involve risks and uncertainties that may cause actual results to differ materially, including the following: changes in economic conditions; general competitive factors; acceptance of the Company's products in the market; the Company's success in obtaining new customers; the Company's success in product development; the Company's ability to execute its business model and strategic plans; the Company's success in integrating acquired entities and assets, and all the risks and related information described from time to time in the Company's filings with the Securities and Exchange Commission ("SEC"), including the financial statements and related information contained in the Company's Annual Report on Form 10-K and interim Quarterly Reports on Form 10-Q. Examples of forward-looking statements in this release may include statements related to our strategic focus, product verticals, anticipated revenue, and profitability. The Company assumes no obligation to update the cautionary information in this release. The publisher of the Beverage Stock Review has performed investor relations services for the Company and been compensated with five-thousand dollars and twenty-five hundred restricted shares. See full disclaimer at the website. 

Disclosure: I am/we are long ESDI.
Additional disclosure: Please see full disclaimer and disclosure on report. Eastside is a client of Institutional Analyst Inc., publisher of the Beverage Stock Review.