Each Friday morning, I do a webinar for the public. Some weeks I have a guest and do two shorter webinars. By Saturday morning, the webinars are released on my YouTube channel.
This week we will discuss the already happening "paradigm shift away from oil" and oil stocks. We'll discuss:
how the shift away from oil was expected by most, but is happening much sooner and faster than almost anyone expected. 
that the fossil fuel stock divestment movement is having a profound impact on oil stocks by allowing traders to have more control of price movement.
mergers of near equals will be the best bet for shale players to survive and thrive. 
why Occidental Petroleum (OXY) made the right move acquiring Andarko (APC) and moving to divest many other assets.
that the oil majors will only be buying outright several companies and that many small companies will simply go out of business. 
there will be some companies that go private at some point if prices get too low. 
the major bottom just put in by oil stocks as half of the market made 52-week lows at the same time. 
Past Webinars
Webinars are often correlated to recent topics in my articles or upcoming topics. I regularly drop stock thoughts into the casts. Previous topics have included:
The Peak Oil Plateau
A Gold Bear Turning Bullish
A Market In The Middle
TraderExpo Highlights
Selling Puts For Income
Oil Investing Is Dead, Long Live Oil Trading
Money Flow Analysis To Predict Price Trends
It's The Buyback Blackout Silly
The Dirty Dozen Oil Stocks
Why TSLAQ Is Wrong
Are The Bear Market Narratives Right?
Are We Headed For a Correction Then Rally Or Vice Versa
Aftermath Of The Election
Where Are We Now In The Economy & Markets?
A China "Fake Deal" Or A "No Deal?"
The Best And Worst Of 2018
The Missing Money Holding Markets Back
Sustainable Growth Investing
Good Forecasts And Tough Trading
Being A Futurist
We have discussed dozens of stocks and ETFs and will continue to cover more. I generally include some charts or insights hard to find online. Many of my thoughts are not only from my research, but extensive travels around America the past fifteen years, on which I've talked to hundreds of people and visited quite a few companies.
These webinars augment what I am talking about with members to my investing service Margin of Safety Investing - a multi-analyst growth and income service offering stocks, ETF analysis, asset allocation and basic options trading for income, growth and hedging.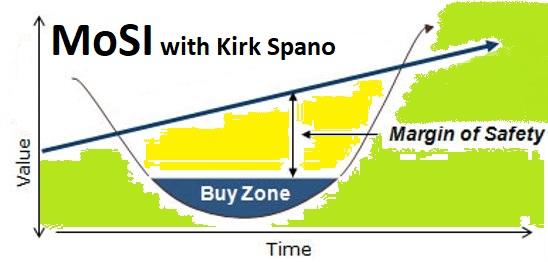 I hope you join me and find the webinars useful.
Kirk Spano's Free Friday Webinar Details
Webinars will be at 10am Central Time Fridays except when I am traveling or have another obligation, in which case, I will blog a rescheduled time.
Friday's 10am Central. Join from PC, Mac, Linux, iOS or Android:zoom.us/j/992385645?pwd=jvu48r2gySY
Password: MOSI
Or iPhone one-tap : US: +14086380968,,992385645# or +16468769923,,992385645#
Or Telephone: Dial (for higher quality, dial a number based on your current location): US: +1 408 638 0968 or +1 646 876 9923 or +1 669 900 6833
YouTube Archives
If you can't make the live presentations, please subscribe to Kirk Spano's Fundamental Trends YouTube Channel to watch at your convenience.
Margin of Safety Investing offers multiple analyst coverage of stocks, ETFs, options and asset allocation.
Learn our 4-step investment process shared with top hedge funds. Invest with us for a margin of safety in a changing world.
Disclosure: I am/we are long OXY, CHK, CDEV, PE, PXD, DVN.