Sentiment towards the S&P 500 (NYSEARCA:SPY) remains mixed after a three day slide dropped 2.5% from index values, as yearly-high profits start to be banked. It is not clear whether the banking of profits will easily transpose itself to short selling in May, as there were major buyers in at 1330 in the last test of support on Apr 25 11. The 1330 area will now be a potential swing point area of note.

Momentum favors the short side of Dow Jones, S&P, and Nasdaq trade in the near-term, but caution is required in expecting a collapse in US equity values in the week of Non-farm Payroll numbers which will garner huge attention on Friday. Risk is being sold globally, with equity, commodity, and currency markets suffering some draw-downs from yearly highs.

ISM services numbers were weak, which added to ADP employment data missing its mark, and the path of least resistance on Wednesday was a move lower in most sectors. The energy sector ETF (NYSEARCA:EEM) (48.10) crashed lower this week, dropping from 50.20 to 48.00 in two days of trade, which TheLFB subscribers saw unfold via the trade plan detail available to them each day. The move lower reiterated EEM's short overall momentum and sentiment, which was 5c away from triggering a sell signal just ahead of the recent moves. Downside targets are 47.70, and then 47.20 in the near-term, but now is not the time to chase this set-up; patience is key while a new signal forms.

The Equity/Forex correlations are starting to build again, after a Nov 2010 to Apr 2011 period of trade that saw quantitative easing implementation impact the ability of both markets to hold the previous 12-month correlation of trading in the same direction.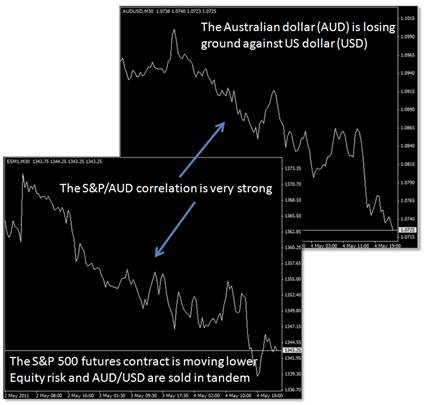 TheLFB S&P 500 and AUD/USD Correlations

The May 03 11 S&P 500 signal sent to clients, short from 1352, has hit its two main targets, and trade is now consolidating at 1344, just above the 20-day SMA area at 1330. TheLFB client note updates for caution at these levels have been justified. Clients will be notified the moment that price action breaks, and if that happens to be outside of the Wall Street cash 9-5 session, signals will be sent on the potential in AUD/USD.

Risk has been sold in German Dax and Japanese Nikkei markets this week, which has allowed the bearish sentiment to build in US equities. It will take a very positive session of trade from both these overseas markets if yearly S&P highs are to be revisited. The May 03 11 German Dax signal sent to clients, short from 7515, has hit its two main targets and is now consolidating above the 20-day SMA area at 7320.

Those who trade the 9am-5pm Wall Street session will be anxiously awaiting the result of overnight trade, while those who have added foreign exchange trading to their portfolio will track the moves in equity futures trade, and act accordingly as signals develop.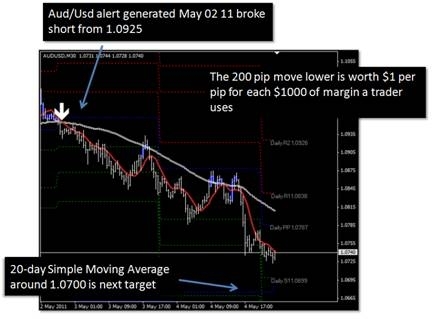 TheLFB AUD/USD Technical Setup
The ability to access a liquid market at any time of the day or night is invaluable in the new generation of global markets which are more inter-connected and reliant upon each other's momentum than at any time. Hedging potential equity losses with potential forex gains is a lot more satisfying than waiting for the pre-market equity open after the overnight momentum has already been priced in.
The above charts on AUD/USD show a move lower that was accessible to any trader who has a forex trading account. The lack of day-trading restrictions in OTC forex trade allows for ease of access to inter-bank pricing, as a near-term trade in reaction to overnight developments, or as a hedge against what may happen when the next equity cash market opens.
Now may not be the time to be planning a new S&P trade, ahead of a busy week of economic activity, however, overnight signals on AUD/USD may start to form if Asian and European equity trade move lower. The four-session Japanese bank holiday this week has left Asian cash trader with a lot of catching up to do to balance the futures market valuations that have dropped 2.5% while the cash market has been closed. TheLFB trade desk will monitor the global moves, and client notes and signals will be sent directly to subscribers as price action breaks.
Whether it is looking for currency information, or equity indices potential, or looking to trade oil, gold, or silver, or maybe main ETF analysis and support, TheLFB subscription service really does have something for every trader.