Sentiment towards the Usd remains weak, even after a bullish 4-hour move higher that followed the ECB press conference. Momentum still favors the short side of trade if global equity markets hold at support. Caution is required in expecting a complete collapse in DXY (74.30) values back towards the 73.00 breakout point, but it does look as though upside tests of resistance will continue to be sold.

There were major sellers in at 74.50 during the last week of April, which is now a potential swing point area ahead of the Non-farm Payroll jobs report from the US on Friday. The news wires are quiet in regard to dollar valuations, outside of highlighting the calls from ECB members that the US administration stands behind a strong-dollar policy, and reports that the US Treasury Secretary also backs a strong dollar that is not manipulated.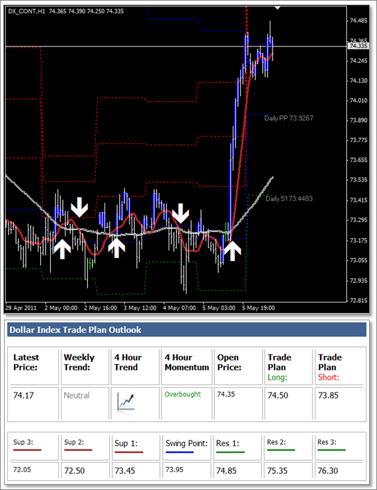 TheLFB Dollar Index 1-Hour Chart Support and Resistance Review

Six days of sideways consolidation created a break-out signal that moved through the entry and targets points too quickly to be able to act upon. 75.70 (50-day Simple Moving Average), and 73.50 (Thursday break-out point), are the two price points of note as support and resistance in the near-term. The neutral swing point at 73.95 will be in play if equity and commodity markets find buyers.

It would seem that the next upside move in dollar index values will come if equity and commodity values drop next week. Traders will have to be patient in the near-term as the explosive moves higher are absorbed. TheLFB client note updates for a move higher from 72.50 in the near-term have been justified. No signals are forming in the near-term. Clients will be notified the moment that price action breaks.