Equity Futures:
Dow +62.00. S&P +7.20. NASDAQ +7.25. Japanese Nikkei -2.00. German Dax +5.00.
European Trade:
European markets are currently trading mixed, with most indexes swinging up and down around the break-even line after the global equity market bounced from a 4-week low.
Even though the gains to the upside were limited, with Germany's Dax and the U.K.'s FTSE trading up approximately 0.20%, some regional European indexes saw strong negative momentum around the opening bell. In this way, the Irish Overall Index dropped 1.45%, Luxembourg LuxX index fell 1.30%, while Sweden's OMX Stockholm plunged 1.80%, being the worst gainer in the session.
The same pattern holds true for the emerging European shares, with most indexes trading slightly below the break-even line, but with some markets falling at a strong pace. The most two most representative examples are Greece and Hungary, which plunged around 2%. Interestingly, Austria, which has a big exposure to Eastern Europe, is trading up almost 1%, outperforming most counterparts.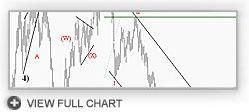 S&P Technical View:
TheLFB Member Charts
4 Hour chart trend: Mixed. Main price points: 1036.50, and 1069. Looking for: 1069 to hold 
S&P futures traded perfectly lower on Friday, when we discussed the black wave IV) correction. The market did not trade into 1069 area before it fell down to 1030 support zone with black wave V). This black wave V) should also completed an extended red wave III leg around the 261.8% Fibonacci extension level, which may be the key for a coming long corrective pull-back of red wave IV. 
Once wave IV) completes, traders should look for another push lower, near to the 1011 support zone.
Sector Moves:
Gains came primarily from miners, where Rio Tinto, Lonmin, Eurasian and Randgold advanced between 2.50% and 3.50% in Monday trade. However, these gains were quickly shed by the selling seen in the healthcare sector, which fell 1% across Europe. Swiss listed Novartis and Roche, which has the biggest weight in the European healthcare sector, fell 0.90% and 1.30% respectively.
Most banks advanced in early European trade, but RBS and Lloyds acted as a major drag on the banking sector, as the two companies plunged 7.5% and 3.5% correspondingly. This happened, after Prime-Minister Darling said that the two would be split and sold as different entities after the U.K. government had to buy an impressive stake in order to avoid a bankruptcy.
Economic Moves:
The European calendar had only one red-flag report, the U.K. Manufacturing PMI, which surged higher to 53.7 from 49.5 in the prior month. This represents a very strong read and it shows that the manufacturing side of the economy expanded in the month of October. Ahead, investors prepare for the U.S. ISM Manufacturing PMI and Pending Home Sales reports, both scheduled at 10:00 EDT.
Crude oil
was recently trading at $77.60 per barrel, higher by $0.70.
Gold was recently trading up by $13.90 to $1054.30.
Disclosure: No positions