The recent market turmoil has left scores of dividend-paying companies trading at double-digit dividend yields. While many of those companies are in danger of lowering or eliminating their dividends, there are also some companies that appear capable of maintaining their large dividend payouts.
In the following table, we show the results of a screen for stocks that trade at a high dividend yield, have more cash than debt on their balance sheet and are expected to be profitable both this fiscal year and next. The screen results are sorted by dividend yield, based on the latest quarterly annualized dividend yield.
The screen results include wireless data service provider USA Mobility (Nasdaq: USMO), electronics manufacturer Nam Tai Electronics (NYSE: NTE), sports entertainment company World Wrestling Entertainment (NYSE: WWE), leveraged buyout management firm Blackstone Group (NYSE: BX), and drug company Pfizer (NYSE: PFE), which recently represented the largest holding of famed value investor Bruce Berkowitz's Fairholme Fund (MUTF:FAIRX).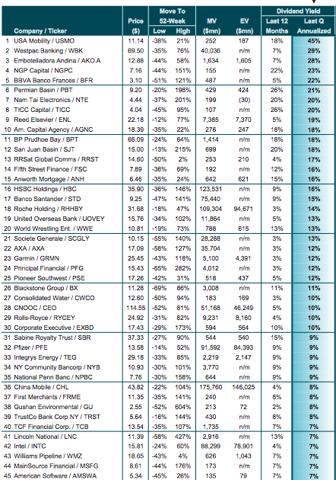 Disclosure: No positions