by: Hard Assets Investor
June 19, 2009
Everybody's got an opinion on the dollar, ranging from its aesthetics (for the most part, people think greenbacks lack that) to its utility (we hear a lot from folks bemoaning its use as a fiat currency).
Voices were raised in recent months in favor of doing away with the dollar as a reserve currency, the most strident emanating from exporters of dollar-denominated commodities, such as Russia, and nations like China that hold large swatches of U.S. government paper.
So, what's a reserve currency and why should the buck get the boot?
A reserve currency is simply a store of value, held by a central bank and denominated in the legal tender of another nation, that facilitates international trade and foreign exchange. The modern notion of a reserve currency came about in the late 19th century along with the emergence of the international gold standard.
The U.S. dollar is the most widely held reserve currency, representing about two-thirds (10-year weighted average: 65.9%) of central bank foreign exchange holdings. The hegemony enjoyed by the greenback makes it easier for the U.S. to run and maintain high trade deficits, a consequence of the nation's debt-financed consumerism and low savings rate. The greenback's preeminence is eroding, though. Its allocation in central bank reserves has been chipped away at a rate of 70 basis points (0.7%) a year over the past decade.
Central Bank Currency Holdings: Percentage Of Allocated Reserves
| | | | | | | | | | | | |
| --- | --- | --- | --- | --- | --- | --- | --- | --- | --- | --- | --- |
|   | 1999 | 2000 | 2001 | 2002 | 2003 | 2004 | 2005 | 2006 | 2007 | 2008 | Avg |
| US Dollar USD | 70.9 | 70.5 | 70.7 | 66.5 | 65.8 | 65.9 | 66.4 | 65.7 | 64.1 | 64.0 | 65.9 |
| Euro EUR | 17.9 | 18.8 | 19.8 | 24.2 | 25.3 | 24.9 | 24.3 | 25.2 | 26.3 | 26.5 | 24.8 |
| British Pound GBP | 2.9 | 2..8 | 2.7 | 2.9 | 2.6 | 3.3 | 3.6 | 4.2 | 4.7 | 4.1 | 3.7 |
| Japanese Yen JPY | 6.4 | 6.3 | 5.2 | 4.5 | 4.1 | 3.9 | 3.7 | 3.2 | 2.9 | 3.3 | 3.8 |
| Swiss Franc CHF | 0.2 | 0.3 | 0.3 | 0.4 | 0.2 | 0.2 | 0.1 | 0.2 | 0.2 | 0.1 | 0.2 |
| Other | 1.6 | 1.4 | 1.2 | 1.4 | 1.9 | 1.8 | 1.9 | 1.5 | 1.8 | 2.0 | 1.7 |
Source: IMF
The euro, launched in 1999, now represents a quarter (a 24.8% weighted average) of allocated reserves and is the second-most commonly held currency in the world. Since its introduction, central banks have gradually added to their euro holdings, largely at the expense of the dollar, in recognition of the European trading bloc's growing influence and as a means of diversifying risk. Euro allocations are building at an 85 basis-point compound annual rate.
The British pound sterling comes in a distant third (weighted average: 3.7% of allocated reserves), having slipped from its former role as the world's most heavily banked currency. Though sterling makes up a small percentage of global reserves, holdings have nearly doubled over the past five years, largely because of the quid's higher yields. Vagaries in sterling's trend in the last decade have allowed commitments to grow an average 12 basis points a year.
The exact opposite scenario has prevailed for the Japanese yen (3.8% weighted average). As with sterling, the yen's importance as a reserve currency has been waning for decades, but in the wake of the Japanese asset bubble implosion, the yen's diminution accelerated. Allocations are falling at a 31 basis-point annual rate.
Owing to its relative stability, the Swiss franc is often referred to as a reserve currency, though allocations are, and have traditionally been, quite small. Commitments average only 0.20% and have actually been eroding by 1 basis point a year.
The Dollar Problem
China became the most vocal advocate for a global move away from the dollar this spring. There's plenty of reason for the Chinese to fret. Years of U.S. Treasury purchases and export trade by Beijing have produced a $2 trillion pile of greenback assets. If Washington's burgeoning budget deficit can't be reined in, any consequential weakening of Yankee paper could leave the Chinese holding the bag.
Alarmed by the U.S. response to the financial crisis in March, the governor of the People's Bank of China floated the notion of supplanting the dollar and the euro as global reserve currencies with special drawing rights (SDRs).
SDRs, introduced by the International Monetary Fund (IMF) in 1969, were originally created to replace gold and silver in large international transactions. SDRs are credits that nations with trade balance surpluses can draw upon nations with trading deficits. Since SDRs are ledger entries, their use eliminated the logistics of shipping bullion back and forth to settle national accounts.
SDRs essentially represent the value of a trade-weighted basket of currencies. That basket now consists of four currencies: the U.S. dollar, the euro, the Japanese yen and the pound sterling. SDR basket's makeup is determined every five years by the IMF Executive Board.
The Chinese proposal would enlarge the SDRs basket to include more currencies (read: the renminbi) and establish a settlement system that would make SDRs convertible and tradable.
And well it should, because the current SDRs are essentially a proxy for U.S. dollars. Price the greenback and SDRs in gold and you end up with an r2 correlation of 99.6%.
SDR And USD In Gold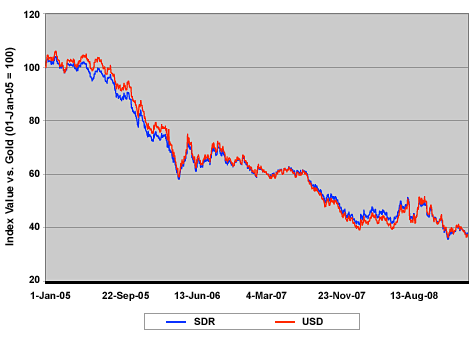 There'd be little risk shed by using the current iteration of SDRs as a reserve currency instead of the dollar. The other components of the SDRs basket are themselves strongly correlated to SDRs, ranging from a 91.7% coefficient for euro to an 87.8% coefficient for sterling and 81.6% for yen.
Still, adding other currencies to the basket and attempting to float the SDR as a currency introduces another set of risks and challenges.
First of all, there's no global banking support for widespread use of SDRs among private parties and businesses. Developing an infrastructure for SDR use would be many times more daunting than that required to bring the euro online.
Second, the Chinese proposal includes a provision for turning over a portion of each SDR's component nation's reserves for IMF management, an insult to the sovereignty of the nations involved.
Most important, though, is this: The Chinese renminbi isn't freely convertible. It's only being gradually de-pegged from the U.S. dollar. Making the currency convertible would require a lowering of trade barriers and an increase in foreign access to Chinese markets. That means fundamental political change in Beijing, something not easily achieved. There's no track record for the renminbi as a fully convertible currency and no track record for the bankers who'd be obliged to manage it in global markets.
Jawboning?
The proposal put forth by the People's Bank chairman as well as that offered contemporaneously by Russian President Dmitry Medvedev could just be the jawboning done before important economic summits in the hope of raising their visibility. Were they just attempting to kick the dollar down a notch or two? Or prod for some concession at the table?
Now, with some two or three months' distance attained, and some stability returning to the markets, other apparatchiks of the Chinese and Russian financial systems are actually pooh-poohing the notion of stripping the dollar of its reserve currency status.
Just this month, the chairman of the China Construction Bank and the former head of the country's foreign exchange administration, Guo Shuqing, announced in a Financial Times interview, "I don't think we can find another currency to replace the U.S. dollar. We've had SDRs for many years but everybody knows they don't work so well."
And, ahead of the recent G8 summit, Russian finance minister Alexei Kudrin chimed in by saying there was "no alternative" to the greenback as a reserve currency. Adding yet one more opinion to the mix, Kudrin said he felt confident that dollar was in "good shape."
See? EVERYBODY'S got an opinion.