From: Value ETFs Leading the Way to Recovery?
by: Michael Johnston
June 25, 2009
according to a report by Russell Investments of Tacoma, Conventional wisdom says that while growth stocks outperform their value counterparts during recessions, value stocks gain the upper hand once the economy hits bottom, leading the way during the early recovery stage of most economic cycles.
<snip>
according to an article by Dan Jamieson: during recessions, the fundamentals of value companies tend to deteriorate rapidly, leading to underperformance. Financial companies are particularly susceptible to underperformance (a trend once again characteristic of this recession). Once the economy "turns," however, companies with low price-to-book and price-to-earnings ratios are often among the first to be gobbled up. Banks tend to do well particularly during a recovery, since the Fed often cuts interest rates, allowing financial institutions to generate profitable spreads on their loan products. Obviously the Fed's hands are tied somewhat in the current economic environment, but banks have definitely seen a nice recovery in recent months.
<snip>
Using September 1, 2007 as the start date of the most recent recovery and March 9, 2009 as the "bear market bottom," some interesting trends emerge. Across all size classes, growth ETFs did indeed outperform value funds, sometimes by a wide margin, during the 18-month downturn.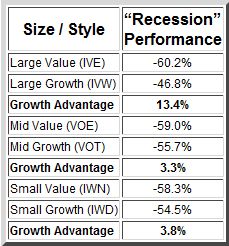 But since the market bottom (or at least what I hope and believe was the market bottom), the tables have turned. While both growth and value ETFs are up sharply, value funds have led the way.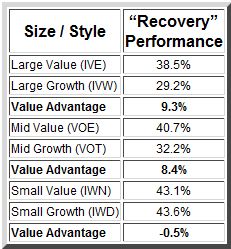 <snip>